Was Number 3 your first choice in the Personality of Colour Quiz?
Understanding the Dramatic Personality Dressing Style Colours
Do you like brighter or bold colours? Bold patterns? Shiny fabrics? Then you may be choosing your colour and fabric choices from the Dramatic personality style.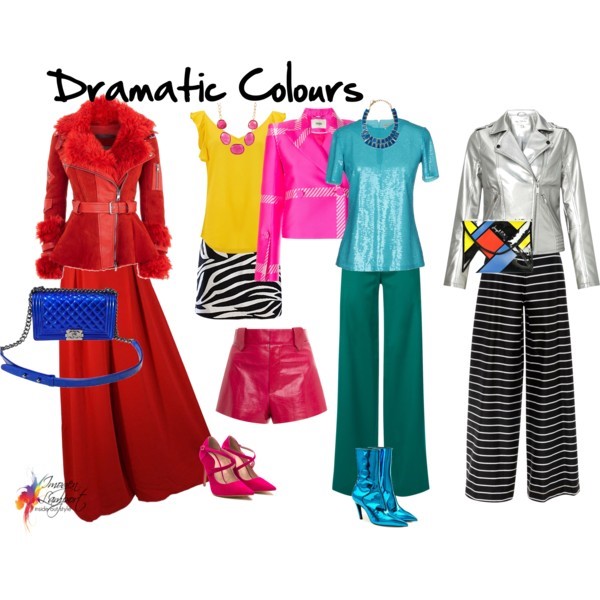 Do you love head to toe black, teamed with a bright red lipstick?
High contrast patterns in large or bold designs may float your boat?
If the word bold may be applied to a colour or fabric, then this is likely to fit into this personality style.
This is a strong and noticeable style, not for the faint-hearted!
These colours come easily to some colour groups – the cool or warm and bright colour palettes, and are a little more tricky for those who suit a softer palette but remember you can use simultaneous contrast to ensure that your colours pop and look dramatic, yet still flatter your complexion.
Dramatic Personality Traits
Some words that you may apply to your personality include:
Bold
Dramatic
Dynamic
Assertive
Direct
Demanding
Intense
Details of the Dramatic Personality Style
Other elements of dramatic personality style include:
oversized details such as bags, and collars
high heels and pointed toes on shoes
large scale jewellery
clothing tends to be structured and sharp
High tech or futuristic is common with you upgrading to the latest phone the minute it is released
Comfort is not particularly important to a truly dramatic, the form is king over function.
The centre of attention is where you like to be, and where these colours will put you. You may enjoy bringing in the latest fashion colour into your outfit.
Delve into Personality Dressing Styles
You may have a smidge of this in your personality, or Dramatic may feel totally uncomfortable, in fact, the mistakes in your closet that you never wear may be just too Dramatic in their personality dressing style for you. If you'd like to fully understand how your personality influences your choice in clothing (and honestly, it's the most influential aspect of choosing clothes that make you feel like the best version of you), then dive right into my 7 Steps to Style program as Step 1 guides you through this important aspect of discovering your style.
More Tips on Dressing Your Dramatic Personality Style
How to Interpret and Choose Prints and Patterns For Your Personality
How to Choose Accessories to Match Your Personality and Occasion
Fabric – How your Personality affects your choice of prints and patterns
How to Choose to the Scale of Details and Accessories Based on Your Personality