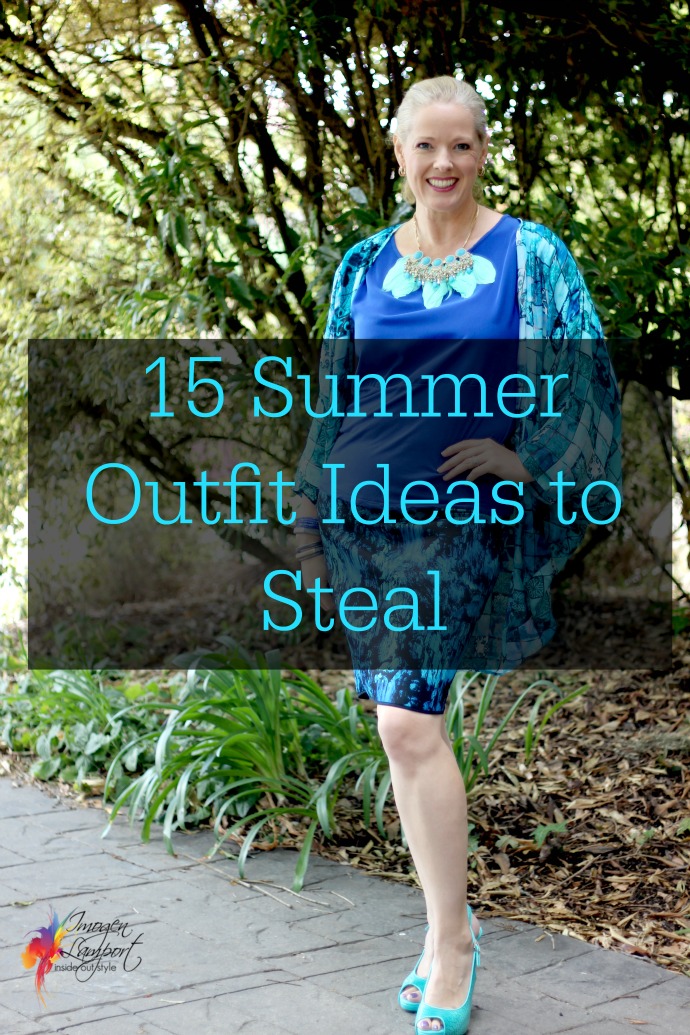 We are having a lovely summer in Melbourne this year. Last year was not a good summer, we had two hot days and then it seemed to go directly from summer to winter, missing autumn completely (and autumn is usually my favourite season in Melbourne, cool crisp mornings with mild sunny days, sadly, not in 2015, just cold and dreary).
So what am I wearing this summer?
Maxi's are still getting high rotation in my summer casual wardrobe. What I love about a maxi dress is that all I have to do is choose one garment, put it on and I look dressed up. Poolside glam is how I often think of a maxi. So fast and easy and comfortable (which is important to me!).
I recently read that lots of people wish that we'd show the back view, not just the front, and this shrug has a lovely lace back detail which makes it a more interesting garment.
One of my other favourite summer outfits is one that is shades of blue as it is a colour that makes me feel cool!
Shades of cobalt and aqua really appeal to me in summer, and I love how easy they are to mix and match with each other in these patterns. The necklace here is a Christmas present from my gorgeous husband.
Pattern mixing tip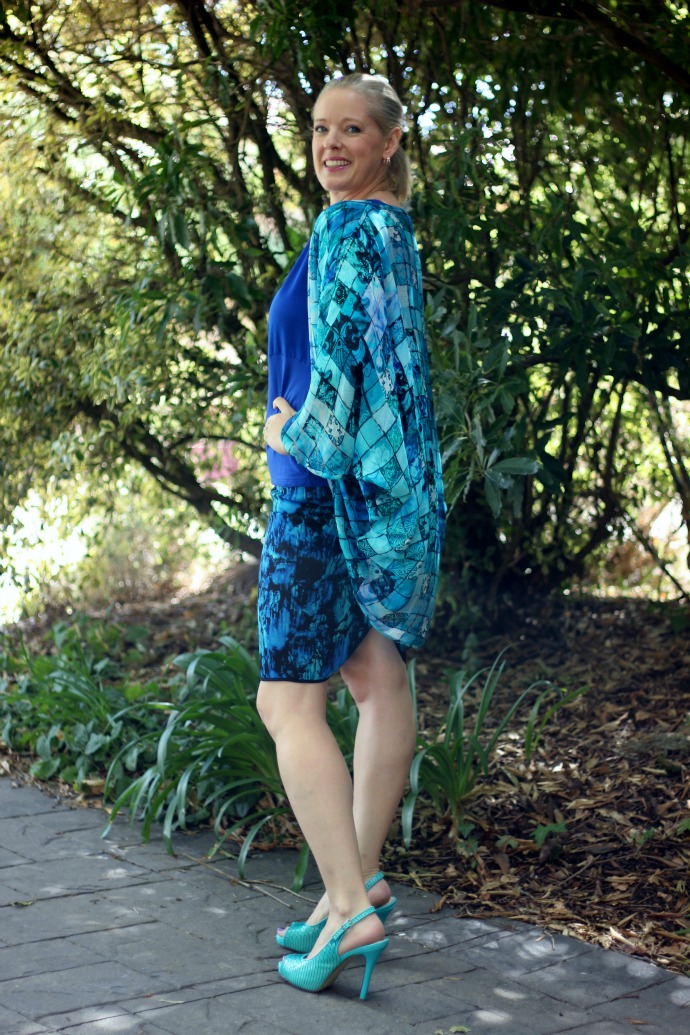 This outfit is great for going out to dinner. The key to wearing a kimono jacket is that everything underneath needs to be more streamlined, straight skirt or slimmer fitting pants and top so that the volume of the kimono doesn't overwhelm your frame.
Dealing with Summer Clothing When You Like to Remain covered – here is an issue for many women who prefer to dress more modestly but don't want to feel too hot in summer. Plus here are some more tips on staying modest in summer.
Creating a summer wardrobe capsule using a column of colour – I'm asked all the time for ideas on wardrobe capsules, and here is one that also uses the concept of using a column of colour to look taller and slimmer.
How to choose colours in summer when you have deep colouring – many of us feel that summer is a time to wear lighter colours, so if darker, deeper colours look best on you here are some tips on choosing colours for your summer wardrobe.
Styling a white jacket – here are some tips and ideas on styling a white jacket for summer
How to style scarves for summer – scarves are a great accessory but many feel that they add an unnecessary layer in summer, so here are some ideas to make use of your scarves in your summer outfits.
What to wear to a summer garden wedding – got a wedding to attend? Looking for outfit ideas? Look no further.
Date night ideas – going out on a date or just to dinner or somewhere nice? Here are some ideas on what to wear.
Summer wardrobe capsule in warm colours – I get asked to make capsules in all sorts of colours – here is a summer capsule in warm undertone colours to give you some ideas on how to combine colours in a capsule.
How to choose a maxi skirt or dress for you body shape – not sure which shape suits you? Discover the shapes to go for to flatter your figure.
Which shoes to wear with a maxi skirt or dress – not sure what to wear with your maxi? Here are my tips.
6 Tips for wearing sheer fabrics – when it's hot you may want to go sheer – but be careful about wearing them to work.