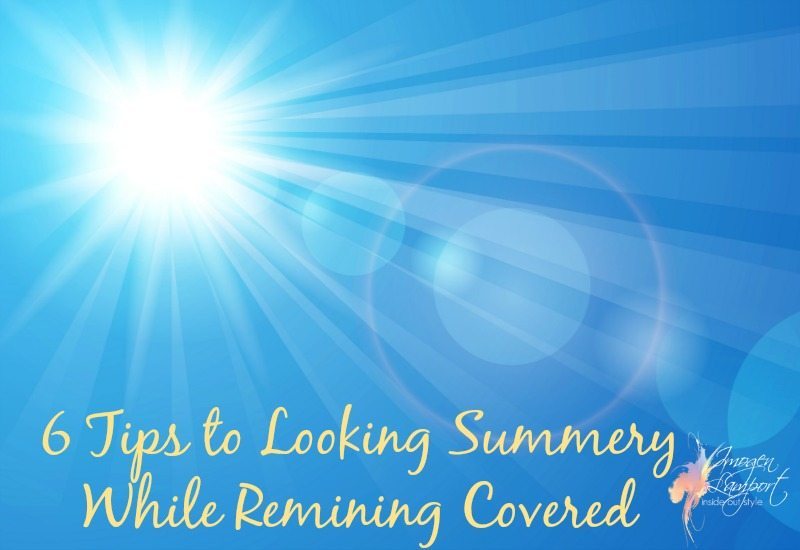 I am from Berlin, Germany and have a style question that may be a bit surprising to most of your readers. Though I have already learnt many many things from reading your smart and very precise posts there are still some outfit issues that truly upset me, year after year.
Or maybe I just want to express my discomfort at the beginning of a very warm spring turning into summer all too soon hoping for some understanding. This post tells it all.
I have dark hair (medium brown) but very fair skin, almost white, freckles, plus some broken capillaries on my nose and cheeks (family heritage! I don't drink alcohol, coffee, I avoid saunas, spicy dishes etc. the whole package, but genes clearly seem to outweigh healthy-living habits!). So for many reasons warm days or summer and all that goes with it (I am an introvert, too) to me really are a problem, not only in terms of discomfort or health (sun radiation!) but also "stylewise". Never would I wear skirts (maxi skirts at the most), tops, shorts or light dresses during hot days regardless of how many times people would shake their heads and ask me why I don't do these kinds of things because they say I am attractive and could wear them. I am an H shape, 5'8" tall, a true autumn and have found out that I have to wear rather dark muted colours near my face to appear not completely washed out. I just don't know how to cleverly combine high-contrast colours for my really fair skin when the only thing my legs are protected in from the sun are long pants! Any suggestions?! Would be most appreciated!!
Best regards,
Christina
There are many women who find summer a difficult time to dress as they like to remain covered for many reasons – from religious to modesty to body to sun issues. So how do you look and feel cooler but still look like summer not winter?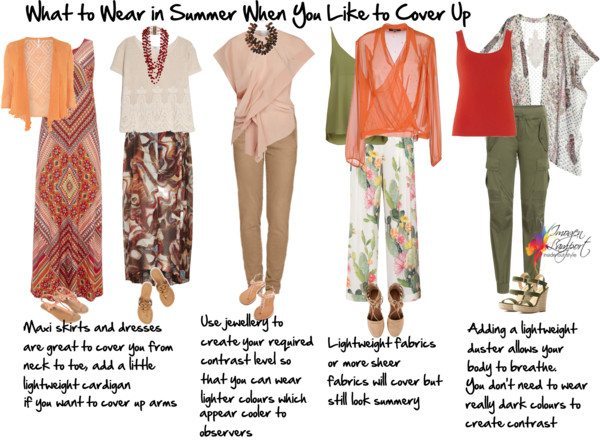 Here are six tips to look summery but remaining covered:
Maxi skirts and dresses are a great way to cover up to the ankles, if you want to add a little more sleeve think about adding a lightweight shrug or cardigan.
If you have deeper colouring, you can still wear some lighter coloured clothing – all colour groups have a range of lighter and darker colours. Just make sure you use either a brighter colour or colour contrast to create contrast.
Alternatively if you're wearing lighter colours, which appear cooler to others, then wear a necklace in a darker colour to create the right contrast level near your face.
Sheer fabrics also feel cooler, even if they are in darker colours.
Make sure that your trousers are in medium to light colours rather than dark colours as this will make it less obvious that you are so covered and 'hot looking' to observers.
Patterns can also make a garment look cooler if they are more floral, swirly or nature based. You may also then use a pattern which has both lighter and deeper colours to create your required contrast level.
Further Reading on Summer Dressing
How to Choose Colours in Summer When You Have Deep Colouring