It's one of those really hot balmy summer nights where even underwear and high heels make me feel uncomfortable but I have a date with a gorgeous man at a local restaurant and of course I want him to fancy me like mad.
What do I wear that's casual, cool and comfortable but stylish and up-to-date without looking overdone?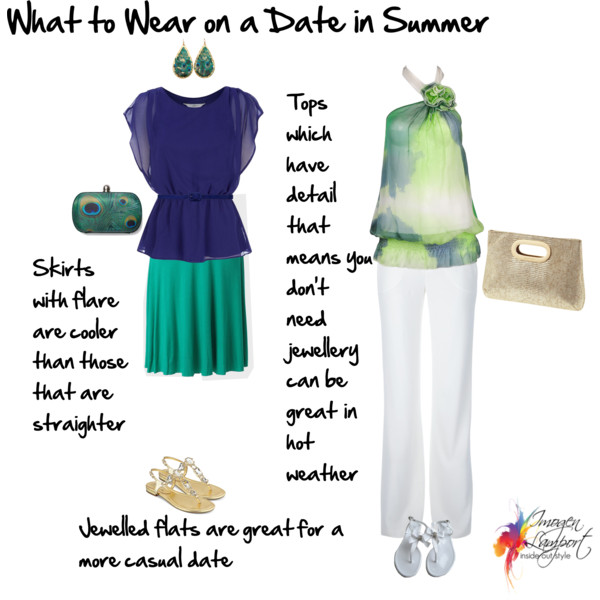 What does overdone mean to you? This will relate to context and location – where are you going? What's the environment you live in like? One part of the countries' formal is another's casual!
Here are some tips on choosing an outfit for your date
1. Skirts – always feminine and womanly – great for dates as they can be flirty too.
2. Dresses are always an easy option for dates – find one that is your most figure flattering style!
3. Jewelled flats – don't love heels? Then try a sparkling flat sandal or shoe.
4. Built-in Detail – look for tops with built-in detail – it could be an embellished neckline, and interesting construction or pattern – this means you don't need to add heavy necklaces or other accessories to feel stylish.
5. Style Recipe – make sure your outfit represents your style recipe – you want to be expressing your personality through your clothing so that you share with your date who you really are (rather than trying to be someone else).
6. Fabrics – choose a lightweight fabric made from a natural fibre to keep you feeling and looking cool.
7. Colour – colour says summer (avoid that LBD) instead opt for a colour that communicates.
Orange is great for communication and free-flowing conversation – it says you're warm and friendly
Deep purple is mysterious and sophisticated
Pink is warm, caring and nurturing, making you more approachable
Red is exciting and passionate (and there is some fascinating research on wearing red on dates you may want to know about too)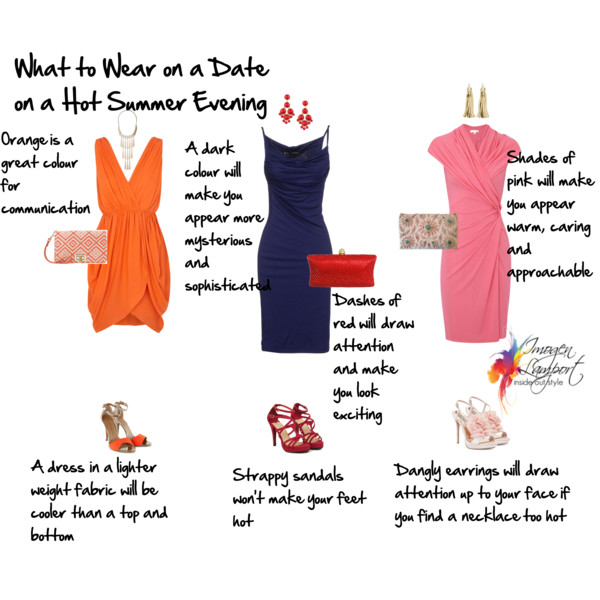 8. Strappy sandals won't make your feet sweat
9. Dangling earrings will draw attention up to your face – look for something with some sparkle<
There you have it – a figure-flatting outfit (if you're not sure what suits your shape – then you can do my free body shape calculator quiz to discover my tips on making your look great, or if you'd like my professional opinion – you can get this as part of my 7 Steps to Style program).
Not Summer? Here are More Tips for What to Wear (and Do) on a Date