Dress Colour
Choose a shoe that relates to one of the colours in the dress, maxi's are best with sandals rather than heavy shoes as they have a poolside glam feel about them which equates with summer footwear. Alternatively, a metallic shoe is an easy option as is a nude/skintone shoe colour if you don't want to make a statement with your shoes.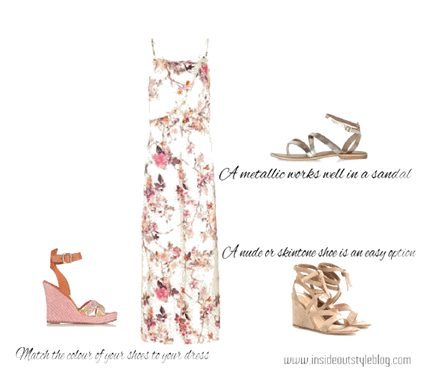 choosing the colour of your shoes for your maxi
Dress Pattern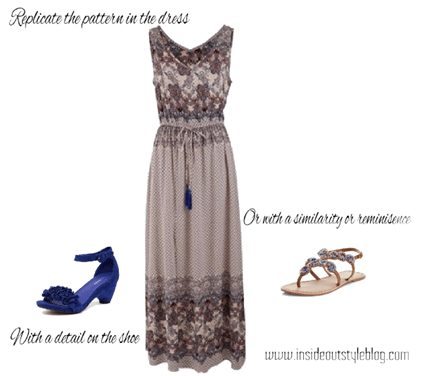 choosing shoes for a maxi replicating pattern
If there is a pattern or detail on the dress that you can relate the footwear to. For example here I've chosen a textured floral motif (on the left) which relates to the floral motif on the dress. On the right a circle motif on these sandals in related colours could be paired with this maxi.
What's the Occasion?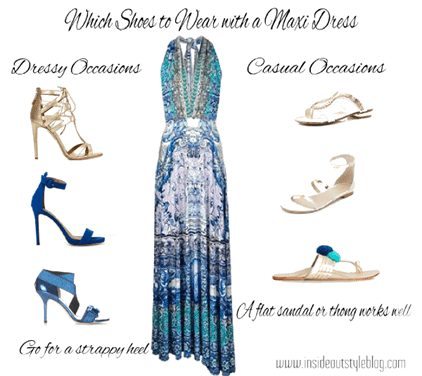 Choosing shoes for for your maxi
Going out for an evening? Then dress it up with strappy heels. For daytime wear work it back with a flat sandal or wedge of the dress is on the long side and you need to get it off the ground so you don't trip over.
The pompom thong here used as an example is a fun option if you wanted to relate the colours to this dress, or just choose a shoe colour that is repeated in the dress.
Shoe Vamp
Because a maxi skirt or dress is long (like a pair of full length trousers), then it really doesn't matter if you wear a high or low vamp shoe with them. Gladiator styles are a great option.
More Maxi Tips
Check out my post on how to wear a maxi for your body shape, you can wear a maxi no matter your shape, get my tips here!