I love a good quote, and here are some of my favourite fashion quotes.
Do you worry about being looked at or noticed? Even if your personality is one that likes to blend-in (there are some that prefer to stand out and others that like to fit-in – you can find out which you are with your Style Type Report), whether or not you do want to be noticed, or think that nobody does notice you, the reality is, that people will notice. . So as Harry Winston says:
"People will stare. Make it worth their while"
You may as well put your best sartorial foot forward as looking good gives you confidence.
Figure flattery is something you may consider an important part of your clothing choice criteria (I sure do have this as one of my 3-5 style guidelines), which is why I love this quote from Hubert de Givenchy, who seems to be in agreement as he said:
"The dress must follow the body of a woman. Not the body following the shape of a dress."
When you try and put your body into a dress made for a different shape, you will find that it never looks as beautiful, as when you wear clothes that are designed to flow over your body shape. If you're not sure what these guidelines are for your shape (or what your shape it), you can find out with my Body shape quiz and download your Body Shape Bible. Or if you'd like my professional opinion on your shape, you can get this as part of my 7 Steps to Style program.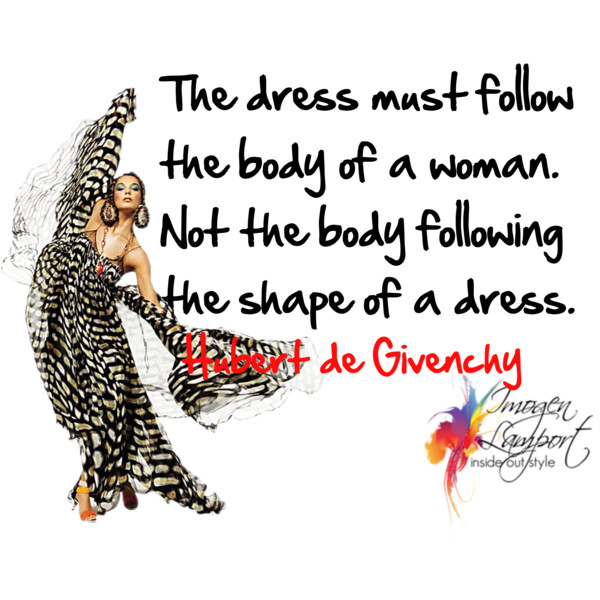 Who you are, how you want to express your unique personality is so important as the choices in clothes and accessories are mind-boggling. Ever had that experience of walking into a store and thinking "who would wear that as it's ugly!" You're not alone. Your personality is the biggest influence on your style choices, and it's the reason why even if you know your body shape rules, why you still make shopping mistakes. Personality is the key to style. This is why I have chosen this Yves Saint Laurent quote as one to share here:
"Over the years I have discovered is that what is important in a dress is the woman who is wearing it"
It's the person and their personality that will make any outfit shine or fall flat. When the personality is in sync with the clothing then beauty is achieved.
Fashion is a form of ugliness so intolerable we have to alter it every six months – wrote Oscar Wilde
Fashion is the tool, style is your home. When you are making clothing choices, there are so many things to influence your choices. From fashion trends, what your friends and family are wearing or like, your religious or political beliefs, your location and environment, your job, your physical needs…. honestly this list goes on and on. What is available is what is in store, which is what is in fashion right now. Fashion is not style. Fashion is the tool with which you build your personal style. This is why call fashion is a hammer, it's a tool, a useful tool, but a tool. You can't live in it. Style is your home. When you find your style, you feel at home, you feel comfortable (mentally, emotionally, physically).
"Fashion is what is offered in stores, style is what you choose to wear" Imogen Lamport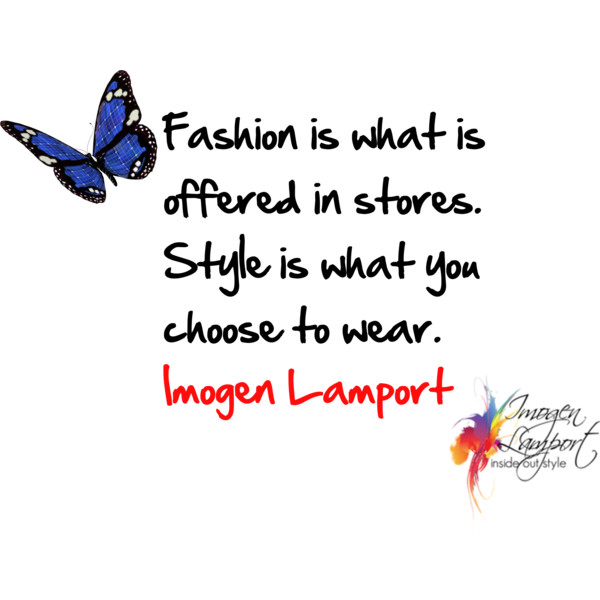 How to Choose to the Scale of Details and Accessories Based on Your Personality