One of the things I notice here with the comments I receive both here and on Facebook, is that sometimes we can get bogged down in the minutia of style guidelines (remember they are just guidelines, not rules).
I think so many women have a perfectionist streak that we want to be 'perfect' at putting together out outfits. I mean how hard can it be? We've been getting dressed since we were kids right?
Wrong actually, we weren't taught all these guidelines as kids, and our clothes were mostly chosen by others. Until we've personally taken an interest in learning the how and why (the science of style) it's something that has often been hit and miss for many of us (and I can tell you I've got lots of 'miss' photos).
Along with this need for "rightness" there is also a bad habit of comparison that many of us have too. Where we compare our style (and face, body, hair, fingernails …. need I go on) to others, whether people we know, or even people we see in the media… and we all know (but forget) that those in the media may have been photoshopped, and also have lots of professional help, that we find ourselves lacking in some way.
Right here, right now I want you to reframe how you think about your style and putting together the perfect outfit for you.
There is no such thing as perfect. In fact, the pursuit of perfection will bog you down. As I mentioned in this post, perfection is the enemy of action.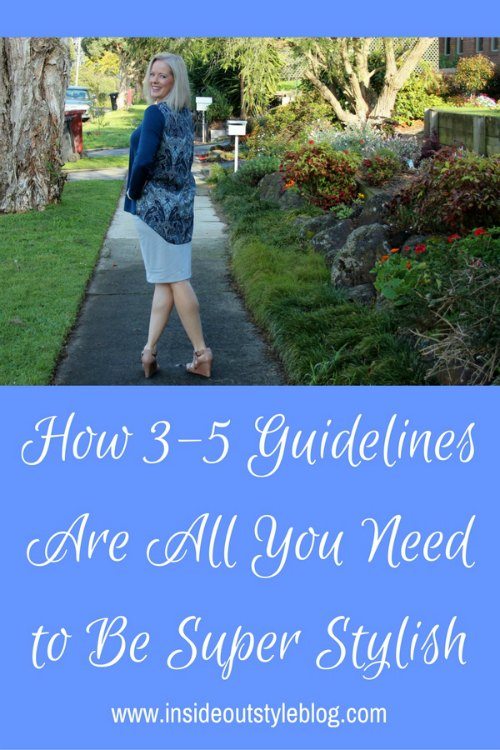 Now when you think about putting together your style, there are lots of pieces to the style puzzle (find about what elements are in the style puzzle here). You don't have to get them all right, all the time.
Instead, what is most useful is to figure out what matters to you the most, and then focus on just those style criteria and the guidelines that work with them.
Pick Your Top 3-5 Style Guidelines to Follow
When I had a super large bust (before breast reduction) that was one of my main focuses on getting dressed. I'd want to camouflage this asset so always used the rules of scale to distract from my bust.
As well as this, for me colour is super important as I feel best, most alive, vibrant and healthy looking in the colours that flatter me. I was (with dark brown hair) high value contrast dominant and needed to wear high contrast outfits in colours that suited me (Dramatic ones).
I also lack a defined waist, so wanted to make sure that I didn't emphasise this.
Personality style – I think this is an integral part of style. It tells us whether we stick with or break rules, what details and elements we look for in clothing and accessories (read all about what personality style influences in what you choose here).
These were the four elements that for me were the crux of my style choices.
Now that I've got a bust that is more in keeping with my frame, and my hair colour is changed my elements are:
Long legs – keep my legs looking long using flattering proportions as balance is important to me.
Colour – wear my colours and keep my value contrast to medium and colour contrast to include at least one colour.
Flatter my waist – again, don't draw attention, use line and design, volume and a lack of detail to give the illusion of a waist where there is none.
Personality style – my most important element as always and I still use my jewellery to express that each day.
Sheen – I've got a face that is always a little shiny, so I like to wear fabrics or jewellery (plus my makeup has sheen) that has some sheen or shine so that it harmonises.
Break Down Your Style to Find What Really Matters
What matters to you?
Do you have features you really want to camouflage? &f so, then doing this will become an important aspect of putting together your style (and may even become part of your signature, in the way that larger scale necklaces are now part of my style recipe, even though I no longer have the same need).
Do you have a feature that is out of scale with the rest of your body? For example, if you have large facial features, but are otherwise medium scale, then you may find that upping the scale of accessories, collars and jewellery worn near your face makes the biggest impact on your style.
Do you have features you want to highlight? Then putting detail or accessories around that area to draw attention may become an integral part of your style.
Is flattering your figure the most important aspect or are you more keen on making your legs look longer, wearing the latest fashion trends or expressing your creative personality? The answer to this will influence what guidelines you choose to follow for your shape and style.
Are you colour or value dominant? If one of these is particularly obvious, you may find that harmonising your colours with this makes for the most attractive outfits on you.
What's your personality style? This should be (unless you are a true chameleon) be something that you want to express through your style.
Are there elements of your physical being that you want to harmonise with? For example, freckles look great with either patterned or textured garments (such as marle or leopard prints), this is how Jill Chivers found her love for the animal print and why it works so well for her (she talks about this in our video on Signature Style).
Work with Just a Few Style Guidelines
Now that you've thought about what's truly important. You can then break those down into just the 3-5 most important aspects which will influence your style choices.
Instead of overwhemling yourself thinking you have to get everything perfect. Remember that 80% is great and you'll look incredible just being at that 80% right point.
You will always feel and look most confident and stylish when you are expressing what is most important to you.
Remember, be a magician – learn the art of illusion and distraction (that's what this blog is all about and has tons of information to help you, and if you really want to get into the depths of what suits, then my 7 Steps to Style is here to help you do that), but don't become paralysed by trying to get every single element of your outfit perfect.
It's unobtainable and an illusion that can make you feel like you're going crazy. So stop trying to be perfect. In fact perfect can be bland and inhuman.
You can look gorgeous and stylish without being perfect! Mostly right is fabulous!