Reader question – What is your view on wearing blouses or tops that are longer than the sweater or jacket over the top? Doesn't it draw attention to the hips?
That Depends …
As with all matters of fashion and style, women's bodies are all different so certain styles will be more flattering on some of us than others. It depends on your body shape, your body proportions and where you place your horizontals lines. Watch the video to learn more.
Find Your Most Flattering Points for Hemlines
Lines in clothing design create optical illusions depending on the direction of the line. Verticals lengthen, partly because they go up and down but also because our eyes move along them quickly. Horizontal lines slow the gaze down, emphasising the area making it appear wider. Horizontal lines are created by most hems on garments and they visually widen the area they are placed on. The point where you end horizontal lines is really important as they can easily become focal points. As I discussed in this post on my Three Rules of Horizontal Lines, never put a horizontal line on a body part you want to minimise or make look narrower.
In a shorter top over a longer under layer, a horizontal line is created at the jacket hem and again at the hem of the longer layer.
In terms of body shape, the low hip, at the top of the thighs, can be the widest point of the hips for A shapes, X shapes and some H shapes, making it the worst place to end tops. If you have wider hips or you don't want to draw attention to your hips, then layering longer tops under sweaters or jackets is a style that is less flattering for you.
If you have broader shoulders and narrower hips, wearing longer tops under your jackets is a great way of adding a little bit of extra balance to your body shape. So for V shapes, I shapes and some 8 shapes, the low hip can be a good point to end tops.
Ideally, we end our hems for tops and jackets on the narrower points that also work well with our body proportions, so that our legs don't look overly short, or our bodies don't look overly long or short. Longer legs means you have a shorter body, so can afford to wear slightly longer tops. Shorter legs means you have a longer body, so need to keep tops on the shorter side. Not sure of your body proportions, find out how to measure your proportions here.
Tips for Layering Over Your Longer Tops
There are a few different strategies you can use to prevent adding too many horizontals while creating a flattering outfit for your shape and proportions.
Column of colour – If you've got a column of colour underneath so that your top matches your pants or skirt, we don't notice the horizontal line in the same way. This strategy is especially useful for women who don't want extra bulk or petite women who might be overwhelmed by long layers. By wearing one color from top to bottom, including your shoe, and layering a jacket on top in a contrasting colour, you create an illusion that makes your body look long and lean. The eye can't help but go up and down that long vertical line down the middle.
Elongate your proportions – A slightly longer underlayer in a similar colour is a great option to use if your top layer is a little short and makes you look boxy. Remember if you can relate the colour of the underneath layer to either the top or the bottom it will help to elongate your proportions. The greater the difference between the colours, the more obvious the horizontal line.
Half-Tuck – Adding a half tuck to the layer underneath, creates a diagonal or asymmetric hem. Tucking is good for more waisted shapes, but not so good for those of us with a protruding tummy.
Principle of volume – The shape of the jacket is important as it influences whether you need a slimmer fit on the longer under layer and how long the under layer needs to be. A soft under layer that drapes well looks more stylish than a tight top sticking out from under a jacket or jumper. If you're wearing a more voluminous top, then your bottoms need to be slimmer and fitted.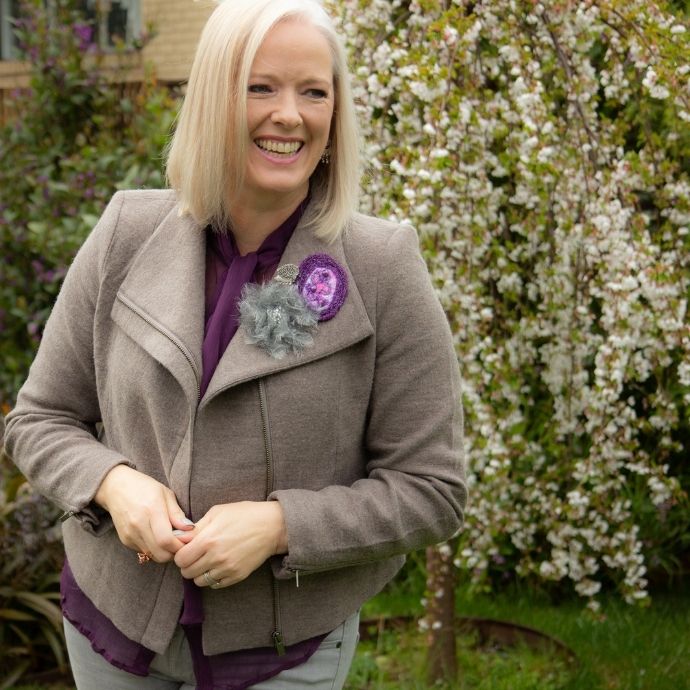 Curved hem – No matter your shape, size or proportions, having a curved hem that dips down at the front, rather than a straight hem, can elongate your legs, whilst hiding your stomach
Layering gives you the opportunity to play around with the pieces that are already in your wardrobe. Give yourself permission to experiment with different textures, fabrics, weights, patterns and colors, and the outfit possibilities are endless. Learn what works for you by trying on different styles and lengths of layers— take pictures if you're unsure, and compare. And if you really want to understand how to find the right length for your tops and jackets if you haven't figured it out here, why not do my 7 steps to style program where you'll get my professional opinion on your body shape and proportions.
Further Reading