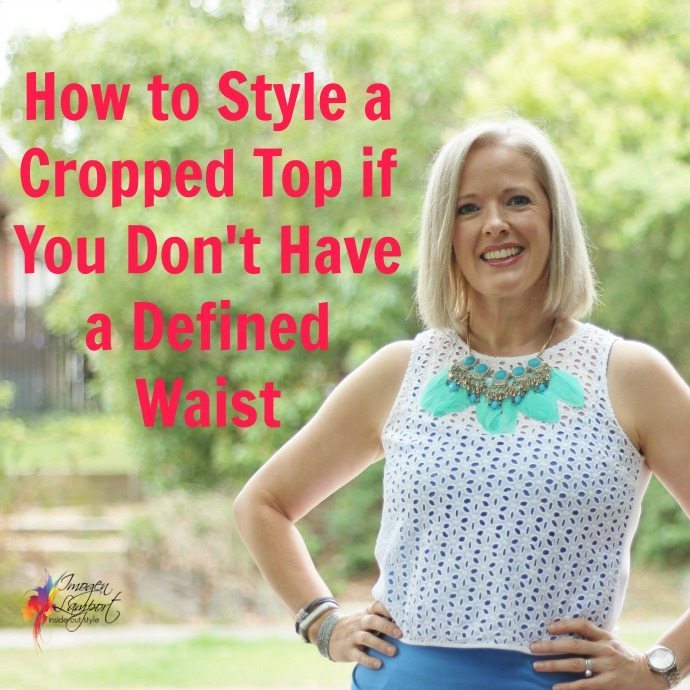 There are still many cropped style tops around this summer and I'm seeing them also starting to come into stores for autumn/winter as well.
Cropped tops are great if you have a defined waist as they put a horizontal line (which draws attention) onto a narrow point of your body.
They also work well if you have a longer body and waist as they tend to be more boxy and share in construction (which will visually shorten down your torso).
But say you are like me and want to wear them but don't have a defined waist? What to do?
The best way to style them is to layer a very form fitting top/cami underneath, as I've done here, that extends past the hemline of the cropped top.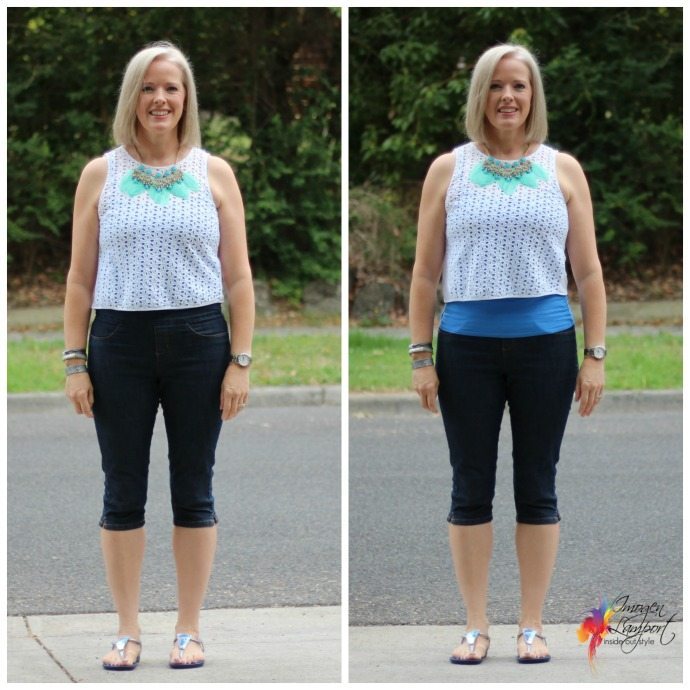 You can see how the blue cami draws attention inwards at the waist and so creates more of an illusion of a waist than when you just see the end of the top and then the waistband of the pant.
There are many versions of cropped tops that have a longer top sewn-in to them to give you this elongation – just be sure that the bottom isn't too baggy and obscuring your natural waist too much, nor the under top ending too long on your widest point.
Remember if you can relate the colour of the underneath layer to either the top or the bottom it will help to elongate your proportions.
Cropped Top Tips
As you can see in this example – you can choose to blend the under top to either the top (which will elongate your torso), or your bottoms (which will elongate your legs). So if you have shorter legs than body, I'd be blending the under top to my pants/skirt/shorts, but if I had a shorter torso and longer legs naturally, I'd want to blend my under top to my top.
Here are some more cropped top tips
How to hide your tummy while wearing your cropped tops.
Here is an example of how I style a cropped sweater/jumper with jeans.