Hi Imogen. I have always heard that tops for skirts should be a bit shorter than tops for pants. My question is, how do you make this work when trying to put a capsule wardrobe together since tops should be able to work with both pants and skirts. I know you can tuck them in, but I am overweight and tucking isn't always an option. Any suggestions? Cindy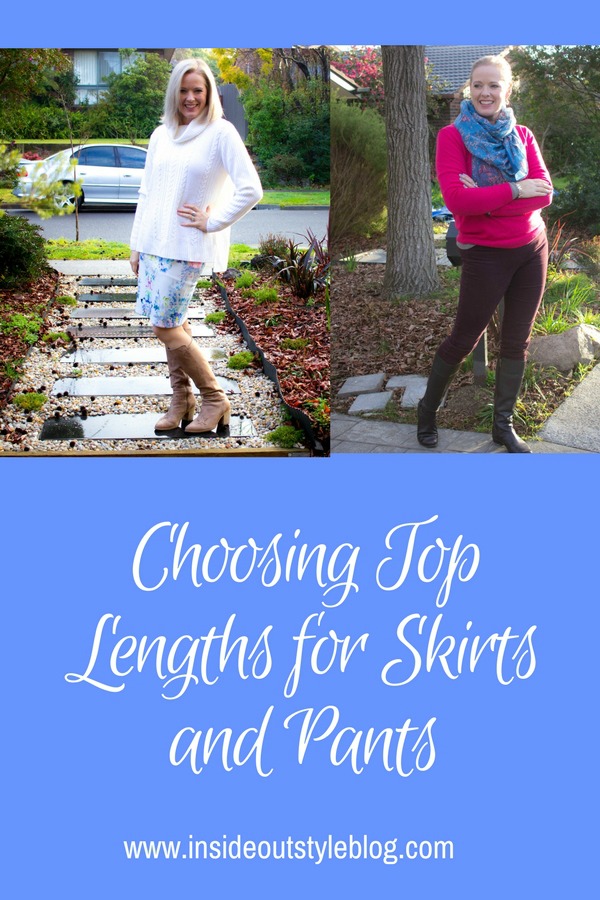 Length of tops has more to do with body shape and proportions than skirts versus pants on the whole. I know for myself, I wear mostly the same tops with both pants and skirts (apart from tunic length which are pants only affairs). It's often not hard to slightly adjust hem length by pulling up and ruching a little or pulling them down if necessary.
Influence of Body Proportions and Shape
Body proportions really come into play with hem lengths, plus body shape.
When thinking about your body proportions – do you have longer or shorter legs than your body (find out how to measure your proportions here)?
Longer legs means you have a shorter body, so can afford to wear slightly longer tops.
Shorter legs means you have a longer body, so need to keep tops on the shorter side.
What's body shape got to do with it?
Well tops have hems that are on the whole, horizontal lines (find out about them here) and if you don't want to make an area of your body look wider, don't put a horizontal on a wider point (so if you are an A or X shape and your widest point is your upper thigh, end tops higher than this point to draw attention up and away.
Tucking is good for more waisted shapes, but not so good for those of us with a protruding tummy. This is why getting your tops hemmed to just below the peak of your tummy will be the most flattering option.
Now the length of the skirt or pant will also be influenced by how long they are. Mini-skirt is versus knee length versus midi versus maxi – all these lengths create different proportional variations on the top to bottom ratio. A cropped pant, an ankle length and a skimming the base of the heel are also going to influence top length, again because of the proportions of top to bottom.
We expect your top to be shorter than your bottom on the whole, as bodies are shorter than legs. We prefer to see uneven proportions, where one proportion is longer than the other (often in a 1:2 ratio).
If you use the "column of colour" concept, you don't have to be as critical about the length of tops to bottoms as we don't notice the horizontal created by the hem of the top.
Top Lengths for Pants

Now, these pants are proportional "standard", if you have shorter legs and always have to have your pants taken up, then imagine the longer top on the right would suddenly become equal in length to the pants, making your legs look very short. This is why blending shoes to pants and wearing pants as long as possible (not dragging on the ground) helps to make legs look longer (and to gain back what genetics didn't give you).
If your tops feel a little long and blousey, try a half-tuck on one side to make legs look longer but still cover your tummy if you feel it's more flattering wearing your top out.
Top Lengths for Skirts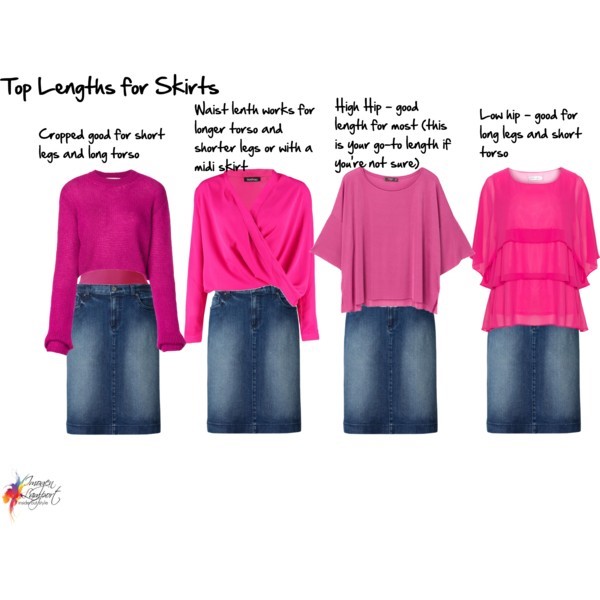 This knee length skirt is a pretty standard length for many skirts and is wearable by women of all leg proportions as it provides a balance of coverage and viewable leg length. And for someone with short legs, a skirt of this length makes your legs look longer as we can't see where your legs start.
Ideally, you want to create a long with short proportional ratio and so your skirt length will influence which top length you go for.
The shape of the skirt may also influence the top length as a fuller flared skirt just doesn't work well with a longer top, it needs a shorter high hip or shorter top.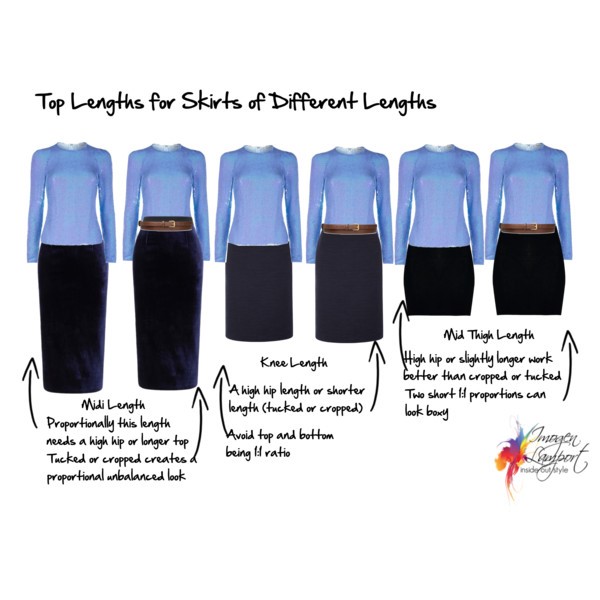 As you can see in the image above, longer midi length skirts need slightly longer (high hip) tops to look balanced (and work best with long legs as they are leg shortening in the way that cropped pants are also leg shortening.
A maxi skirt works in the same way as a pair of full-length pants.
Beware of the short skirt and short top, this can become very boxy if you're not careful.
Knee length is good with a high hip or shorter (unless you have long legs) top to create an ideal balance.
Finding your ideals will be based on:
The shape and lengths of your skirts
Your body shape
Your body proportions
You may find that you can easily wear the same length with both, or you may find adjusting the hem slightly (often it's no more than 2-3cm difference) will make a more flattering and pleasing outfit.

Petite Proportions – Getting it Right with Skirts and Dresses
Short Legs, Long Rise, How to Define Your Waist When Wearing Jeans