Got a top that a bit too long and kind of shapeless (kind of even looks a little maternity)? Love to wear it with your jeans or any sort of pants or skirt( like my denim skirt here) that has belt loops?
Then it's time to try the belt-loop half-tuck.
You may have picked up this trick from the lovely Cheryl who writes the blog North West Mountain Living.
How To Belt-Loop Half Tuck
Just take a piece of the hem and pull it through a belt loop – et voila – the belt-loop half-tuck that lengthens your leg proportion and adds some lovely ruching around the tummy giving you more shape and less belly (always a win in my book)!
Proportions are important as they help us look balanced (we love balance), yet these days so many tops end at that widest point of the hips/thighs which is less than flattering, so it's good to have a few ways to alter the way a garment looks without having to resort to actual alterations.
By shortening the top, legs look longer (which is what we expect) and it restores a proportional balance to your appearance.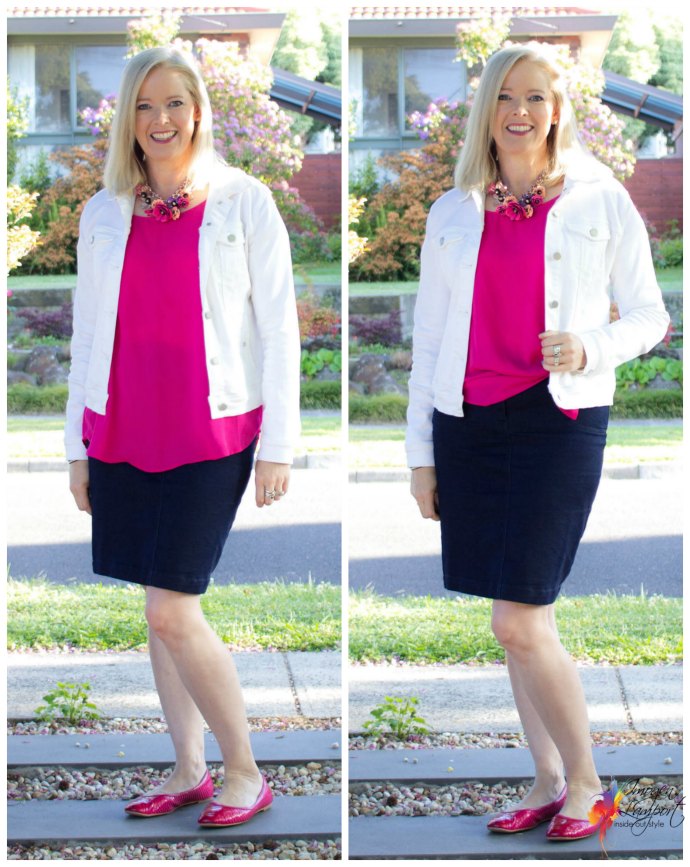 It's a useful tool to use if you want to create a more even appearance between hems of tops and outer layers (jackets and cardigans).
Why not also try the Kimtuck too – it's another useful styling tool particularly for those more shapeless or baggy garments that need a little shaping.