Everyone knows the key to warmth in the winter months is layering. But, there is a fine art to layering different textures and fabrics of clothing so that you still look stylish and put together. If you find yourself choosing between warmth and fashion, some of these suggestions might help you layer with style and keep you fashionably warm this winter.
Layering For Warmth
There's a surprising amount of science that goes into the clothing we wear. Materials are crafted for specific purposes, such as staying warm or cool and staving off the wind. So how can you dress to enhance the body's natural ability to stay warm? Do you pop a layer over the top or add an extra later underneath?
For some people, they would wear a warm, heavy coat knowing that they will only be wearing it for commuting, not all day. Other people enjoy layering clothing to create texture and interest.
Layering clothes for cold weather begins with a quality thin base layer like a wool t-shirt, tank top or camisole to get started. You can't have too much volume on the under layer so you really need to have things that fit more closely to your body on the layers on the bottom. If an item is too loose, you tend to get folds of excess fabric that can be uncomfortable or it can create extra bulk in that garment.
In winter, I'm often wearing five layers but there are a lot of very fine layers that all fit quite smoothly on top of each other. I also feel the cold so I rarely need to take off my outer layers. In spring and autumn when I do layer, I consider how each layer will look during the course of the day as I add and remove layers depending on the temperature. If there is a chance I might need to remove a layer, I might choose a looser long sleeve blouse instead of a long sleeve thermal top. I've also worn camisoles and thermal layers that are never going to be seen as part of the outfit, knowing that if I got too hot, I could go to the bathroom and remove that layer.
Layer with Style
If you're going to wear something that has an oversized or flowy silhouette, you'll want to create a proportional ensemble by pairing it with more formfitting pieces. Big slouchy sweaters may be incredibly popular and comfortable but they can also look sloppy if not styled properly. To look proportionate, large, relaxed tops need to be paired with slimmer bottoms, following the Principle of Volume. It's an important principle to remember as too much fabric will swamp you and can make you look larger.
There is no need to pack away those colourful summer dresses! Since summer garments are usually light, you can extend the seasonal wear of these items by adding long sleeve tops and leggings underneath them and a cardigan or jacket as your outer layers.
If I'm layering multiple tops with trousers, I will make sure that only the top-most layer can be seen at the hem. Take note of where the layers end – don't end a hem on an unflattering point. Horizontal lines broaden so I don't want to further shorten my short waist by having multiple horizontal hems at my waist. Scarves, gillets or jackets left open will add vertical lines that elongate (unless of course, you want to do that). Find out where to end your tops here.
Multiple textures is a great way of creating depth to an outfit by layering pieces. Whether it be texture from the fabric, print, or amount of layers, an outfit can be completely transformed. Using different textures in fabrics will make a monochromatic or neutral outfit so much more interesting. You'll notice in the image below that garments are all fine textured garments so they add warmth and interest but they are slimming as they don't add bulk. A chunky knit with thick texture will make you look heavier.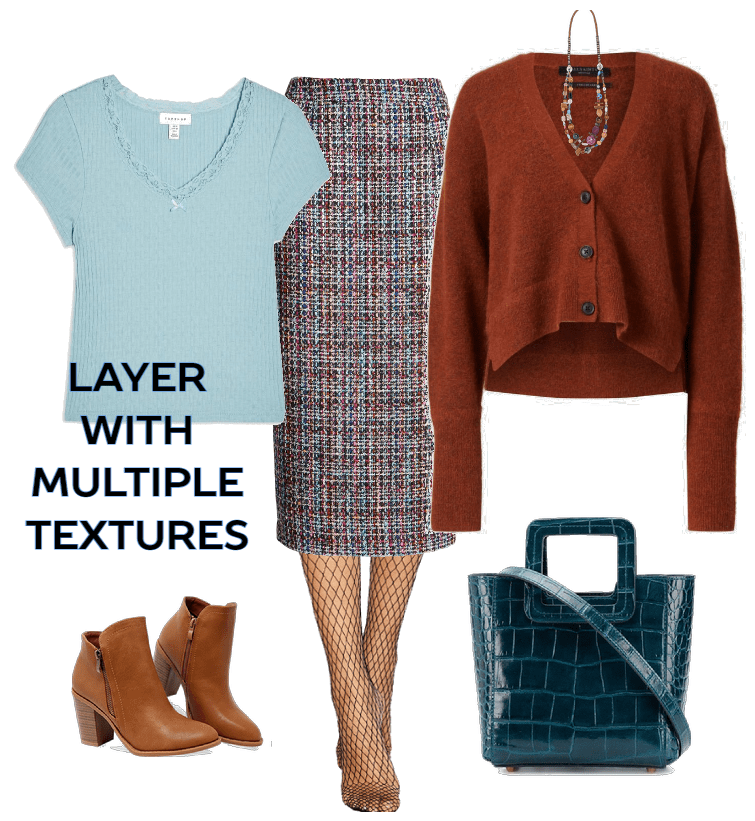 Here you can see I've used multiple textures but in a simple palette that is all contained within the tweed skirt. Each texture is relatively fine so bulk is not being added to the whole look.
When layering, the neckline is really important – the two necklines of tops should work with each other. Whether it's a jacket or a cardigan that goes over your top or t-shirt you want to work with the neckline of your cardigan to find the most attractive combinations.The concept is to either match, replicate or work with the neckline shape from layer to layer.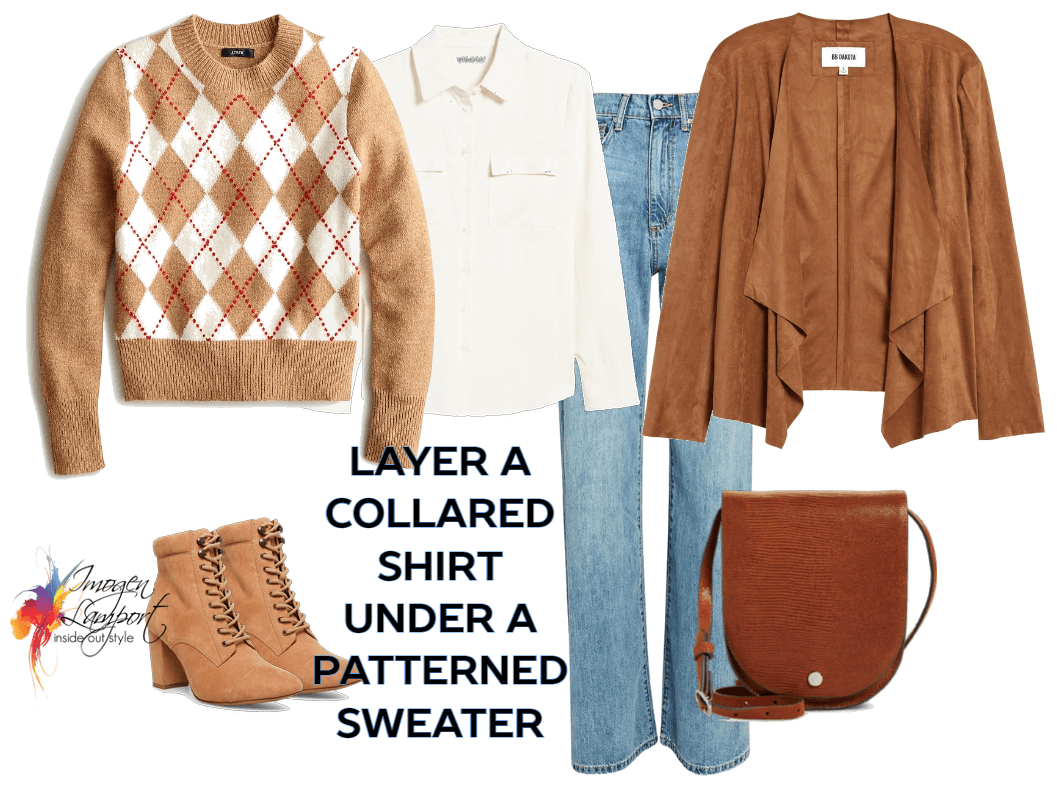 A crew neck sweater/jumper/pullover can be given more interest by layering over a collared shirt or blouse, then if you want to add an additional layer, pop on a soft jacket.
Let's not forget the accessories, like a scarf, stylish gloves, a cute hat, statement necklace & a bright pop of colour on the lips!
Layering also gives you the opportunity to play around with the pieces that are already in your wardrobe. Give yourself permission to experiment with different textures, fabrics, weights, patterns and colors, and the outfit possibilities are endless.