I wondered if you could expand on layering tops and what works together.
I'm thinking of what goes over scoop necks,v necks, and square neck tops or Tshirts. Thanks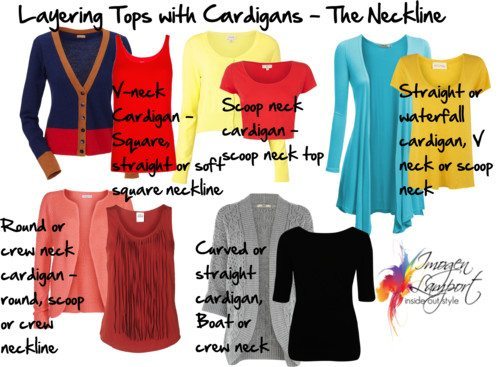 Whether it's a jacket or a cardigan that goes over your top or t-shirt you want to work with the neckline of your cardigan to find the most attractive combinations.
V-neck cardigans look better with a square or soft square neckline.
Crew neck cardigans work well with other curved necklines like scoop and crew necklines.
Scoop neck cardigans are harmonised best with scoop neck tees.
Straight opening cardigans or jackets can take all shapes including v-necks.
Curved but long openings are best with boat, crew or scoop necklines.
The concept is to either match, replicate or work with the neckline shape from layer to layer.
Don't also forget to match your necklace to your neckline.