How to Style All Different Kinds of Cardigans
Cardigans can be great layering pieces in lots of different weather conditions. Light summer cardigans to thicker winter weight ones. But they easily head down to frumpsville if you're not careful about the style you choose.
Either because they have too much fabric and volume (and swamp you in fabric) or they are more conservative and old-fashioned in style (think the twin set from the 1950s).
Here I'm sharing lots of ways to wear your cardigans and also different shapes and styles of cardigans to consider that can be useful additions to your wardrobe.
Also, you can get my guide to choosing the most flattering cardigan shapes for your body here.
1. Belt Over Your Cardigan
If you have a cardigan that is voluminous, why not add a belt on top to draw in some of the fabric and make it more fitted. Get my video instructions here on how to belt over a waterfall cardigan.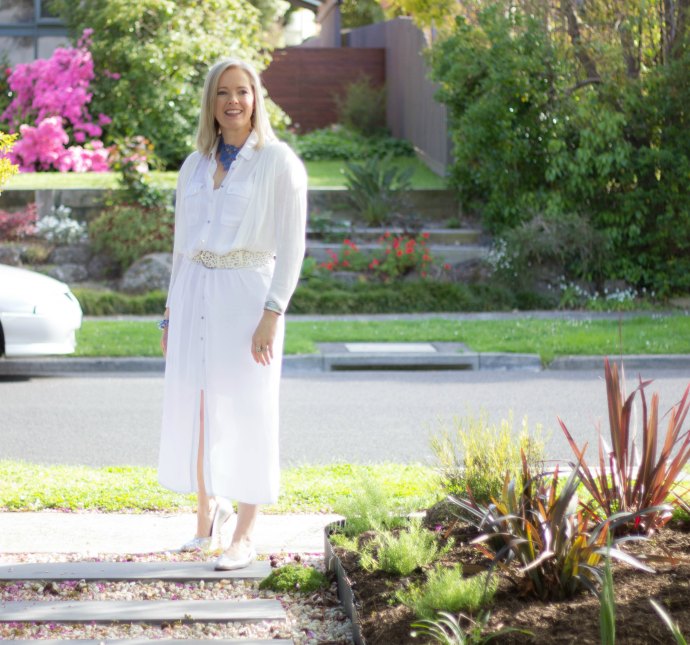 In this belted version over a dress, this is a short cardigan that hangs just the little too long, by tucking it into the wide belt it creates a more flattering silhouette.

An elasticised belt is a comfortable way of drawing in the volume of your cardigans. Wearing them with leather look leggings and ankle boots also gives the cardigan a more edgy appearance.
Why not also try belting under the cardigan … discover more here.
2. Wear a Scarf With Your Cardigan
Adding a scarf over your cardigan adds a texture and dimension to your outfit.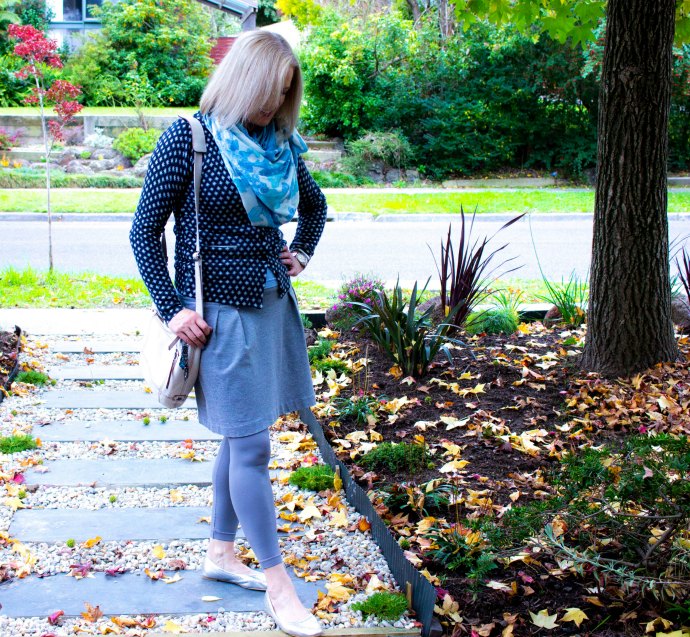 You can try mixing patterns as I have done here above, with a patterned cardigan and a patterned scarf. You'll notice in the pattern mixing that one pattern is larger and the other smaller (don't try mix two patterns that are too similar in size and scale).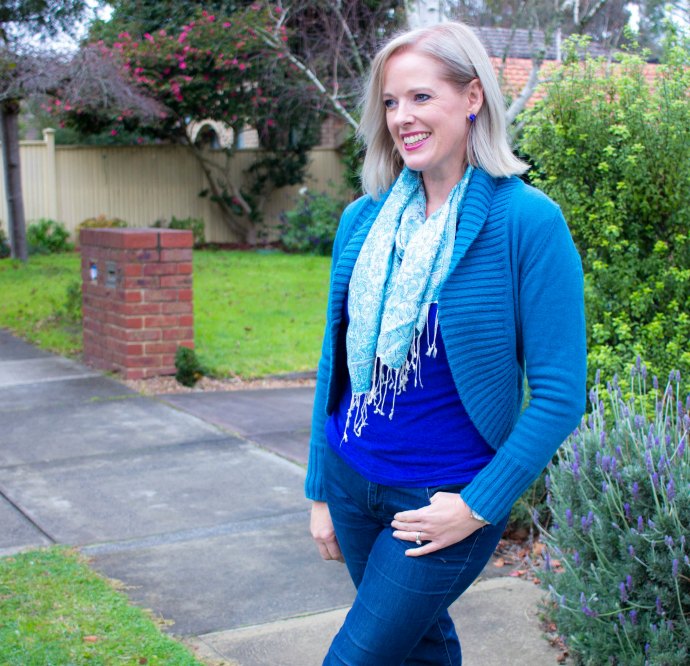 This scarf brings the blue of my top together with the teal of this shaped cardigan (a flattering style, not too boxy or square).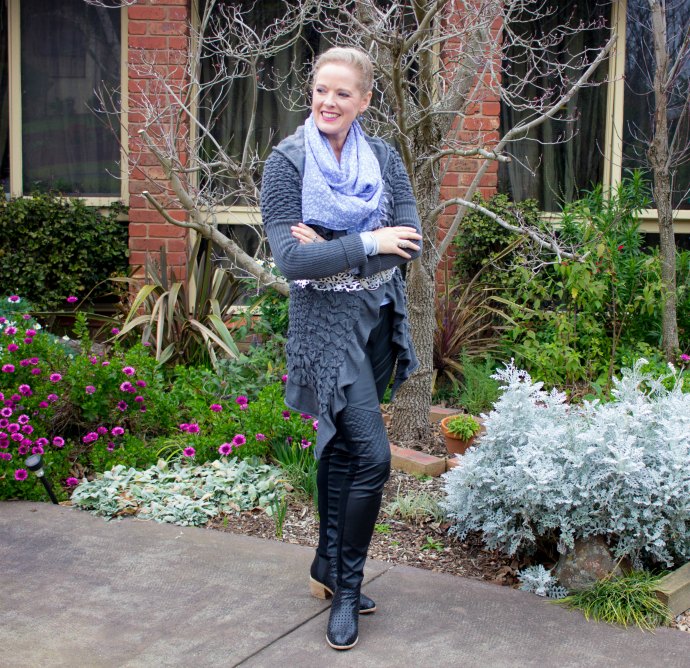 I chose this scarf to mix back with this textural cardigan as there is a relationship between the shapes of the texture in the cardigan and the uneven curved pattern of the scarf.
3. Button Your Cardigan in Different Spots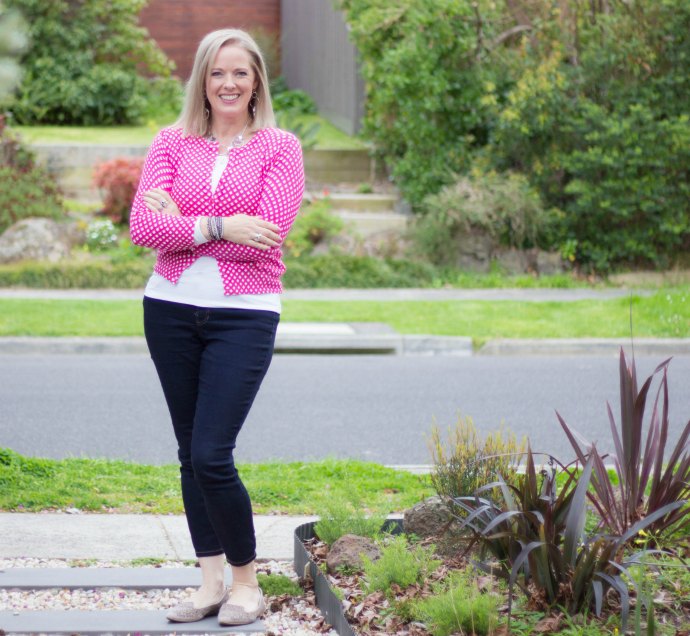 Consider buttoning your cardigan in different spots. Buttoning at the bust (as I've done above) creates more of a shaped waist appearance. This is also the best option for those with a larger bust.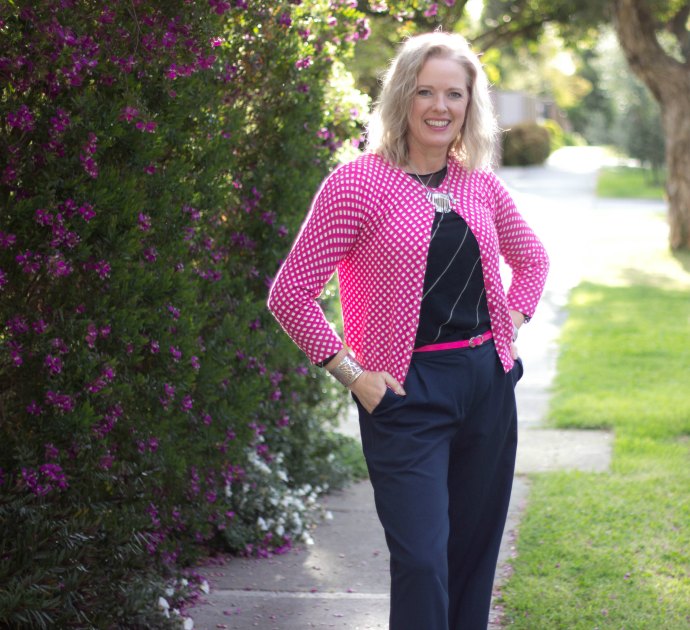 The same cardigan buttoned at the neckline provides a looser more flowing style. Rarely would I ever button the cardigan the whole way down, usually I'll leave the bottom button or two open.
4. Wear a Plain Cardigan with a Pattern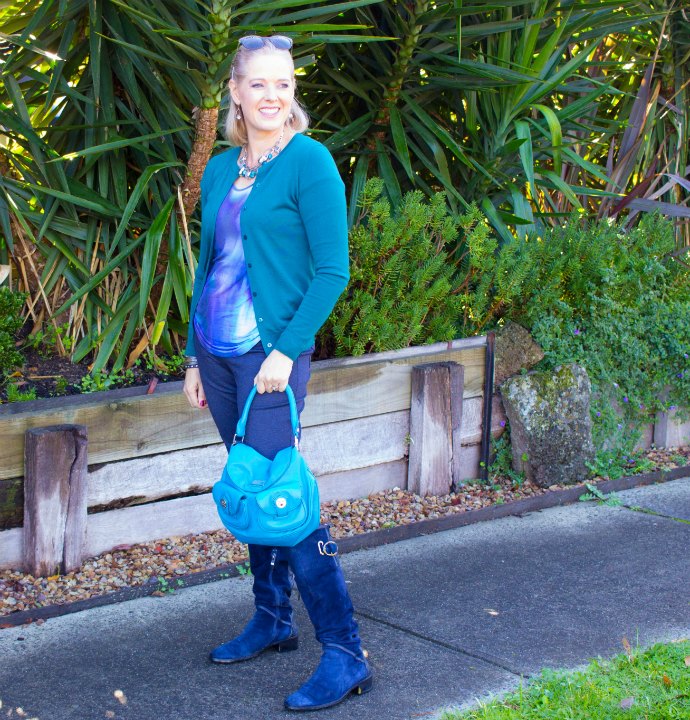 With a conservative crew neck cardigan like this green one, it can be dull and frumpy so easily. I've found that wearing it with patterns like this abstract tee and jeans (above) or as a layer over this asymmetric butterfly top (below) means that the whole outfit doesn't look staid.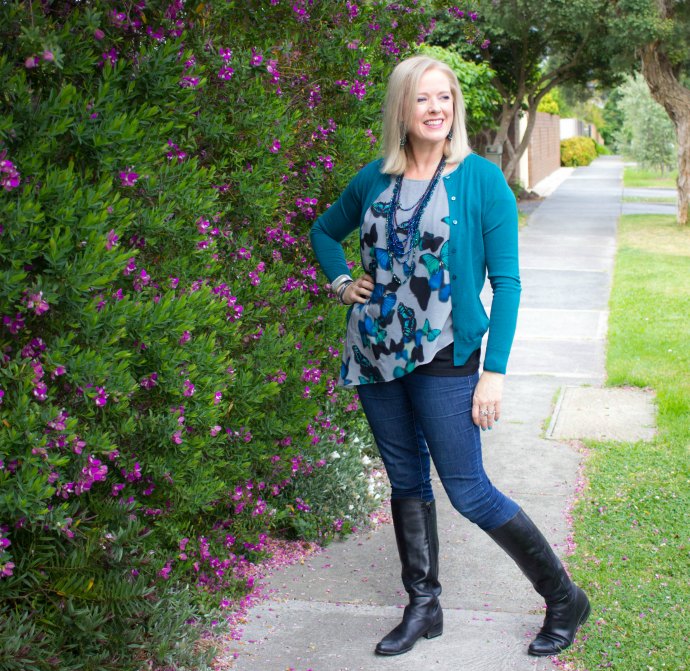 Here (below) I use the longer more draped waterfall cardigan to tone down the leopard print on the dress.

For me, this dress is too dramatic for daytime without the longer layer over the top, so you only see a portion of the pattern. Plus it creates a longer leaner look by adding flattering verticals.
5. Wear a Patterned Cardigan
Or why not look for cardigans with patterns? Even in a traditional crew or V neck style they just don't look as staid or dull.
Cardigans that end around your high hip area look more current than those that end at your low hip (plus they don't draw an unflattering horizontal line across the upper thigh which is many women's widest point and one they don't want to draw attention to).
6. Wear your Cardigan Upside Down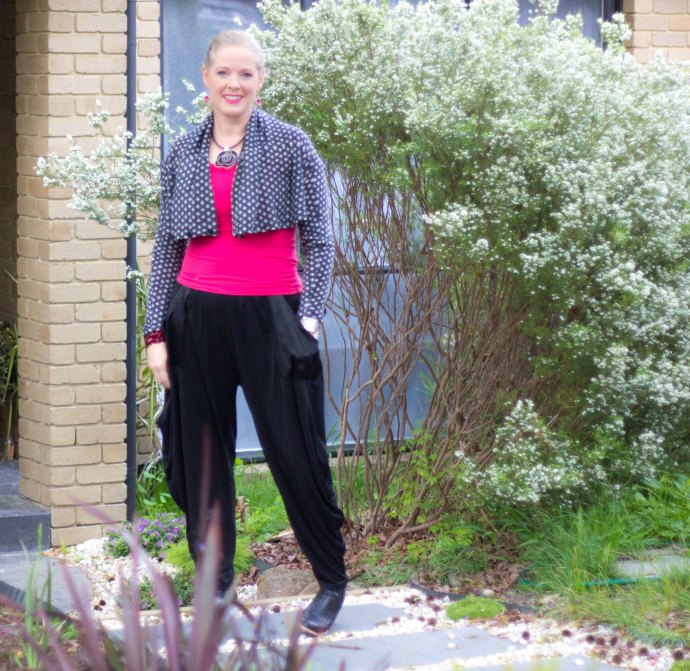 Here I've popped on this V neck cardigan upside down, that's right! And I love it this way. You can see it the "right" way around further up the page!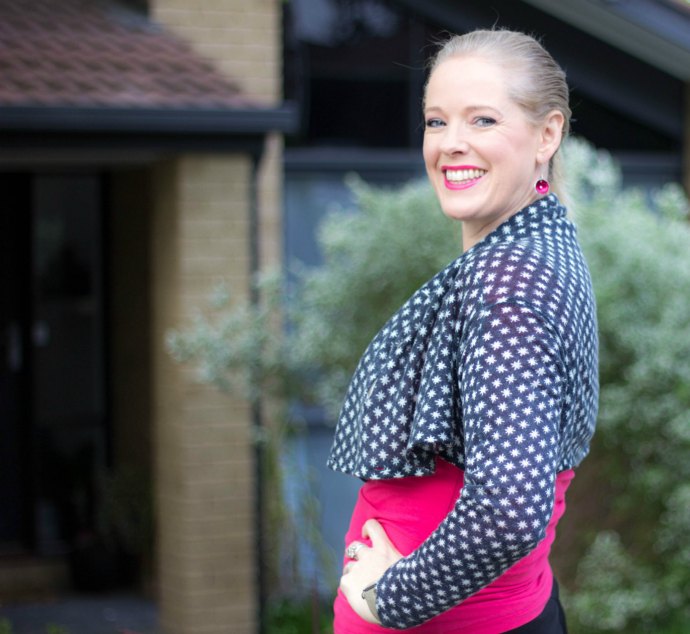 Because of the V neckline, the collar sits easily across my back (it's easier to wear a V neck in this style than a crew neck).
7. Look for a Cardigan with a Twist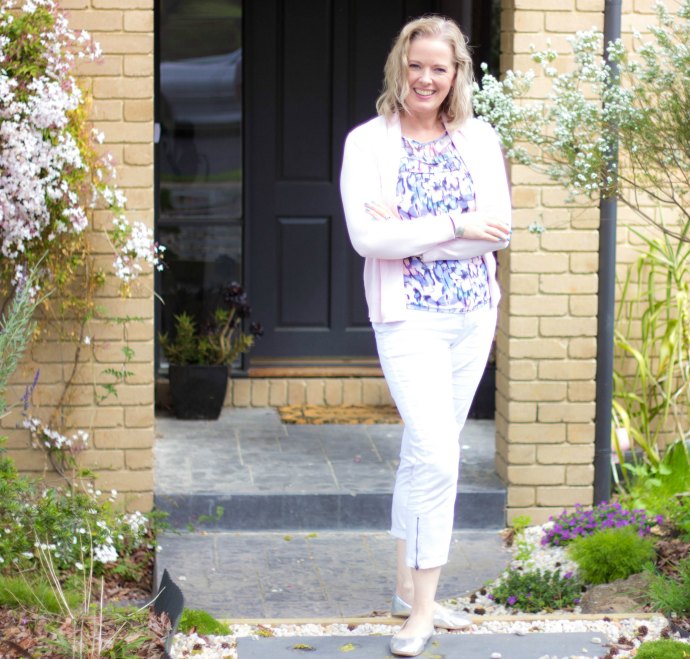 This pale pink cardigan is all "business from the front" as they say, but turn around and …
It's a party at the back. I'm always looking at more classic garments to have some sort of quirk or detail that take them away from being staid or boring which is what drew me to this one.
I like that I can easily wear a patterned top with it as you don't see both patterns at the same time!
8. Wear a Waterfall Cardigan with Skinny Jeans or Leggings
Styling a waterfall or longline cardigan with skinny jeans or leggings is a great way of covering up the hips/thighs/bottom area (that many prefer to show less of) and also to create two vertical lines down the body with the cardigan opening that has a lengthening and slimming effect.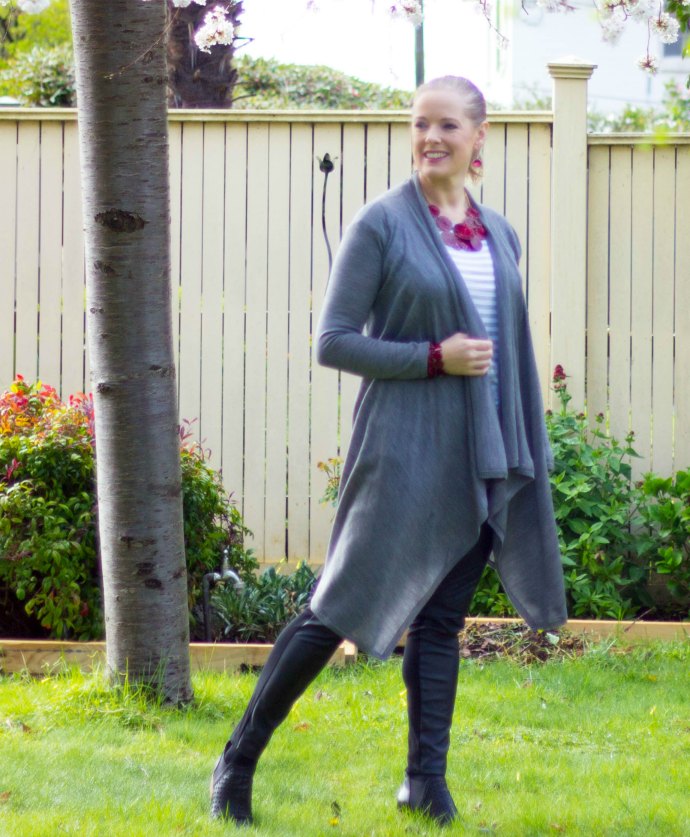 9. Wear a Short Shrug Style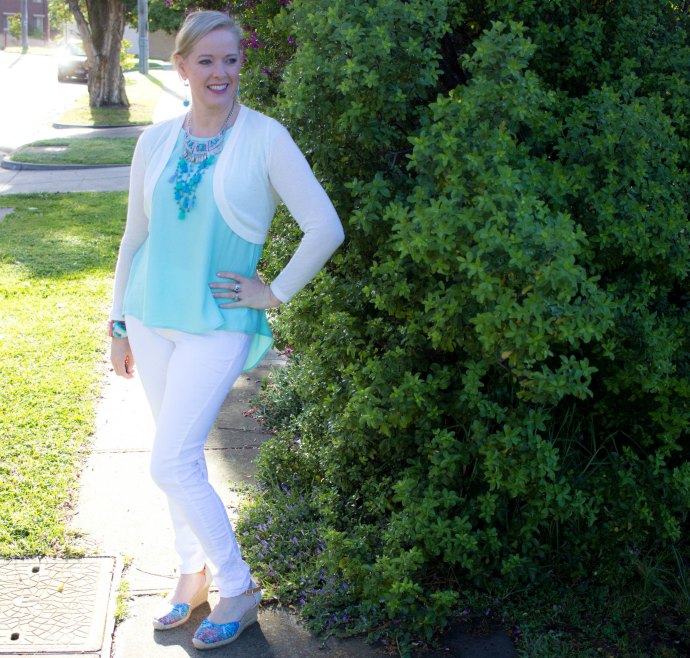 There are many different cardigan styles and a shrug style like this one is great with longer tops, tunics and dresses as it highlights the waist without adding an additional horizontal line with its hem as the curve hugs the body and avoids creating a horizontal at all. Teaming a cardigan with a funky statement necklace will also help to modernise the feel of the whole outfit.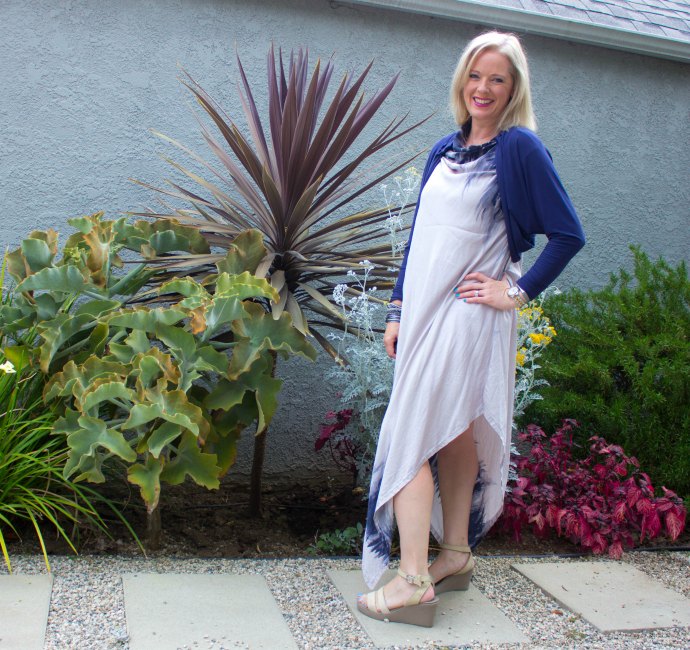 10. Wear a Sleeve Style Cardigan
Shrug style cardigans that are just basically "sleeves" like these are easy to wear and almost form part of my "beauty bundle" of accessories.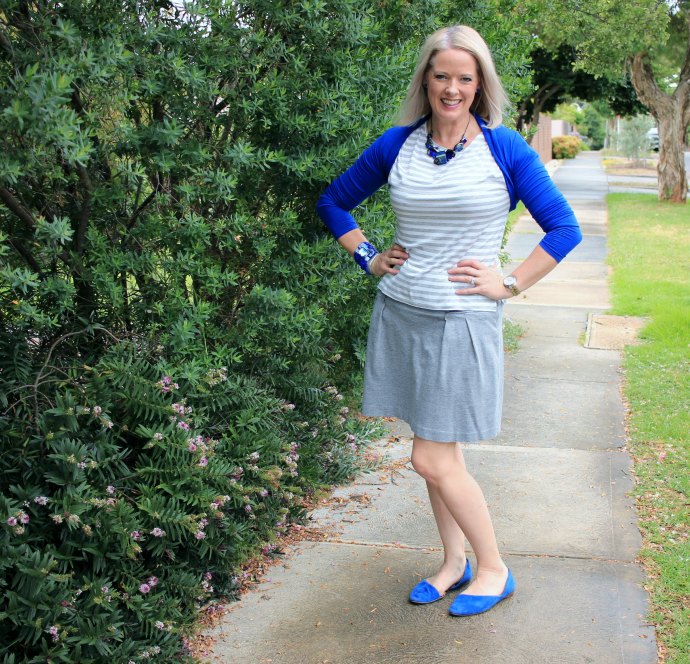 I can add a pop of colour as well as a warming layer (when I need a sleeve).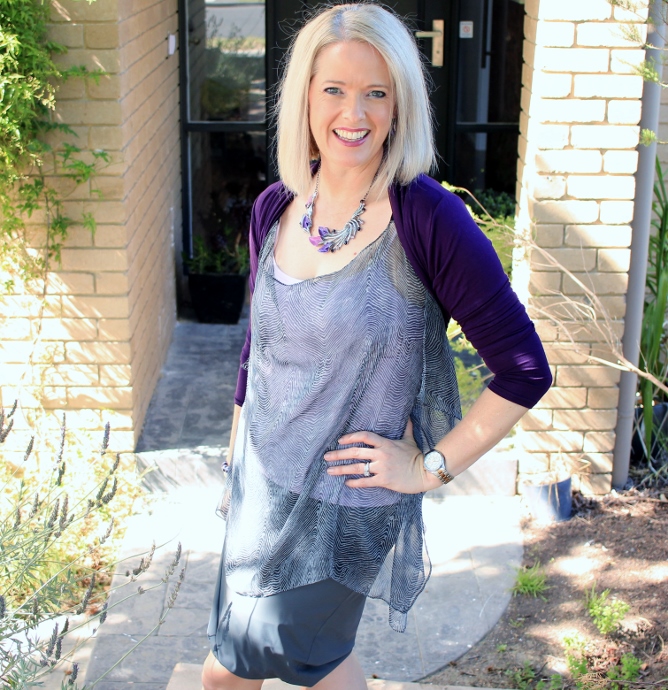 I get these ones from Amazon and they are a light jersey fabric and come in a myriad of colours.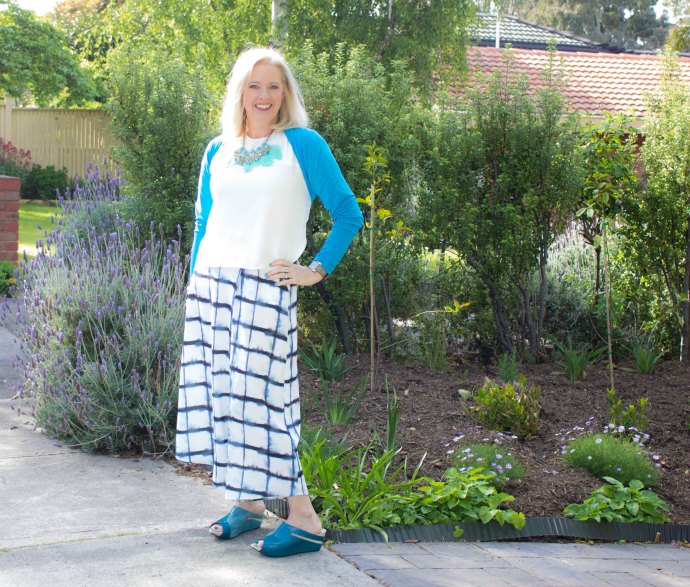 These shrug sleeve cardigans work over so many different tops, from tunics to dresses as you don't have to worry about getting the proportions of top to cardigan layer right.
11. Just for the Frill of It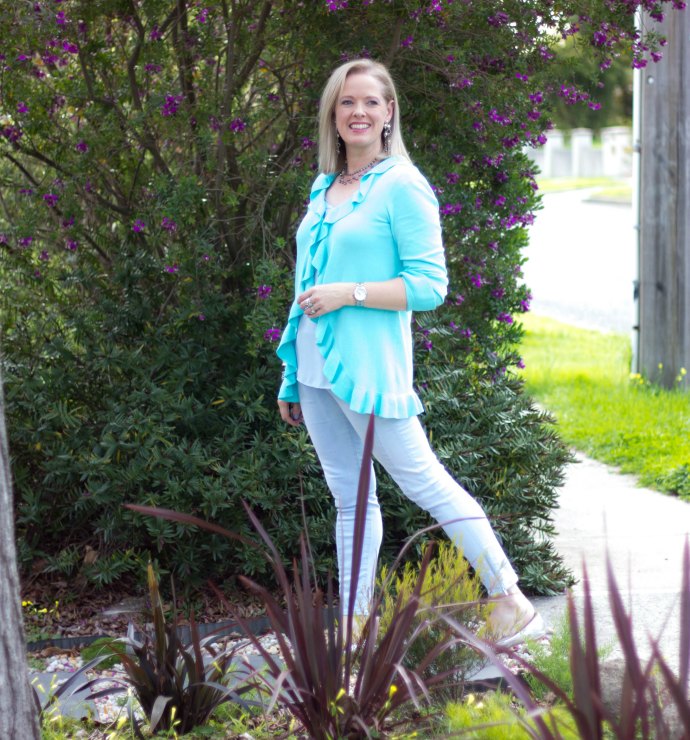 My final cardigan outfit is one with a frill. Looking for little details like the frill that goes around the outer edges (neckline, front and hem) make this a more feminine cardigan and adds that element of detail.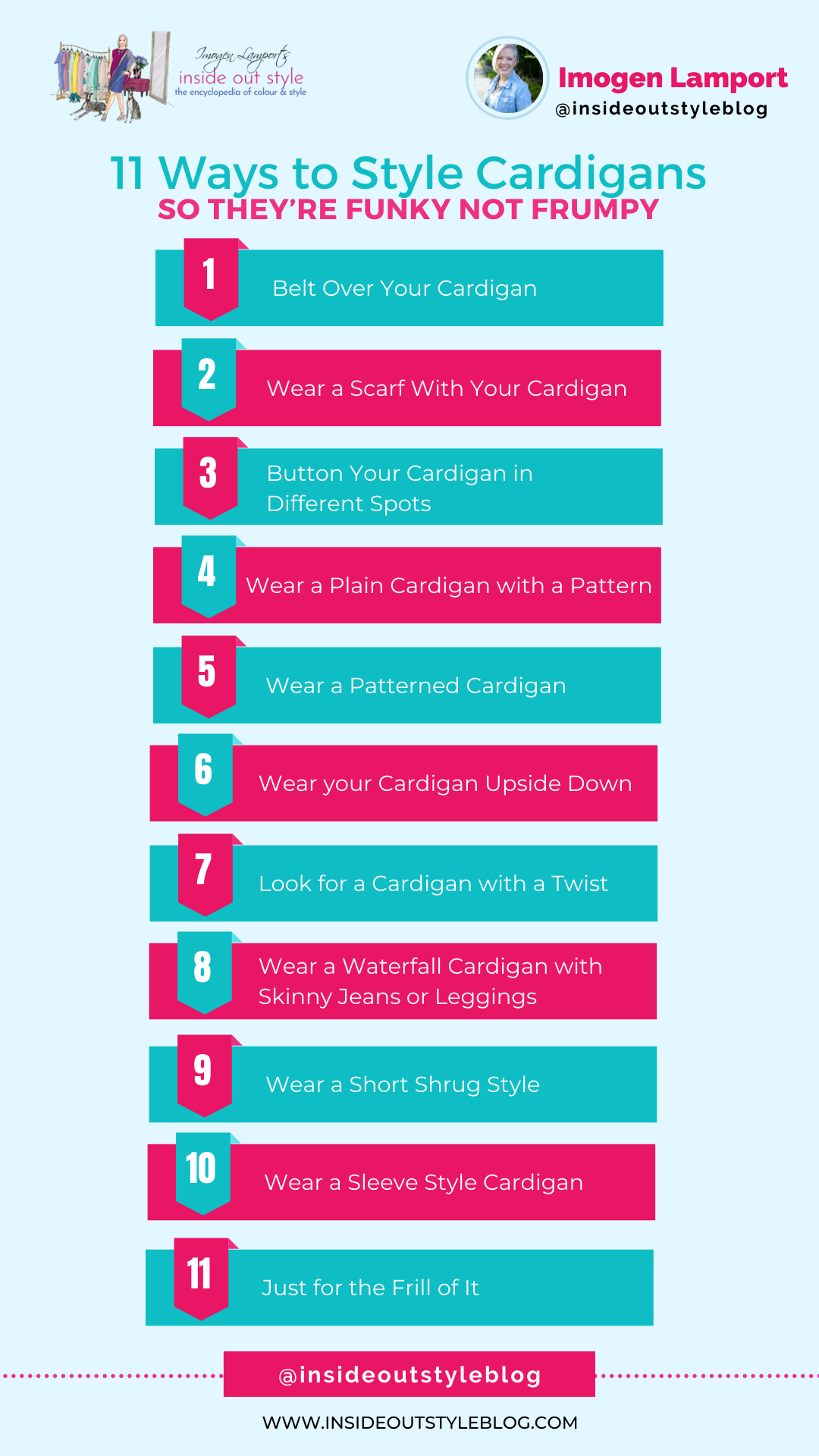 Want to discover your body shape? You can do my quick quiz here to find out, or if you'd like my professional opinion I give this as part of my 7 Steps to Style program (that includes so much more so that you really nail down your style and stop wasting money on the wrong clothes).

More Tips in Choosing Cardigans and Adding Layers