Winter is a time of year that allows you to throw on more, not less, which means it's way easier to create more interesting outfits as you can keep adding layers of texture, pattern and adding details (unlike in summer, where even adding a "third piece" can be too much, which is why I've shared how I add style to my summer outfits here, without the need for layers).
So what are the secrets of the most stylish winter outfits? How do you add layers and interest without just becoming a Michelin man?
1. Use Colour to Create Interest and Warmth
In mid-summer, the colour I want to wear least is red as it just feels hot. Instead, I am drawn to cool blues and greens (think about the sea and the sky of a tropical beach holiday… in fact Jill Chivers and I discuss choosing colours based on mood and how they make you feel here). In winter those warm overtone colours – pinks, reds, oranges, red-violets and burgundies – all hold much more appeal as they radiate a feeling of warmth.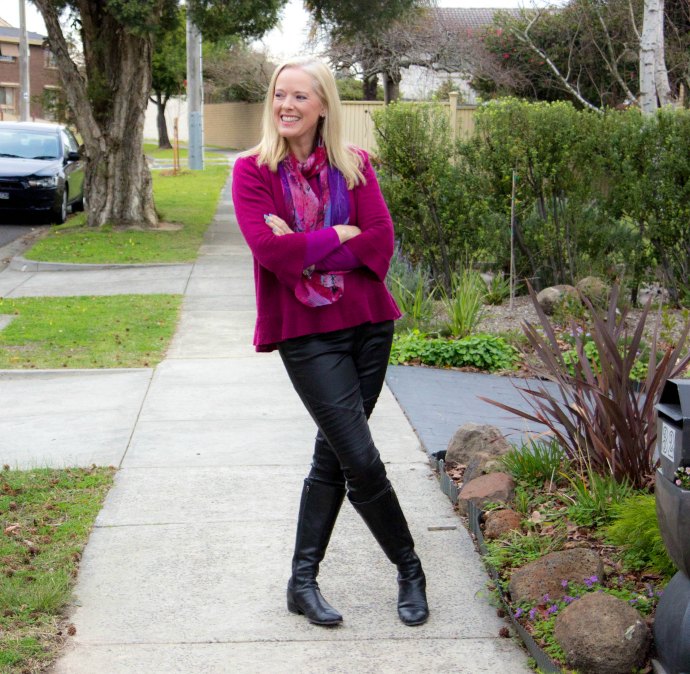 You can layer colours too. Here I've a red-violet long sleeve merino wool top underneath my burgundy jumper (that's a sweater in Australian). This mix of colours which are repeated in my scarf (the easiest way to find colours to mix together ever – get my tips here) which also adds a layer of interest to the outfit.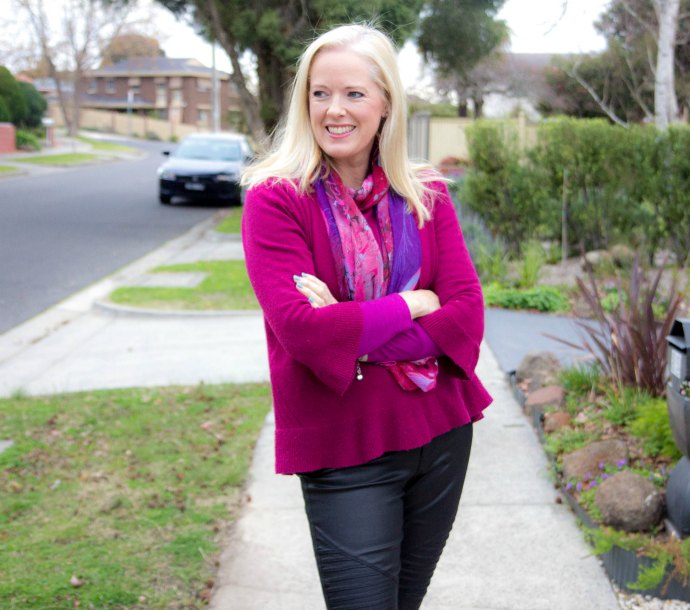 Notice too how these leather look jeans have a textural element in their design that adds another layer of detail. And I've tied the colours together using a scarf in an analogous pattern to add interest and detail (and also keep my neck warmer!).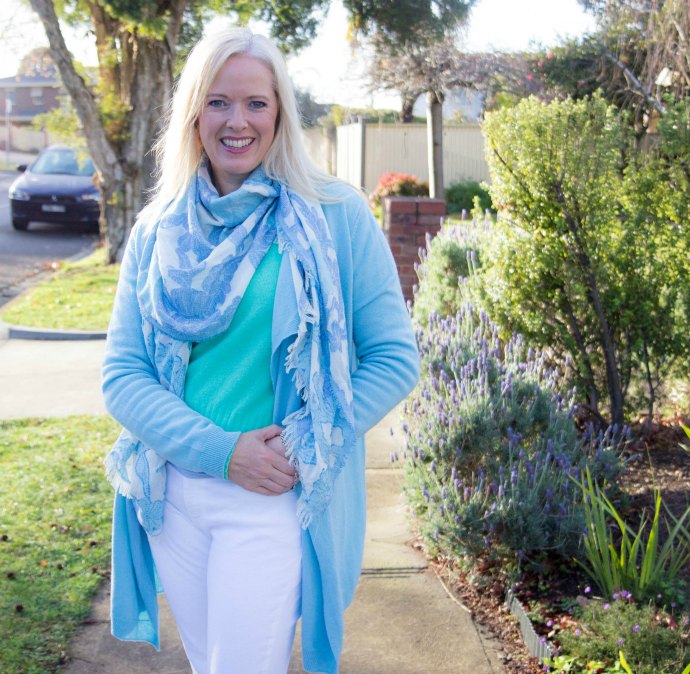 You can also add layers of different colours – I like to use an analogous colour scheme as I'm not high colour contrast, but the colour wheel can show you all different options that harmonise beautifully.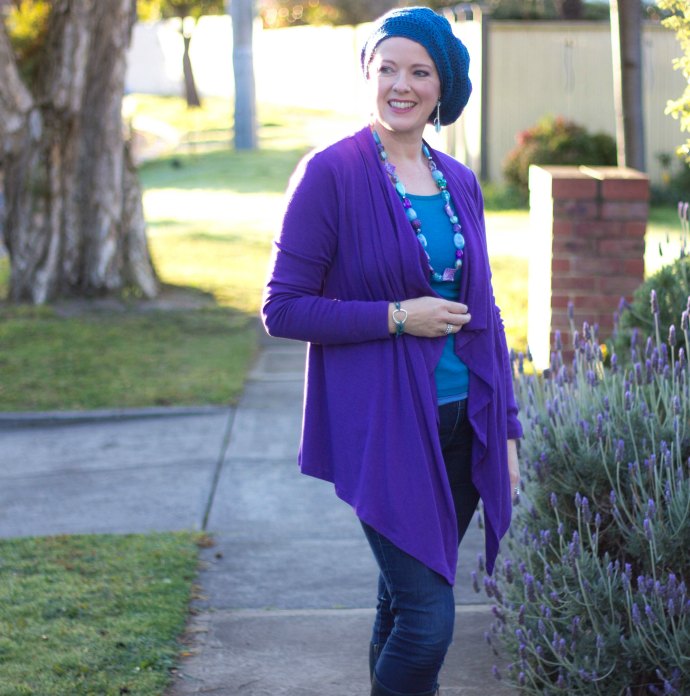 But sometimes for some colour pop in winter, I like to use triads too as they make me feel bright even when the sun isn't shining. Notice how I've repeated the colour scheme of my necklace which ties the two colours together beautifully.
2. Layered Textures Add Interest and Detail
There are so many soft and lovely textures that you can easily add into a winter outfit.
Cable knits are synonymous with winter and can add that textural detail.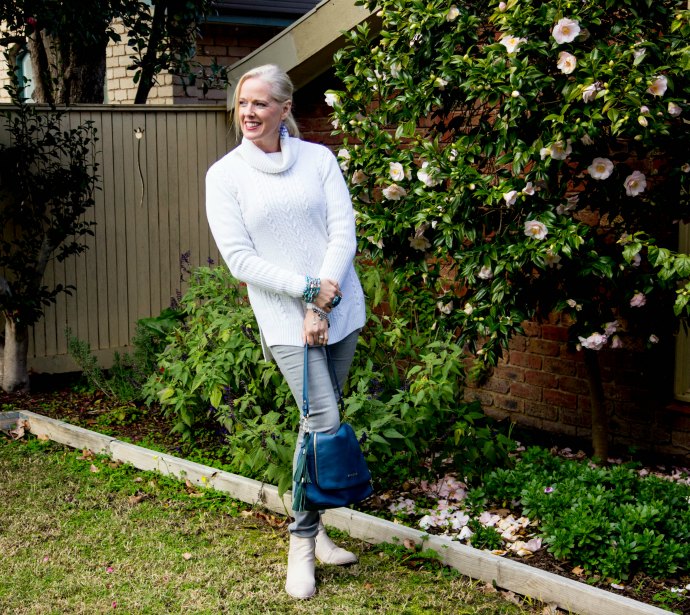 Think about textures such as:
Fur (faux or real)
Suede
Leather
Wool – mohair, cashmere, possum
Tweed
Velvet
They all have a soft cuddle factor that makes you feel more snuggly and warm. Can't wear wool? Get my tips on staying warm when this fabric isn't one for you.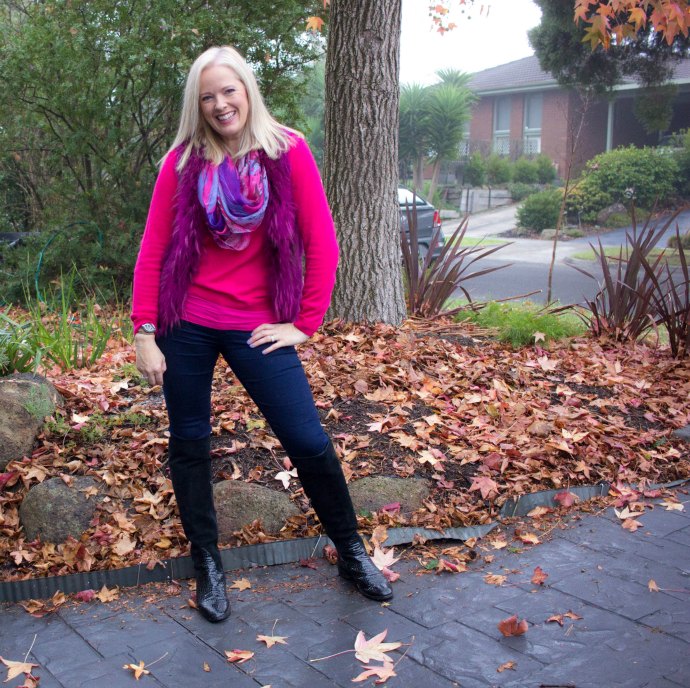 Furs – faux or real – add great warmth for winter (I have a great big bear coat as I call it that I bought in the UK back at the turn of the century that is my big winter coat when needed).
Wool can be knitted into so many textures too that add interest and detail to your outfit. It was the textural detailing of this cardigan that piqued my interest in it when I saw it in a store.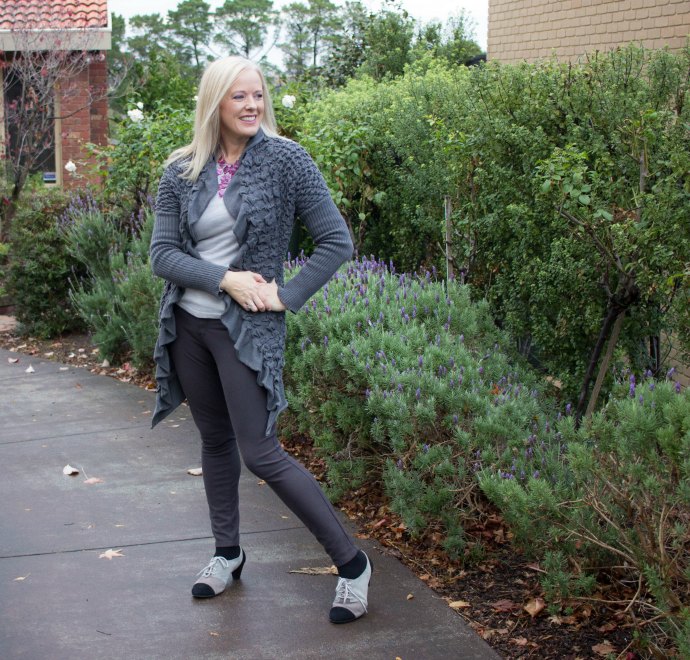 Leather can be smooth or textural (think mock croc) and adds a great layer for wind resistance.

3. Layered Outfits Allow for Mixing Colours, Textures and Adding Patterns
There are many ways to layer, ideally the more layers you have, the less bulk in each layer (or only the top layer is the chunky or bulky layer). Layering is great for those climates where it starts off cold and then heats up, or if you just need to stay warmer but may want to remove one or two layers during the day as you warm up. Or if you're like me and just find it difficult to stay warm, even inside in winter (without wearing your big winter overcoat all the time – and I can tell you there a few times I get home and don't take off my coat when I'm feeling really cold).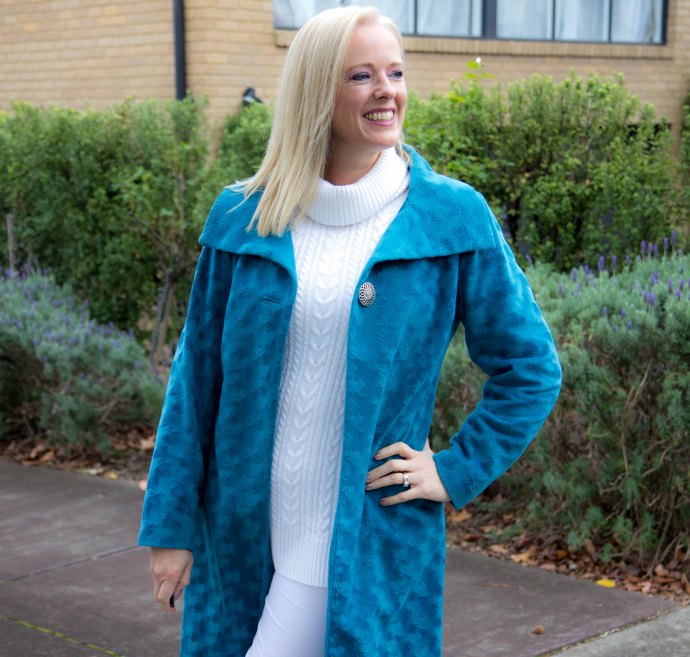 Layering easily allows for a mix of textures (like I've done with this faux pony and cable knit).
Short Over Long – here I've got a shrug (knitted by me – details here if you want to make one too – super simple!) that's short, over a long-sleeved knit top. It also is an easy way to add in pattern to your outfit.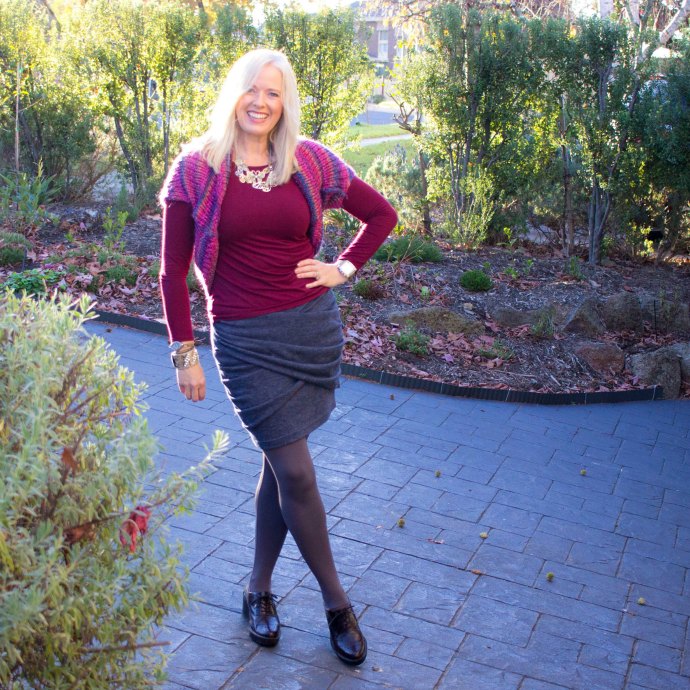 And another example below of a shorter cardigan over a longer tunic top, again with a patterned element, the colours repeated in my layers of necklaces (don't stop layering at your clothes – layer your jewellery as well).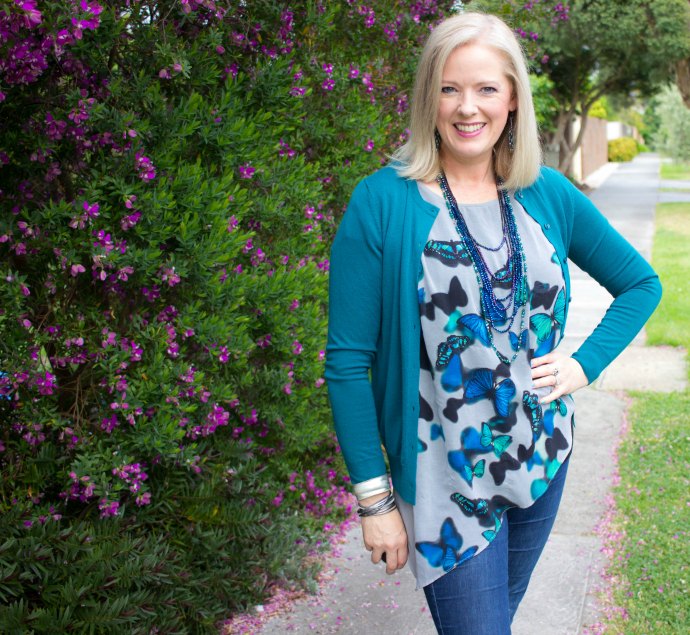 Long Over Short – This is the tried and true way of layering most commonly used, a longer jacket or cardigan over a shorter blouse or top.

4. Add Detail with Your Shoes/Boots/Hosiery
Don't let your accessories be dull! I'm always looking for those extra little details in my shoes. I fell in love with these boots as they have a rose gold textural cutout detail on the heels.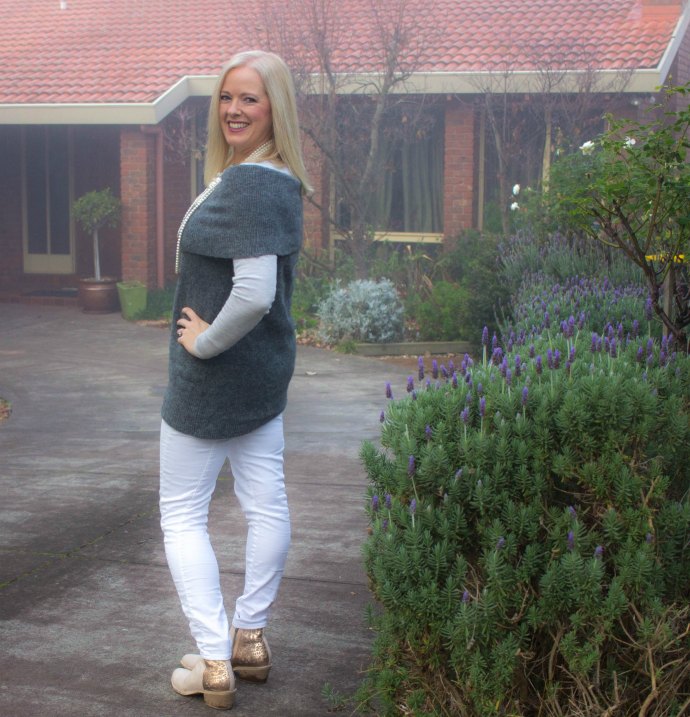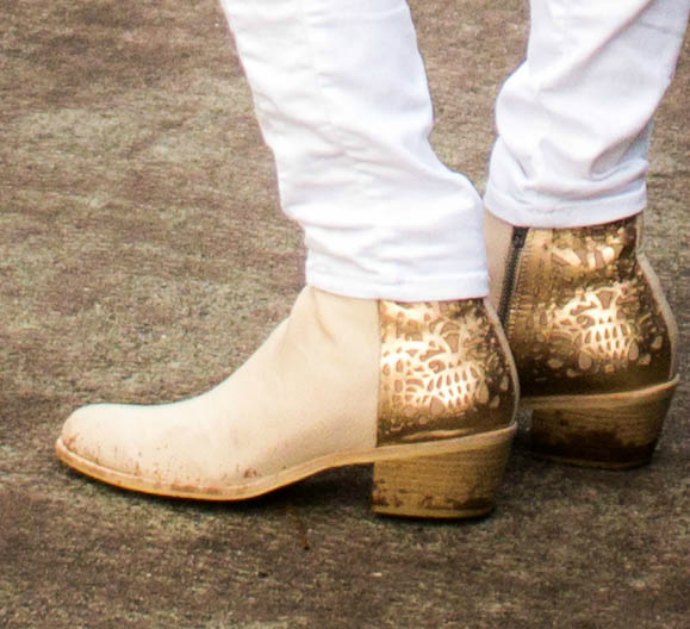 Mix two neutrals (here grey and rose beige) with a colour (here violet).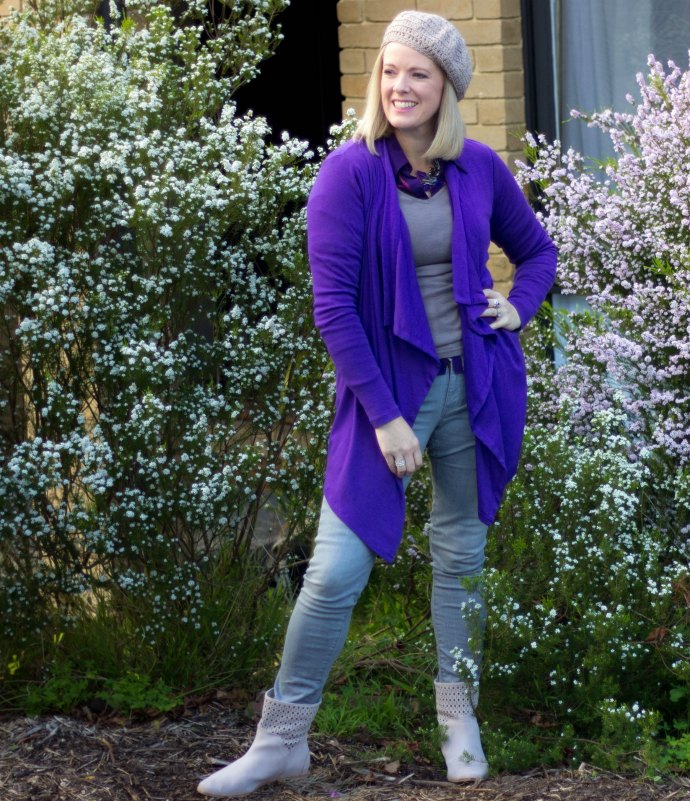 These boots have a cutout pattern that adds a layer of interest to the outfit (and repeats the crochet pattern in my beret).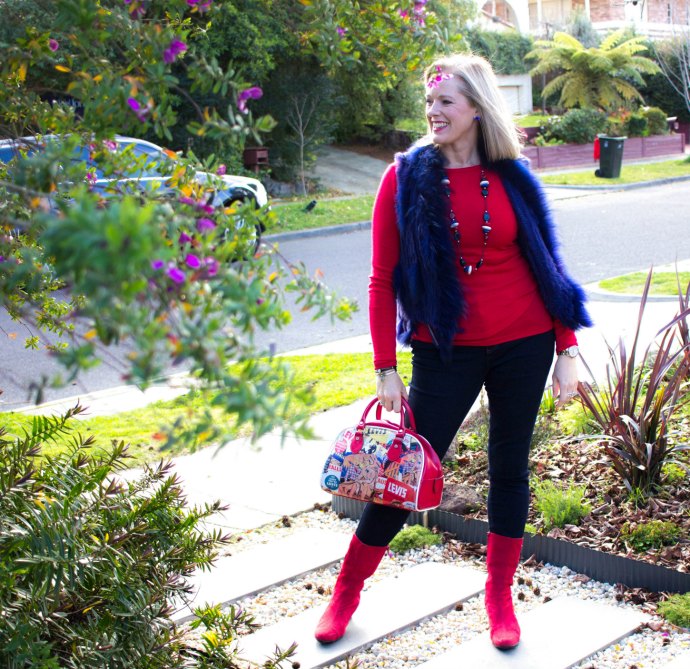 Add a colour using your shoes – these red boots add a vibrant detail to the outfit.
Don't forget hosiery – patterned or coloured tights are another way for you to add some extra interest to your winter outfits.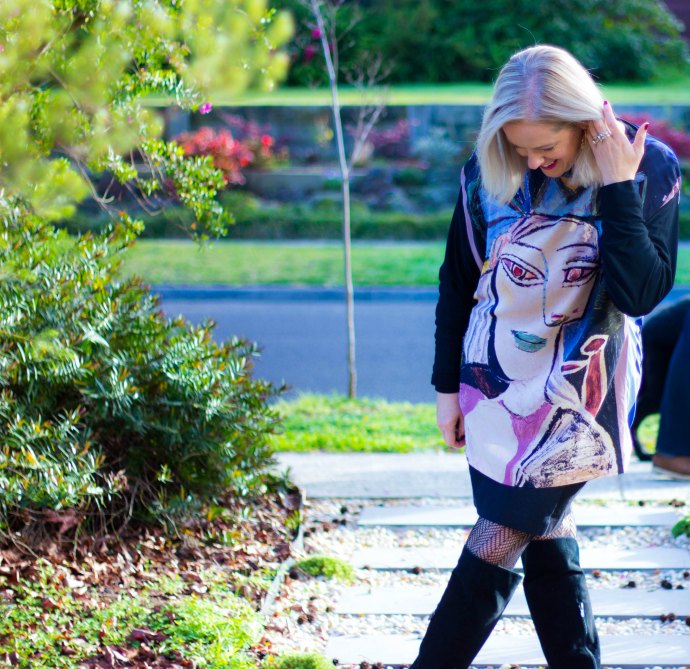 Even just a hint of patterned hose adds an extra element of interest to the outfit.
5. Scarves Gloves and Hats and Other Accessories
All your accessories, of which there are more you can wear in winter as compared to summer, allow you to play and create more and different outfits. You can see how many scarves I add in the images above to outfits to add warmth, pattern and interest to winter outfits.
You can belt over (or even half-over as I've done over only the front of this poncho below) with a feature belt.
Cold outside? Why not add a cute winter hat – a bowler, fedora, beret or beanie – keeping your head and ears warm definitely makes you feel warmer all over.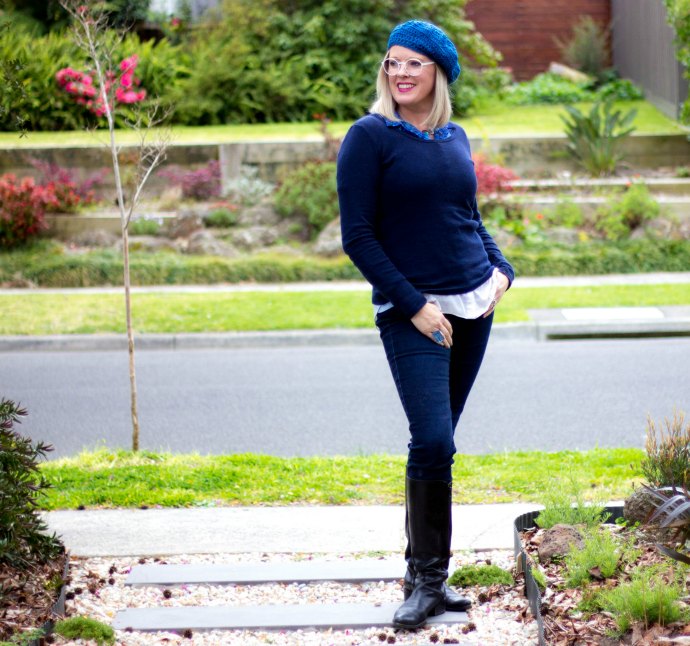 I've also allowed the hem of my shirt to peek out in this layered outfit – an unbroken column of colour it would be without it – but the hem of the shirt which is soft, curved (so more slimming than if it was straight) adds a touch of interest, without which the outfit could be a bit boring.
Add Jewellery – necklaces – bracelets, rings – are all great for winter outfits too.
Here I've added my colour element (over two textural elements – the possum wool and spotty chiffon knit top) in turquoise.
Don't stop at layering clothes – layer necklaces as well.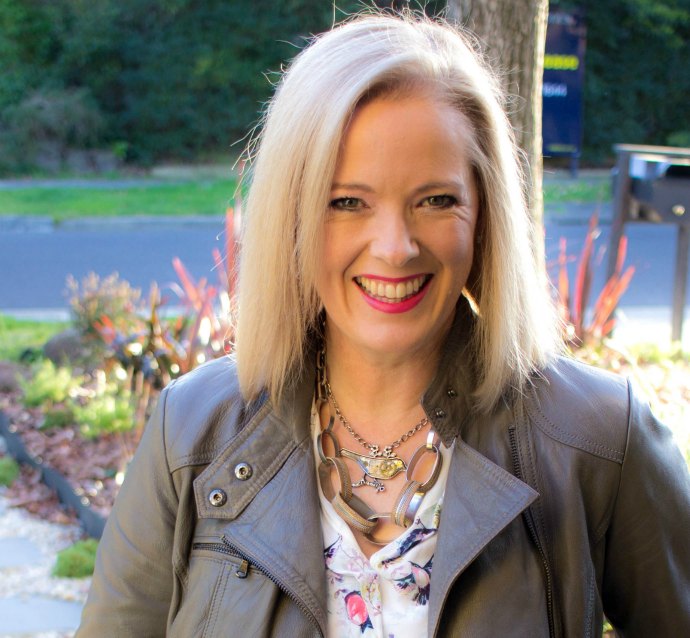 Sometimes one necklace is just not enough and two makes more of an interesting statement, get more tips on layering necklaces here.
So there you have it! 5 ways to create stylish layered winter outfits – you can, of course, use these tips in any season, you'll just adjust the weight, thickness and number of your layers!
You may also be interested in this great blog post on layering by Badass Baby Boomer , Sarah, who shares her layering tips.
More Layering Tips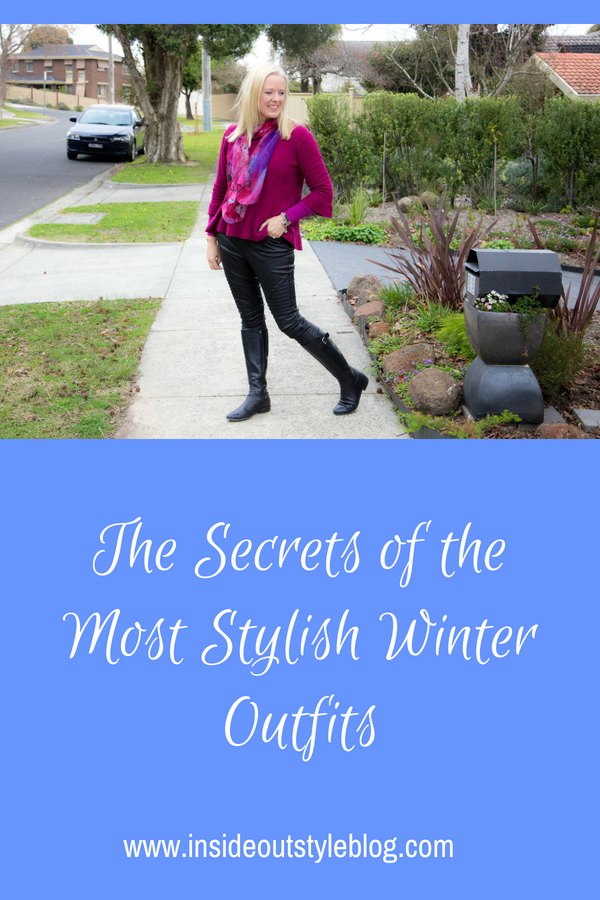 Linking up with Visible Monday, Style with a Smile, Not Dressed as Lamb