When deciding what to wear, one element of fabric choice is the texture. Choosing a texture relates to your own level of texture – smooth hair and skin – smooth fabric. Textured hair and/or skin – textured fabrics (see more about that here).
When your skin and hair is smooth in texture, you will look overall better wearing smooth or low textured garments. But that can become dull, so how do you find textures that will harmonise with your natural appearance and still look great?
1. Layer More Textured Garments Under Smoother Ones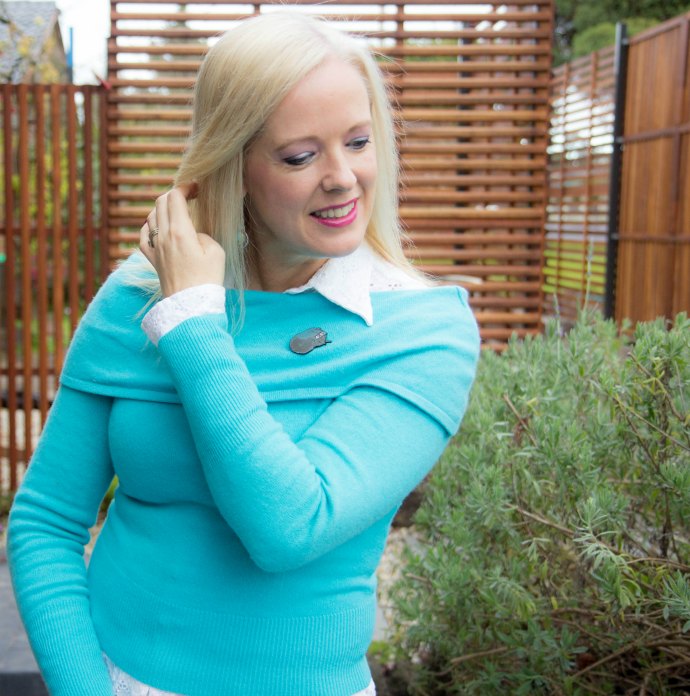 Why not try layering a more textured garment (like my BroderieAnglaise shirt) under a smoother textured garment. This reduces how much texture we see and so makes the texture a less dominant part of the outfit.
2. Add Textured Elements to a Garment with Sheen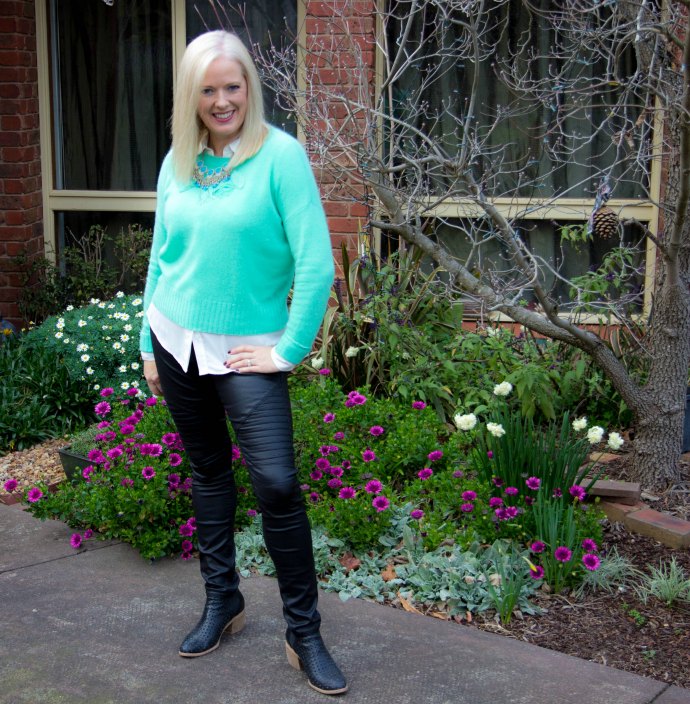 My leather look jeans have a textural element – and because they have a smooth sheeny-shiny surface the texture doesn't feel as rough as the shiny surface reflects light and a smoother feeling. Notice too my boots are textural with their cutouts but are actually still flat and smooth.
3. Add Smooth Textures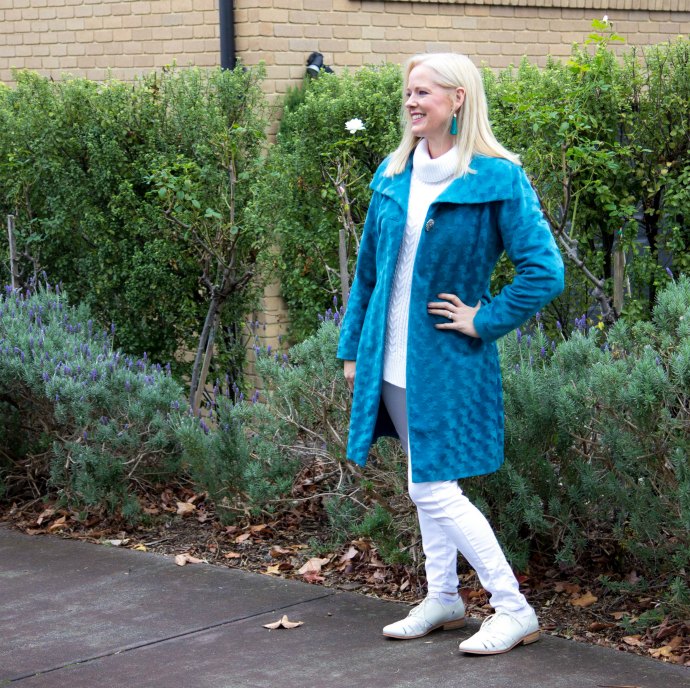 Why not try a smoother texture – one that isn't chunky or lumpy – like this smooth turquoise jacket – which looks textural, but is smooth to the touch.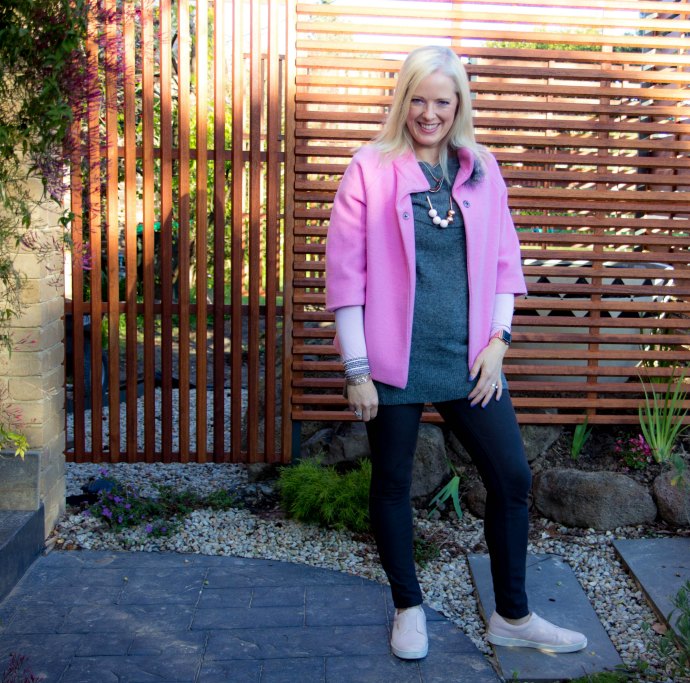 This soft woolly knit has some texture but is soft to the appearance.
4. Add Furry Textures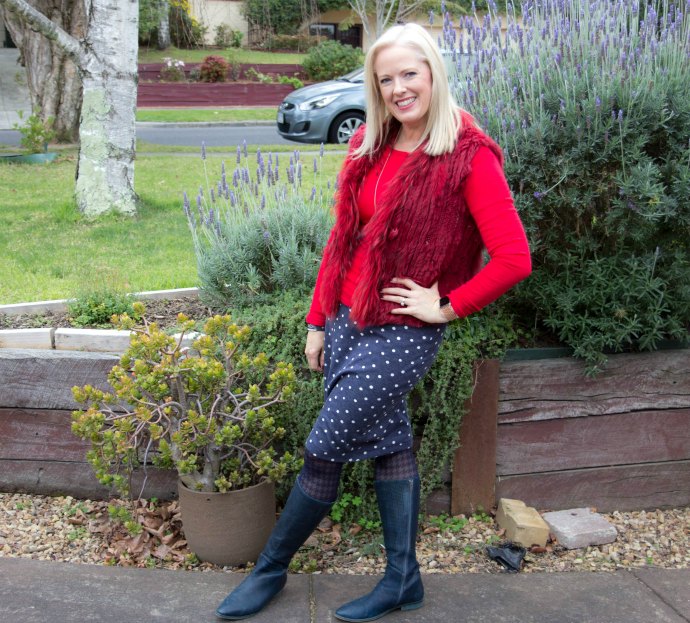 A furryelement looks more like the ends of hair, and even though the vest is a highly textured garment because it is soft (see above) as well, can be worn by the smooth quite easily. Also look for your furry pieces in a solid colour rather than a more obviously textural multi-tonal colour palette as it makes the texture less obvious.
5. Add Textured Accessories
And why not add your texture in small doses like this textural brooch (made and gifted to me by a fabulous Inside Out Style blog reader!). A small textural element in an outfit is easy to pull off for even the smoothest person.
6. Add Sheer Texture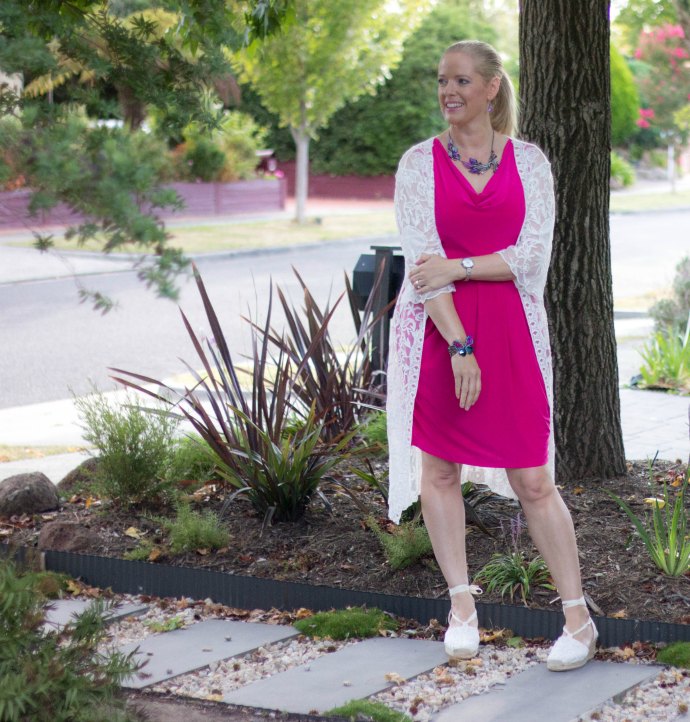 Why not try a sheer texture like lace. Its see-through nature can make it feel less textured and more refined than an opaque textured fabric.
Wearing it in an open garment is also another trick – there is less of the texture you see from the front to notice that it's not as harmonious as the smoother fabric.
7. Add Texture to Your Hair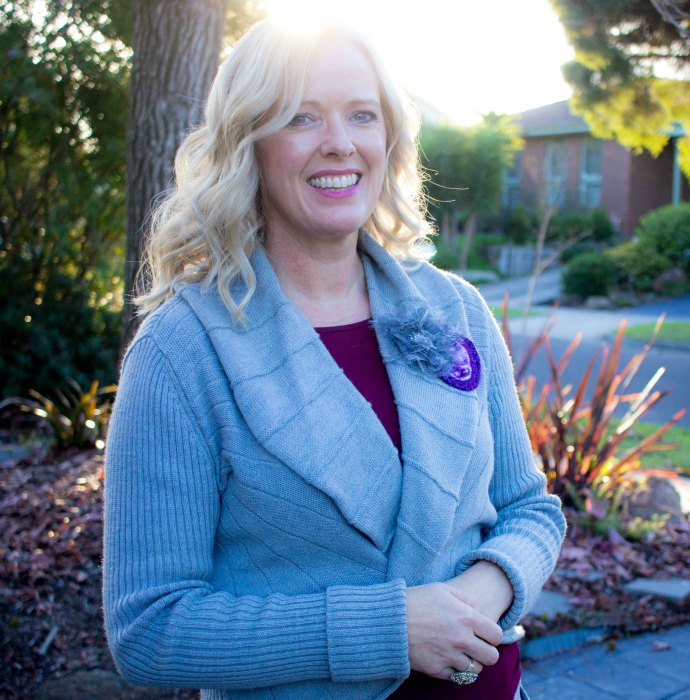 And last, but not least, up your own texture. By curling my hair it's easier to wear more textured garments as it creates a balance between natural appearance and the fabrics.
Texture is just one element of the style puzzle – when deciding what to wear. But it can make a difference to how an outfit relates to and harmonises with your appearance and provides a backdrop for your natural inner beauty to shine through.
More Tips on Choosing Textures to Flatter
How You Can Use Your Hair Texture to Determine the Fabrics You Choose