What's a low-value contrast outfit anyway? It's one where the value (that is the technical word for the lightness to darkness of a colour) is similar, and so is an outfit where there isn't much value contrast.
Many feel that low-value contrast outfits can be dull (and difficult) to put together with style. This is not so fortunately, and I'm sharing here 6 ways to make them more interesting. (If you're not sure of your value contrast – find it out here with my 3 Step Process or if you'd like my professional opinion you can get this as part of my 7 Steps to Style program here).
Now if you have low-value contrast – then a high-value contrast outfit will wear you, your face will disappear as the outfit takes over (and creates a body focus). By working with your low-value contrast you'll find that you look so much better as a whole as your outfit is in harmony with your colouring.
1. Layer Similar Colours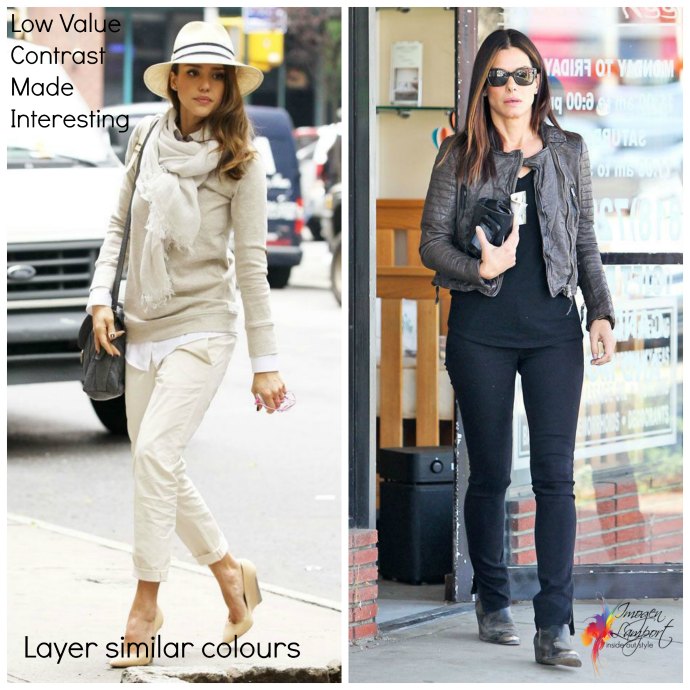 Layering can make any outfit more interesting. By adding a similar, but not exactly the same colour you create a more interesting outfit. Here in these examples layering the jumper (that's a sweater) over a white collared shirt and then a scarf over the top takes the outfit from bland to more interesting.
Sandra Bullock's dark brown leather jacket over her black column of colour also provides for a more interesting low-value contrast neutral outfit, just that subtle change in colours makes it more interesting than if it was black on black on black.
2. Add Different Textures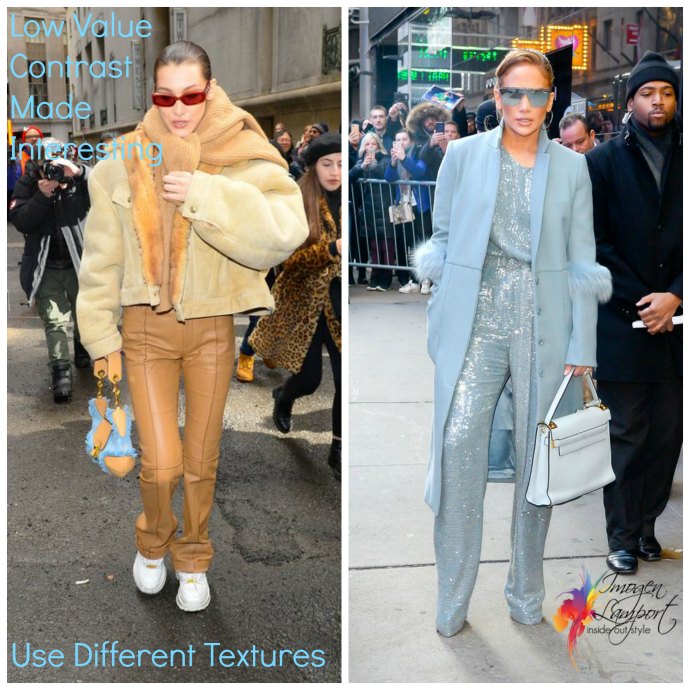 Texture can really provide interesting in an outfit. Here Bella Hadid wears the leather, wool and shearling camel outfit that makes its own low key but still dramatic statement. And then I know that not everyone is going to be going for a head to toe sequin jumpsuit like Jennifer Lopez has in blue here, but mixing textures makes the low-value contrast outfit way more interesting. The fur detail on the sleeve along with the sequin texture provides a counterpoint for each other as they are an unexpected combination.
3. Adding Pattern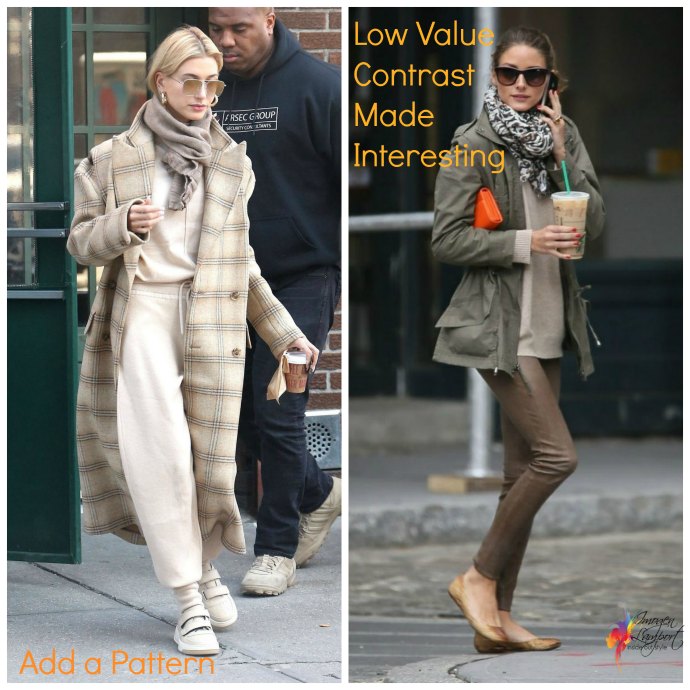 Another great option is to look for lower value contrast patterns such as the check coat of Hailey Bieber on the left. Oliva Palmero's outfit on the right shows how putting four similar but different neutrals together with a spot of pattern in a scarf make a stylish low-value contrast outfit.
4. Add a Statement Colour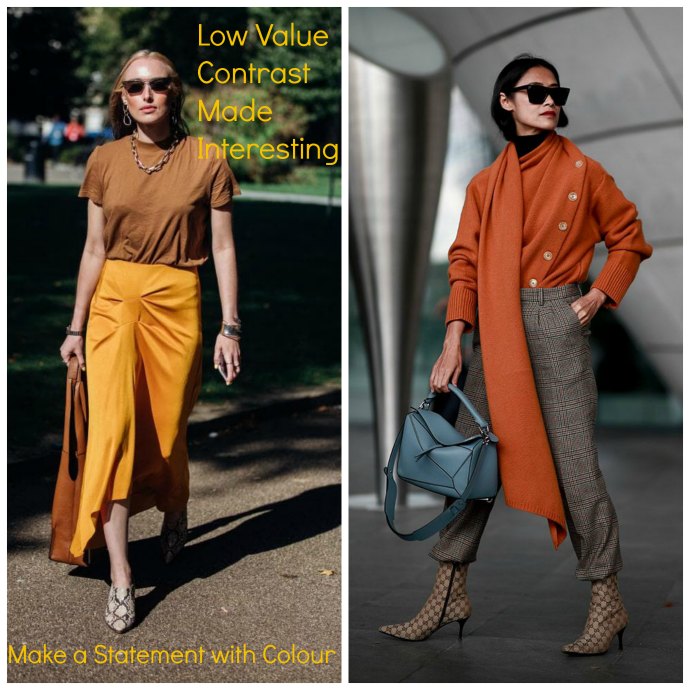 Low-value contrast outfits don't have to be monochromatic or all neutrals (as many of these outfits I've shown as examples have been so far). They can be neutral with a statement colour – it's just that the neutral and the colour need to be of similar value (lightness or darkness). The statement colour takes what could be more dull and makes the outfit appear less low contrast – even though it's still working within the principles of low-value contrast. Notice too how the outfit on the right also uses a mix of prints (the different sized checks) in the pant and boots to add further interest and detail to the outfit.
5. Add Detail and Accessories
Just as the boots and handbags of the examples above have added additional details to these outfits, remembering to look for garments that have built-in details such as the pockets on the shirt below, or the pleats in the skirt will also make for a more interesting outfit.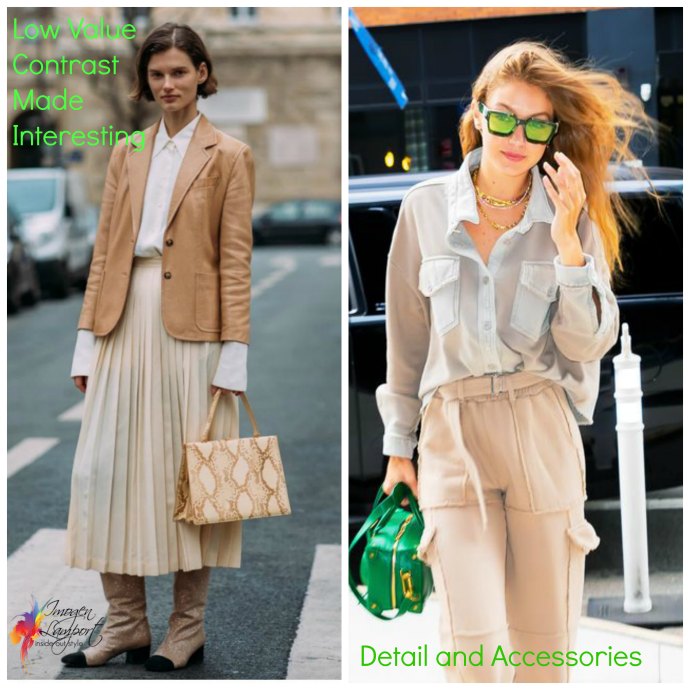 Also, consider what accessories you choose – animal print handbag or shoes, layered necklaces and even a pop of colour with your handbag can take what could be a boring low-value contrast outfit and turn it into one that is more interesting and layered.
6. Mix Similar Value Colours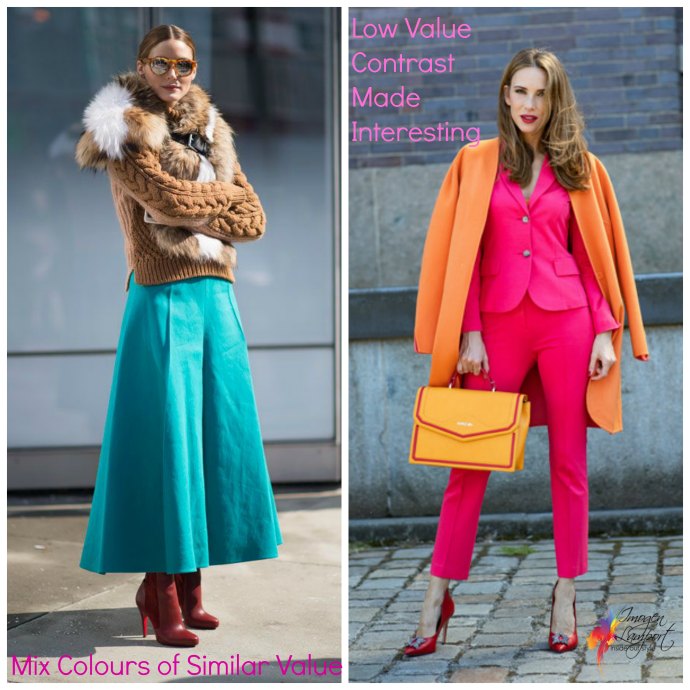 Mixing colours – which creates a higher colour contrast, when in a similar value to each other – keeps the outfit in a low-value contrast, but adds a feeling of contrast. On the left, the red boots are split complementary from the teal culottes (then paired with the neutral camel jumper and textural fur) by keeping the high colour contrast to the bottom of her body, she's not overwhelming her lower value contrast colouring. On the right, a gorgeous analogous mix of brights – yellow, orange, and warm hot pink with the red shoes, making for a really exciting low-value contrast outfit.
Now you can see that low-value contrast outfits do not have to be dull or boring – there are many ways to make them more interesting and exciting whilst still being flattering and harmonious with your natural appearance.
If you have difficulty figuring out the value of colours, this tool is invaluable – and I share here exactly how to use it.
More Tips on Dressing to Your Contrast
Getting Your Head Around Value and Contrast – the Celebrity Version
Value and Contrast with Darker Skin Tones – the Celebrity Version