Following on from my post on working with your low contrast colours. Here are some examples of Medium Value Contrast outfits to get you inspired!
Medium Value Contrast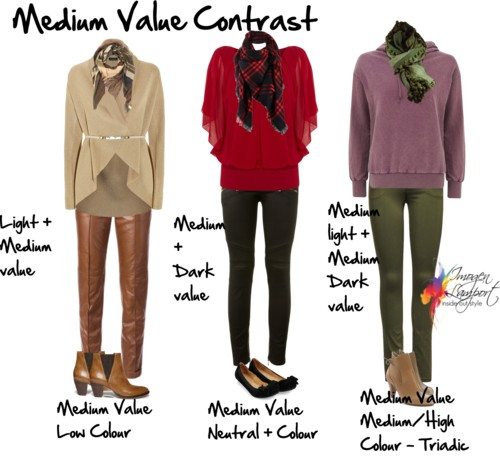 Now let's look at patterns
Medium Value Contrast – Patterns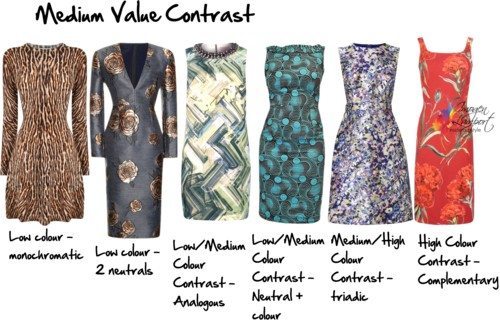 As you can see in this picture, even with a medium value contrast, you still need to take into consideration your colour contrast. Sticking to ones that are similar to your personal colour contrast is the most flattering, but we can all play one above and one below our colour contrast (and if you're a creative personality, then you can go well outside your 'rules' if you choose).
Remember: Even if a pattern has both light and dark colours, it will have a medium value contrast if it also includes medium value colours.
Create Your Medium Value Contrast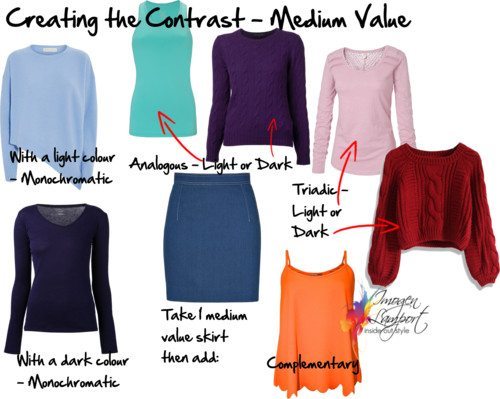 Use Accessories to Create the Right Contrast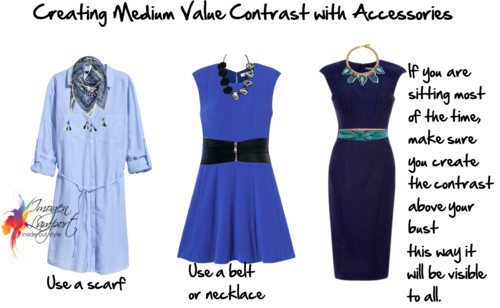 Whatever your personal contrast – you can use accessories to create the right level of contrast, whether value or colour contrast. If you work in an office environment where you spend most of your time seated behind a table or desk (in meetings) then make sure the contrast level is visible to all – jacket and top, or necklace or scarf – on your upper body. If you work in an industry where you stand more of the time – such as teaching or as a princess (maybe a princess does read this blog!), then you can create the right contrast using an accessory such as a belt!