I recently found this Colour Matching Guide and think it's a nifty tool to help you find the value of a colour.  In fact, using it will make you an expert in finding the value of a colour and then putting together the right value contrast for you.

How to Use the Colour Matching Guide to Find the Value of a Colour
Watch how easy it is to use in this short video.
As I shared in this post about how the easiest way of thinking about value contrast is that it's like a set of stairs.  This tool will help you walk up and down (or jump if that's right for you) the value contrast scale.
You may want to find the value for each colour in your colour swatch, and then you can quickly and easily figure out the value contrast of any outfit you're putting together.  You'll know if it's the right value for you or if it's too low or high.
If you are a low contrast – stick to colours on the same level – blue lines
If you are medium low contrast – move only one level away  –  purple lines
If you are medium contrast – Jump over a level either up or down to create the right value contrast – pink lines
If you are medium high contrast – combine colours that are either a light with a medium dark, or dark with medium light – green lines
If you are high contrast – choose colour combinations from the top and bottom of the scale – red line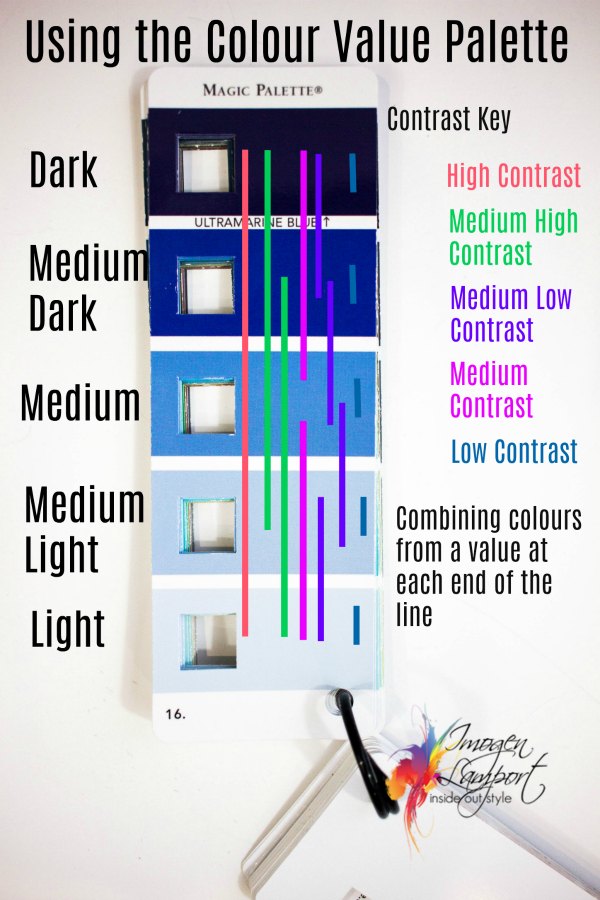 Get your colour matching palette here now!