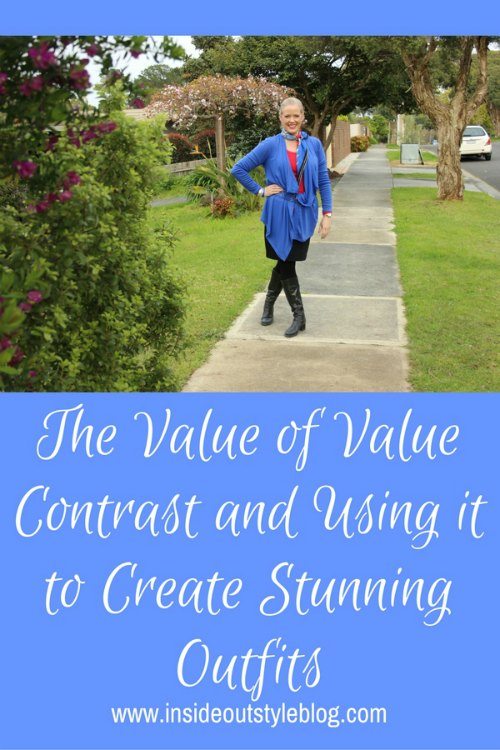 Recently I've been having fun playing with my scarf collection. Tying them in different ways (check out these 32 ways to tie your scarves), and using them as outfit colour scheme inspiration.
Creating Colour Schemes
Here I'm using a scarf (that was my grandmother's) and have used the colours in it to create my outfit for the day.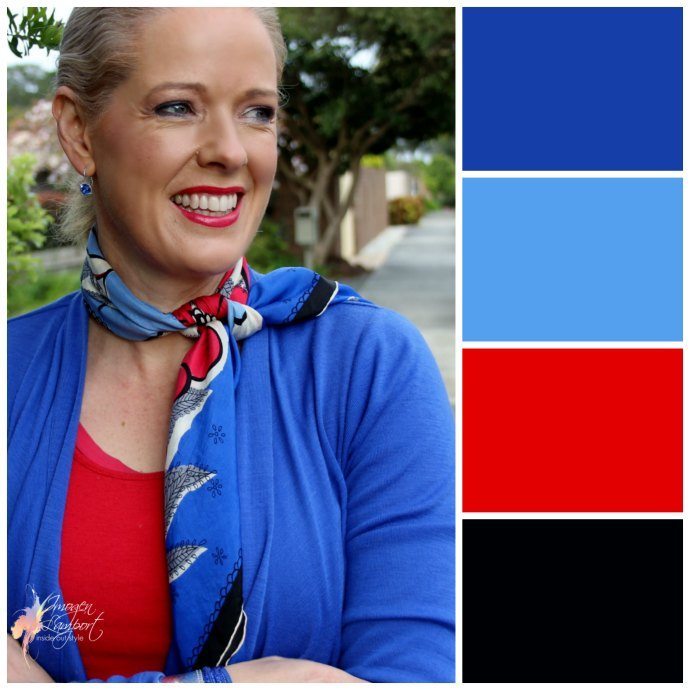 Now you may look at this and say that it looks high contrast.
You may be aware there are two sorts of contrast:
Value contrast – which means the difference between how light and dark elements of a colour scheme are
Colour contrast – which menas the difference between how different the colours are – are the the same (monochromatic) or more different on the colour wheel.
This outfit is red, blue and black (I could have also chosen the white and light blue as well!). Red and blue form two parts of a triadic colour scheme (read about them here) which are great to wear if you have some colour contrast in your features. Triads work for me as I have blue eyes and wear red lipstick – which replicates the colour scheme in my natural features and colouring.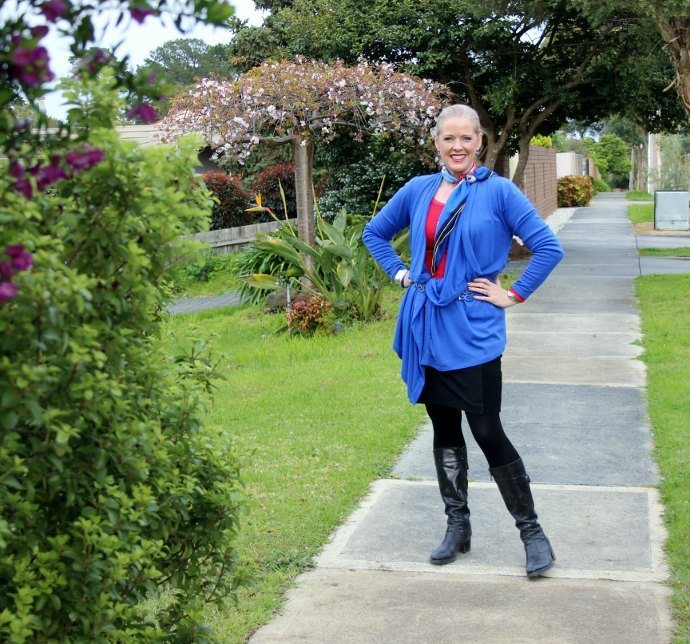 But this outfit is only a medium value contrast, and 2 colours plus neutral colour scheme. Because the two colours are further apart on the colour wheel it makes the colour scheme appear "higher".
Understanding Value Contrast
Now how do I know it's medium value?
If you look at this handy greyscale then consider:
1-3 shades different = low value contrast
3-4 shades different = medium-low value contrast
5-6 shades different = medium value contrast
7-8 shades different = medium-high value contrast
9-10 shades different = high value contrast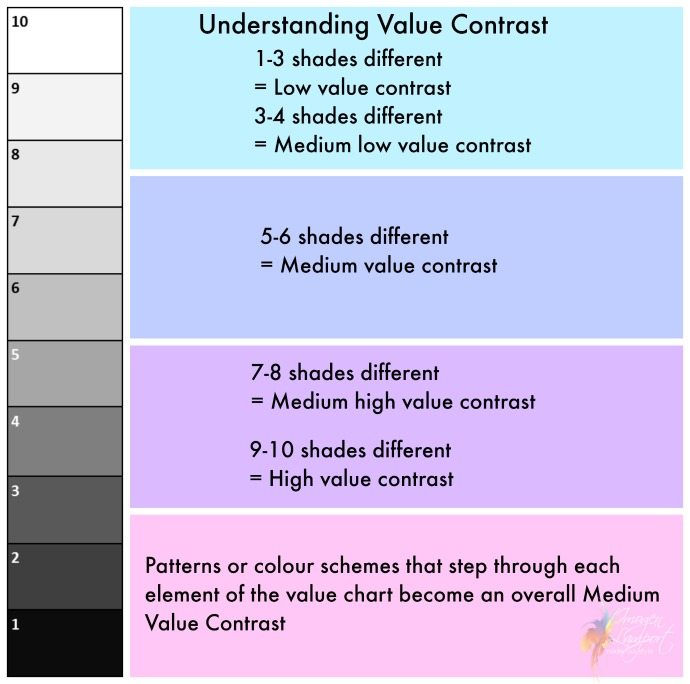 So when I apply this theory to my outfit: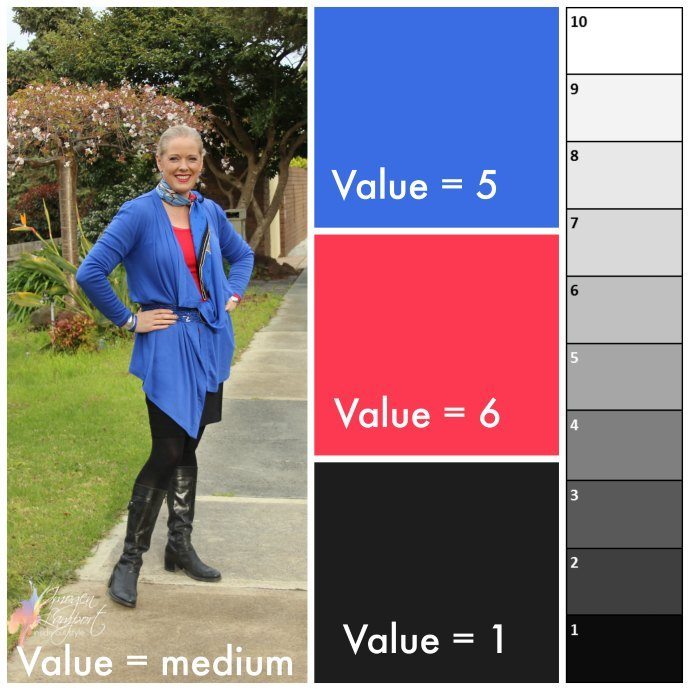 I have 5 shades difference between the lightest and darkest elements of my outfit which makes it a medium value contrast.
What I've found is that when we move outside of our natural value contrast, the outfit can really "wear you" rather than you wear the outfit. Check out this video I made which shows just how easily an unflattering value contrast outfit becomes the focus.
Using the Value Contrast Theory to Create Your Colour Schemes
Now in this scheme below,I've used this peacock feather top to create a colour scheme.
I've used blue and orange (complementary) along with camel (neutral) – so 2 colours plus 1 neutral (but complementary scheme so it's a brighter colour contrast and would suit someone with high colour contrast such as red hair and blue eyes).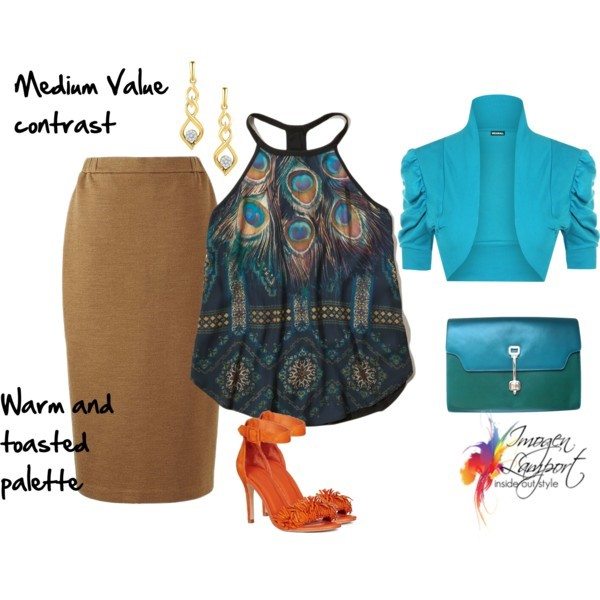 But then I've used only medium value contrast as each colour value steps between from the lightest to the darkest elements (the skirt and shrug would both be around 6-7 on the value scale and the peacock top has elements of a value of 2. Even though the top has some very light elements in small amounts, because the pattern has light, medium and dark elements, plus the other garments are medium in value, the overall outfit is only a medium value contrast.
This outfit would suit a Spicy or Exotic (warm toasted) colouring.
Now in this colour scheme below, I've used the same top, but created a high value, but lower colour contrast.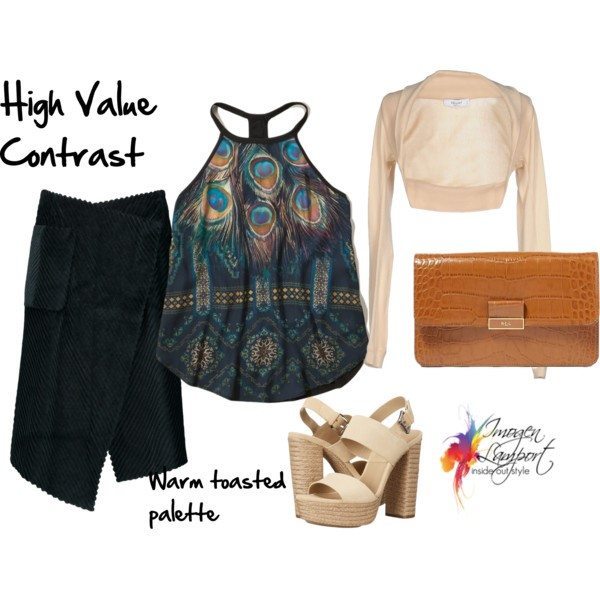 By taking the lightest (value 9) and darkest (value 1) elements from the top (both neutrals) it creates a high value contrast as there is a value difference of 9 on the grey scale. But as I've chosen to take neutrals, it lowers down the overall colour contrast to being lower, and so would suit someone who is more monochromatic or neutral plus one colour in their colour contrast but needs a high value contrast. This colour scheme would suit someone with brown hair, fair skin and brown eyes who has warm colouring.
If you want more information on understanding your contrast levels read this post on my 3 Step process to identifying your ultimate contrast levels.
And if you'd like my personal opinion this is one of the services that come as part of my 7 Steps to Style program.
Discover more about working with your contrast levels here.
Download this blog post as a PDF – and I've included a Value Contrast Greyscale tool as well as Colour Contrast Indicators too in the download to help you figure out the value contrast and colour contrast of your outfits and patterns.