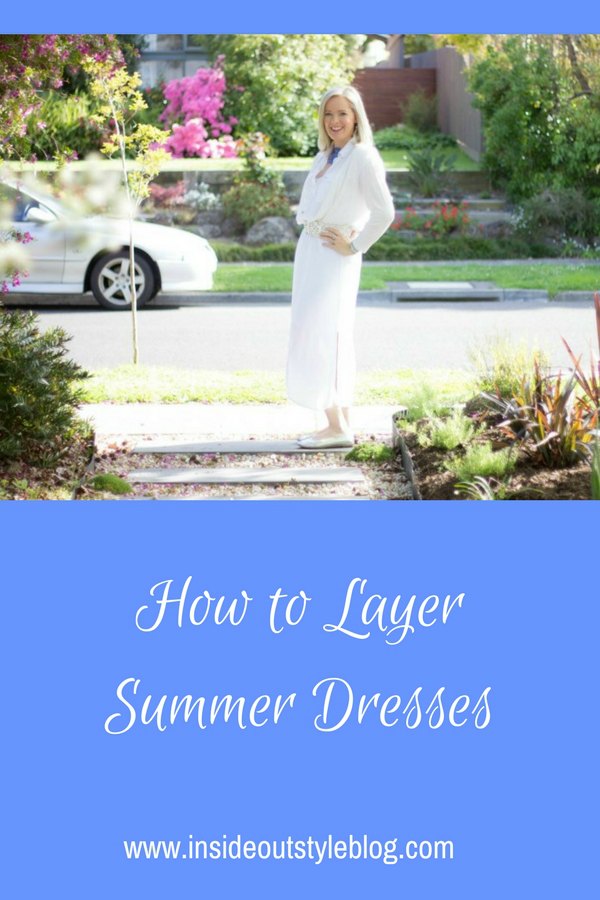 Spring in Melbourne is a period of unstable weather. 30C /86F one day, then 17C/62F the next. This makes dressing a little trickier, plus you get those cooler mornings with warmer days.
This week for my Frocktober post I'm sharing how to layer summer dresses for spring and autumn, those often more temperamental seasons that can be hot and cold all at once.
What's Frocktober? It's the Ovarian Cancer Research Foundation's fundraising drive to raise money to find a early detection test for ovarian cancer (there is currently no test) so that fewer women die from this silent killer. Please make a small donation here as this could save lives.
White on White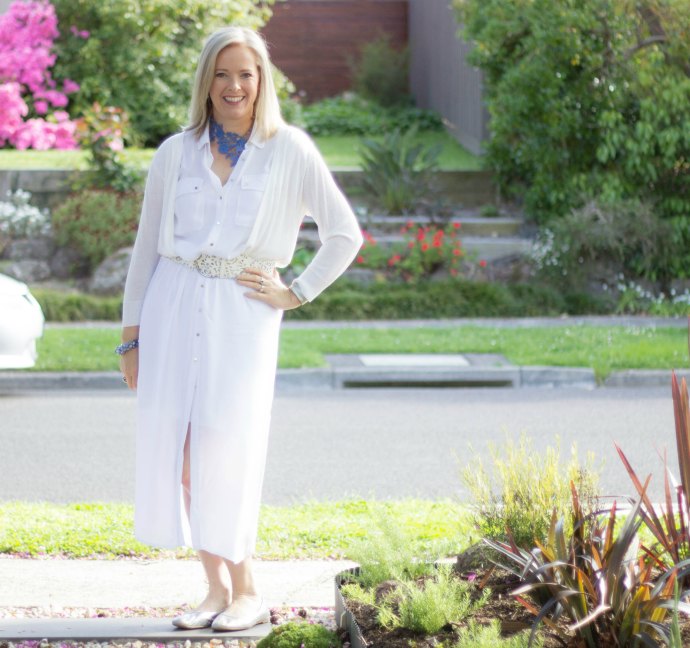 This shirt dress is a little too see-through for my liking, which means it needs a slip layer underneath and then I layered a short cardigan over the top.
By belting (also in white) with a wider belt and tucking the cardigan into the belt, it creates nice volume which gives me the illusion of slightly more of a waist (not something that I have naturally as an H shape), as shirt dresses have to be belted, otherwise they look like a sack. Because of its volume, I can blouse and I when I was playing around with the cardigan and I tried belting it too, I decided that it gave a better shape than leaving it out and just belting the dress.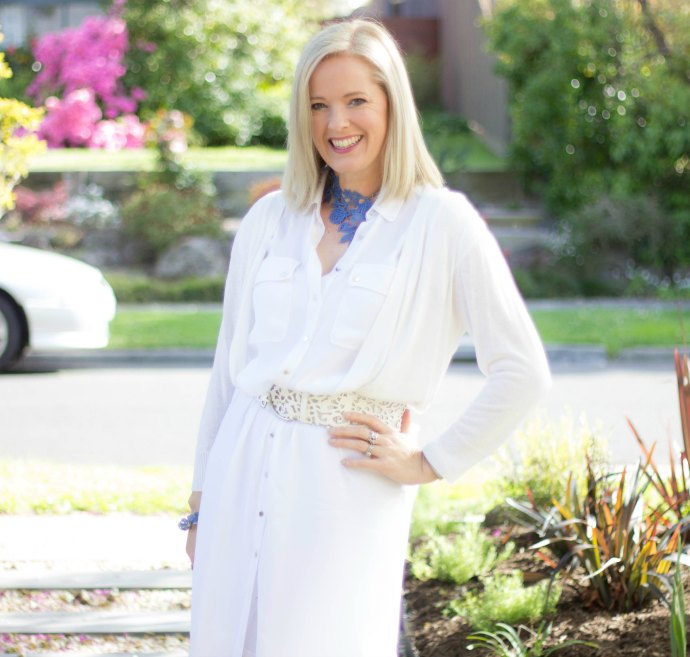 This dress (from Sussan a couple of years ago I think) came with a fabric tie belt, that I quickly ditched (see why I won't wear the fabric tie belts here) as they make me look wider through the waist. The white belt doesn't make the horizontal of it appear too obvious which is why I chose this instead of an alternate colour.
The for a pop of colour I've added a blue lace necklace that I got from thisEsty store and my silver Scarlettos ballet flats.
Blue and White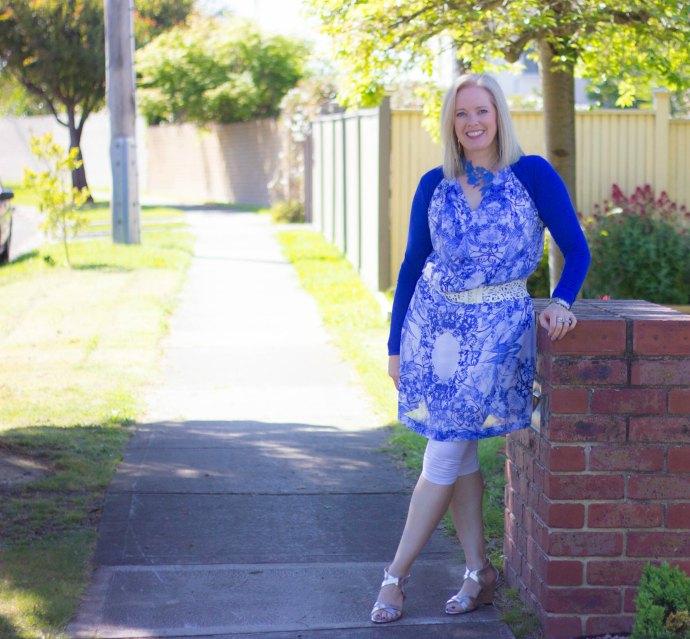 Here's sheer chiffon dress that I layer over a white slip dress and I've added leggings and a shrug as it's sleeveless and just a bit too "summer" for this current "spring". I made this dress one year when I found the fabric (love this kind of blue and white willow pattern style of print) in a local fabric store.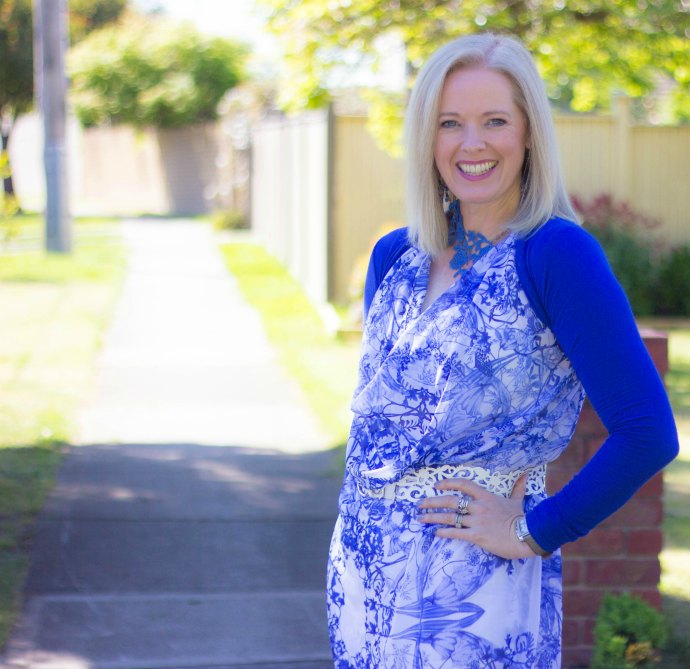 The shrug comes from Amazon and the wedges are from Scarlettos. You can also see that again I'm wearing the blue lace necklace from Etsy.
Black and Red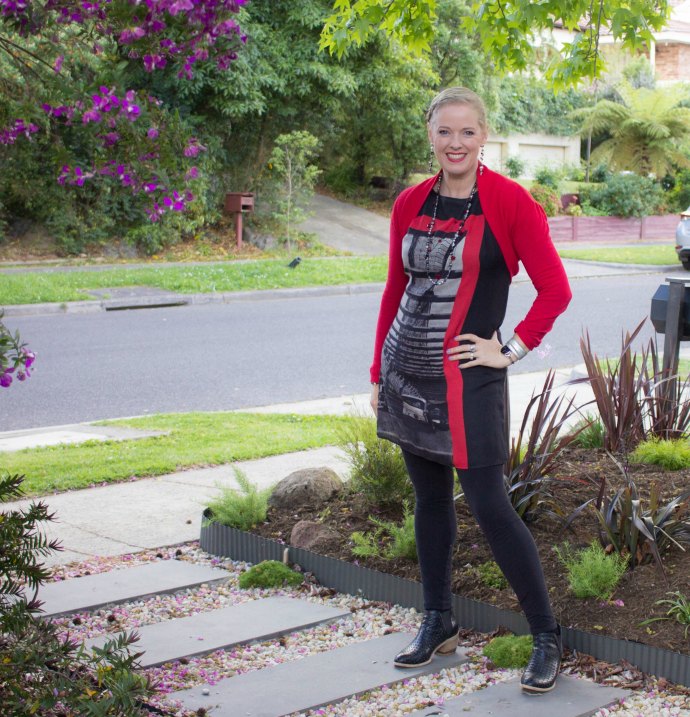 This black and red shift is one I bought years ago from Promod on a trip to Malaysia when I was speaking at an AICI conference in Kuala Lumpur, and it's been a favourite over the years. It's summer weight but easy to dress up with layers underneath and over the top for cooler weather. Adding a long legging and ankle boots, as well as a shrug, provide the layers I need at this time of year for our temperamental weather.

Linking Up toHigh Latitude Style,Currently Wearing, Not Dressed as Lamb,Style Nudge,Style with a Smile