For my last look back at 2016 I thought I'd share some of my favourite blog posts and also favourite outfits I wore last year. I've chosen a favourite for each month of the year just in case you missed them!
January
This one was inspired by the work I do as an image consultant helping my clients work through their wardrobes. There is so much attachment to clothing, often pieces that are doing us no favours, and this post delves into some of the psychological reasons why we just can't let go.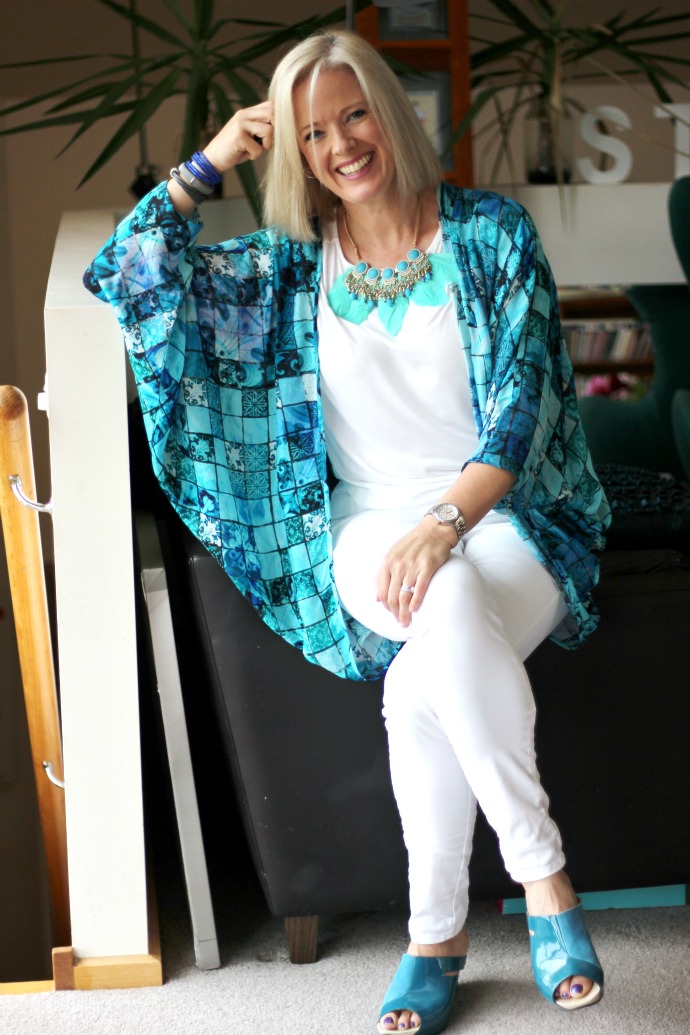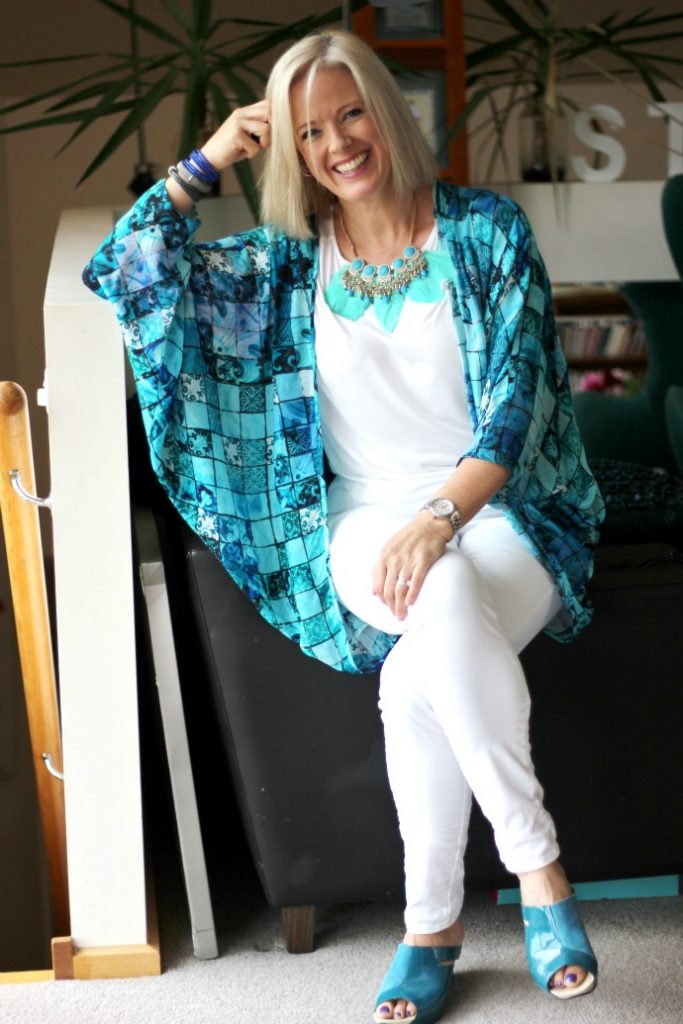 Outfit: I love the freshness of the white column of colour jeans and tee) and the blues in the kimono along with my so comfy turquoise mules along with my statement necklace (a lovely gift from my husband).
February
There is so much more than just finding clothes that suit your body shape to creating a fabulous wardrobe for you. This post delves into the 6 integral strategies you must consider when building your wardrobe (and will hopefully also help you understand why some garments work and you love them, and why others, when on paper they should work, just don't).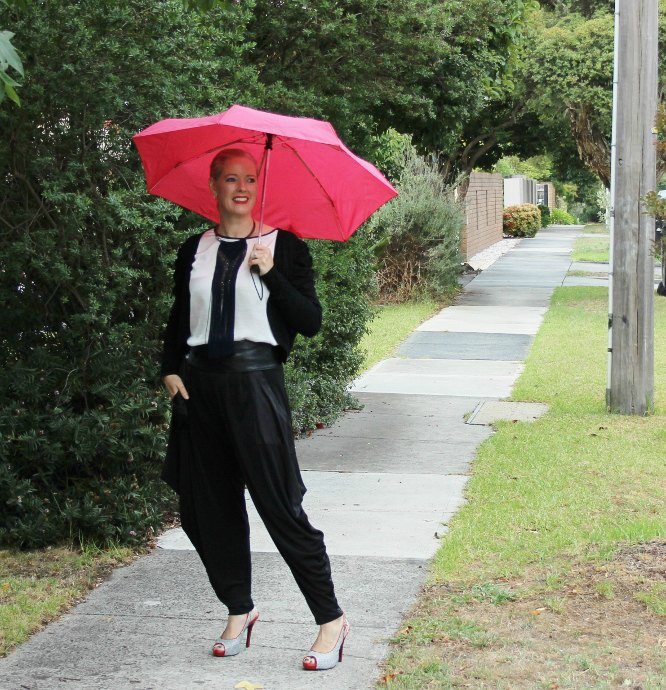 Outfit: These harem pants are my version of what we call in Australia – tracky dacks – as in tracksuit pants, they are so comfy. But I like their unique shape and that they are not dropped crotch, you can find similar ones from Motto, though I actually cut a pattern from these and have made 3 more pairs! Plus the Scarlettos slingbacks in black and white spots with a red trim add some glamour.
March
A style recipe, a style statement, or style words – call them what you like, they form a really important part of choosing clothes that reflect your authentic self, communicate with others and help you make great purchasing decisions.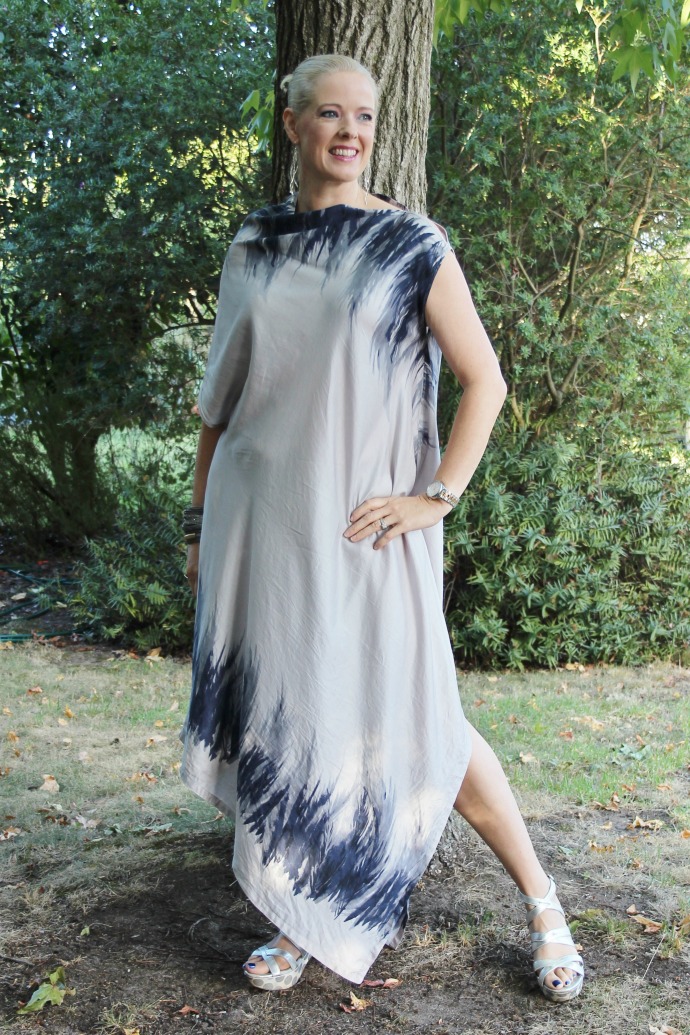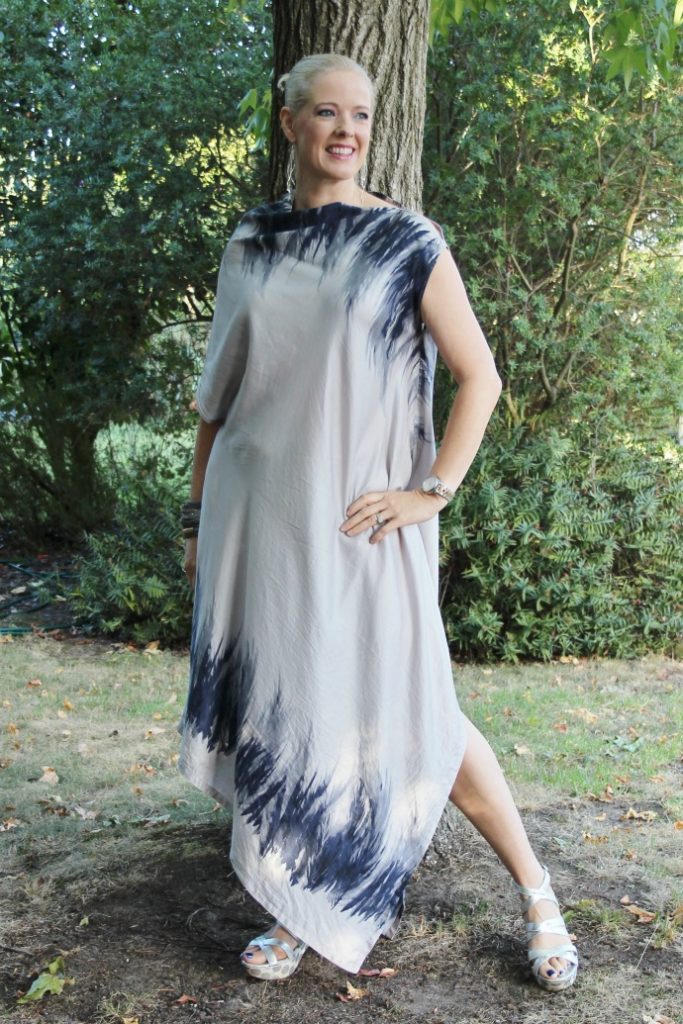 Outfit: This dress, custom made for me by Alfia Galimova is a favourite. She made the design around the fabric (and the amount I'd bought). As you know I love asymmetry, but I also like the simplicity of the style.
April
The longer I've been an image and colour consultant, the more I see how integral contrast is to putting together flattering outfits and just how much getting your contrast levels right can take an outfit from meh to amazing.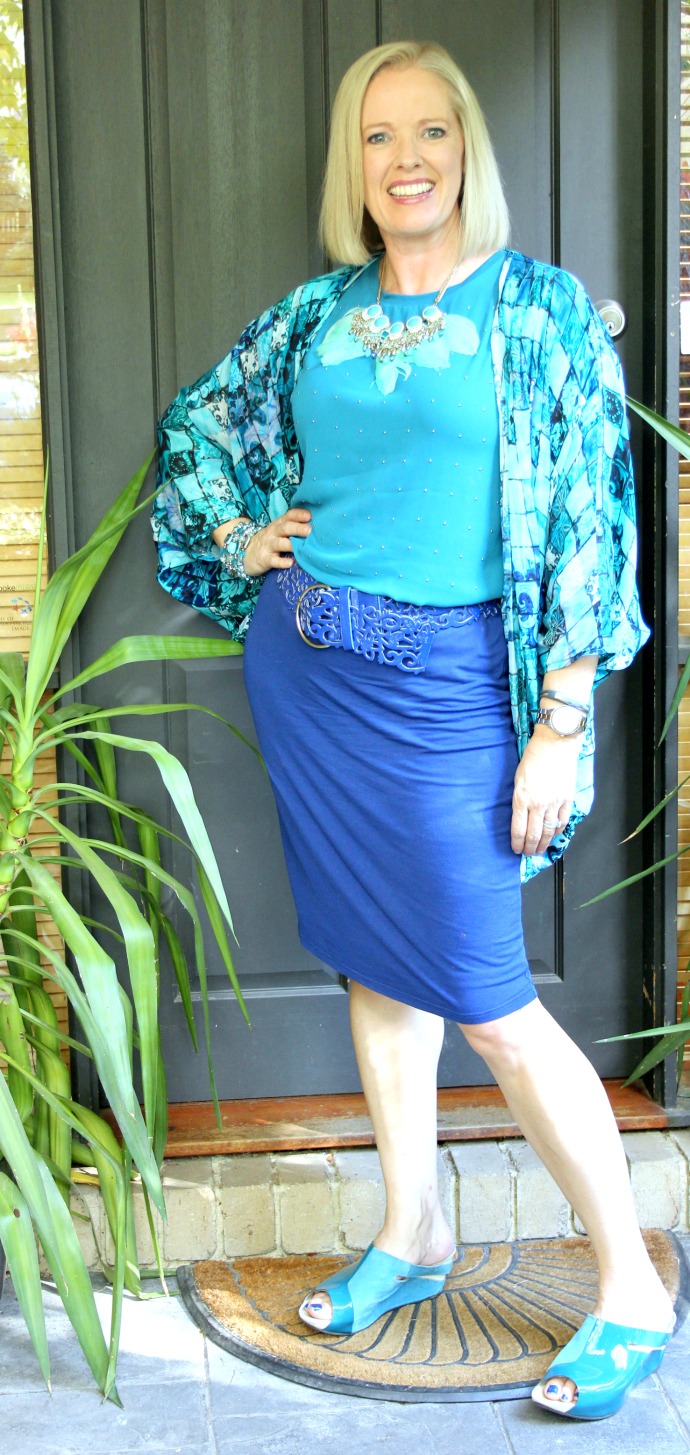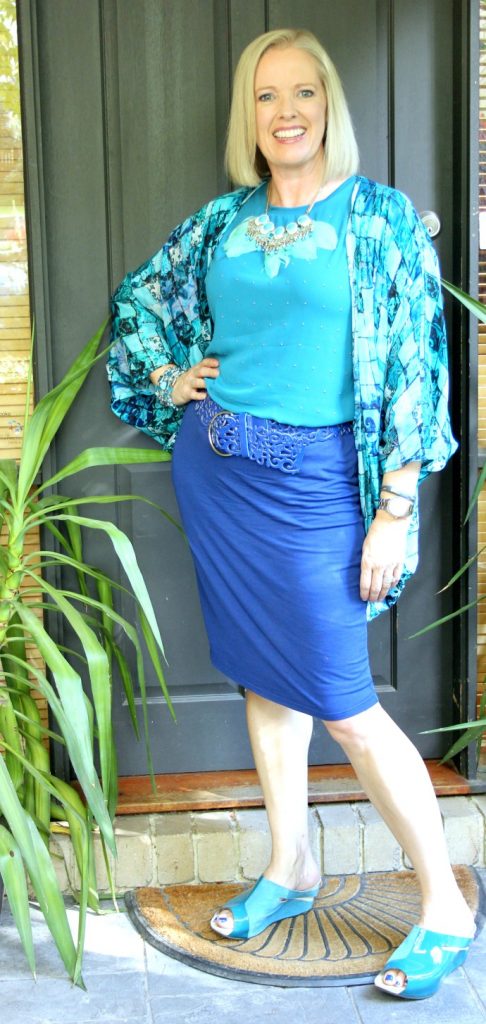 Outfit: One of my favourite colour combinations – turquoise and cobalt – repeating the elements of the Tsubo shoes and kimono, along with a nice decorative wide belt (for some reason I find wide belts are better than narrow belts on my H shape, but only ever with a top with volume, rather than something fitted.
May
Many of us get so stuck in wearing colour only with a neutral, yet colour can be combined in many ways and here is a post full of inspiration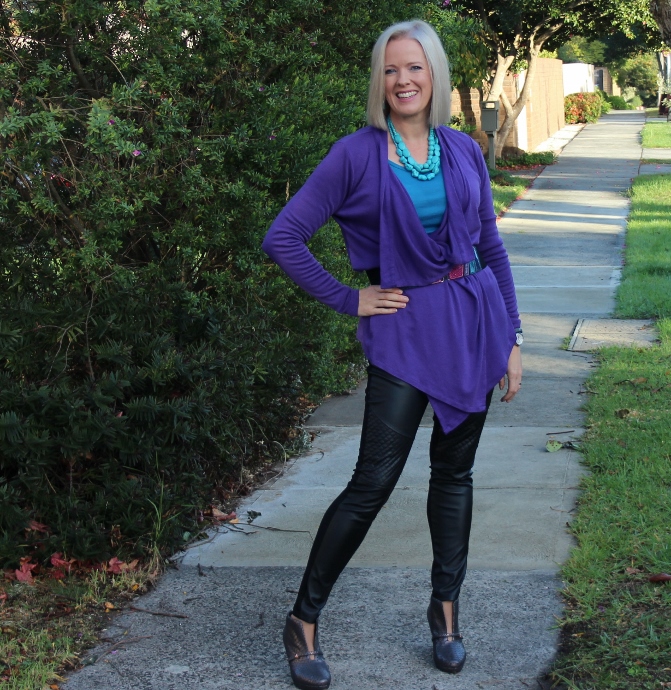 Outfit: My colour combination was inspired by the elastic wide belt (you can see peeking out) which includes purple, teal and magenta. These faux leather leggings with a moto style insert have become a favourite (similar here) and these little boots from Clarks add some interest.
June
Only one thing? Well, I consider it to be the most important thing. Discover why this one thing is so important to your style.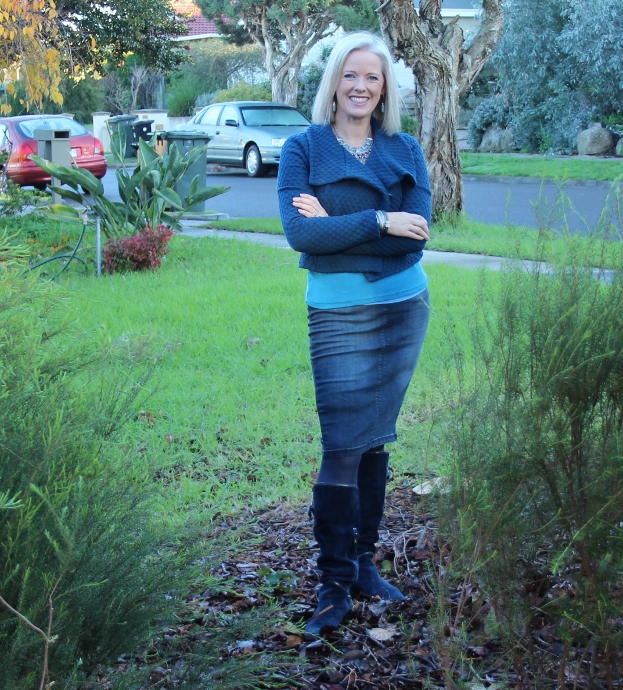 Outfit: My life is on the whole in the casual – to smart casual – dress code. So for sitting around my office or running errands, a stretch denim skirt is a good option. I like to wear knee high boots (and do all winter) as I get cold and it was nice to find a pair in navy (get so sick of everything in black). Add a textured stretchy jacket from Metallicus for comfort and to make the outfit look a bit more dressed up.
July
I've talked about your wardrobe being a kitchen, and here I discuss why I think you should think of your body as a room – a way to help you break free of body image issues.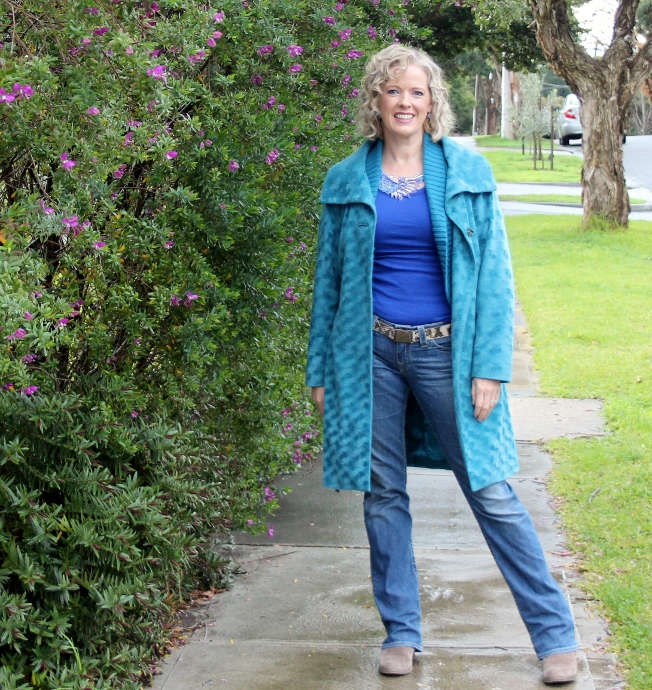 Outfit: Textured turquoise coat called for some curly hair. I've had this coat for years and I always get compliments on it when I wear it out (by Melbourne brand Very Very). Again my turquoise and cobalt colour combo comes out, but add a snakeskin belt to my bootcut jeans (kind of nice to get away from a skinny jean!) and my firebreathing dragon necklace that I found on ebay.
August
My renovations and buying a tap (faucet) inspired this post – you just never know where blog post inspiration will come from.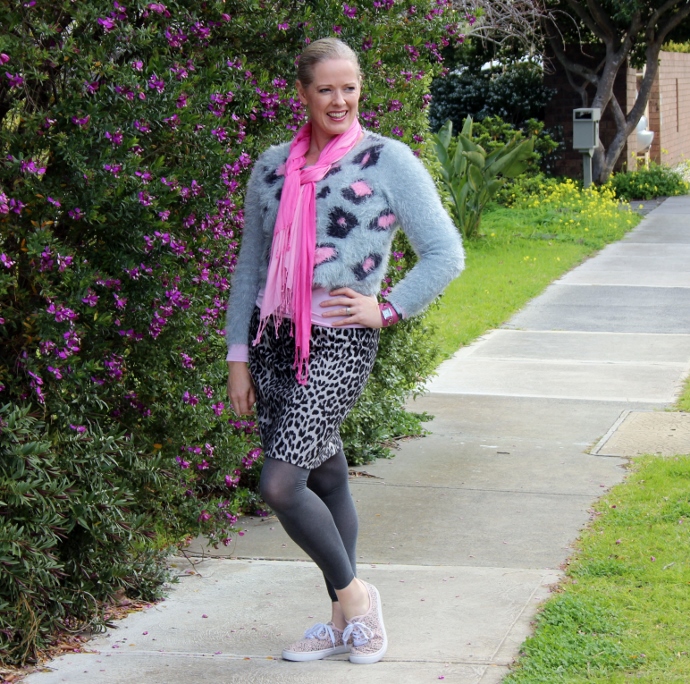 Outfit: This day I decided to combine all my leopard prints into one outfit. Shoes, along with skirt and jumper (sweater) are all leopard prints but of varying sizes which is why they work together (it's the way to mix prints, different sizes make them work as long as they are in the same colour scheme). I've had them all for a few years, so I'm not sure why I'd never thought about combining them in one outfit before!
September
I always enjoy making videos with Jill Chivers, and this year I was lucky enough to be able to make a few when she visited Melbourne. We don't over plan our chats and often ideas flow from one video to the next.
Outfit: Wearing a skirt as a dress and doing a column in navy (yes those navy boots get a workout, along with navy tights). That elastic belt makes a reappearance along with a shrug I knitted (pattern here).
October
This post was inspired by a book on creativity that I read, and I just loved this concept of why it's important to be authentic (as so many of us often feel like we should be more like others, me included)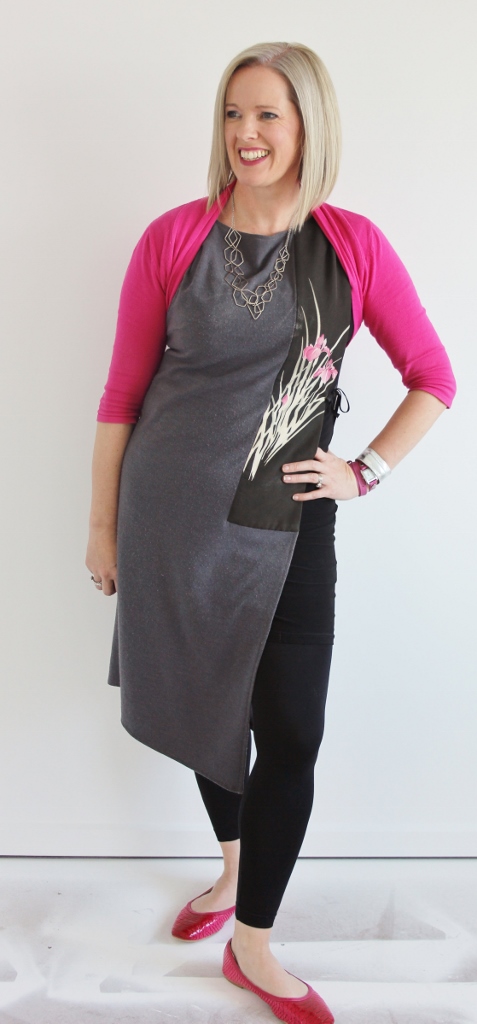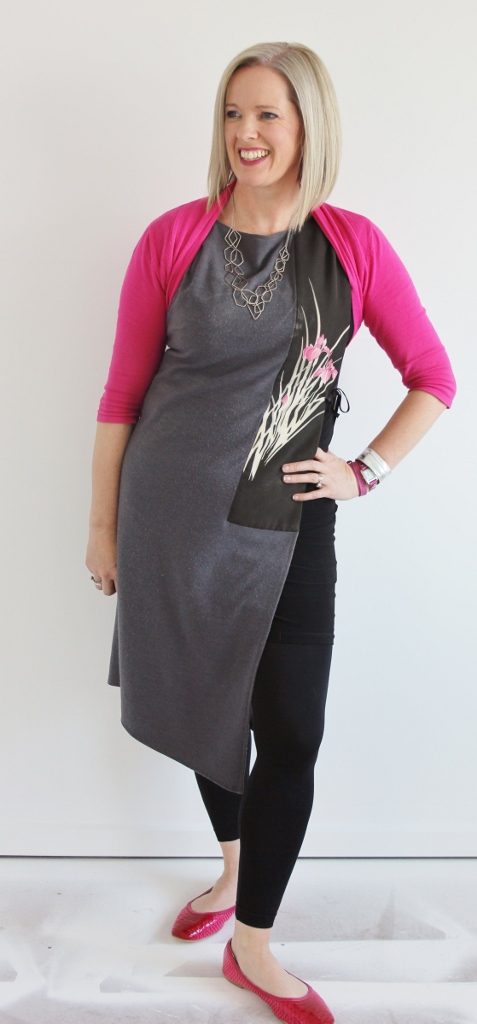 Outfits: It was nice to get out of the winter woollens and pop on this Dizingof (Melbourne designer) poncho (though I'd consider if more of a dress as I just put a black slip under it, but you could wear it over pants too), then for some colour and fun Scarlettos ballet flats and a pink shrug.
November
This post was the start of my series on understanding line and design, and it's something I teach all my style clients. It really does help you choose better shapes and styles for you and to stop wasting money on the wrong clothes.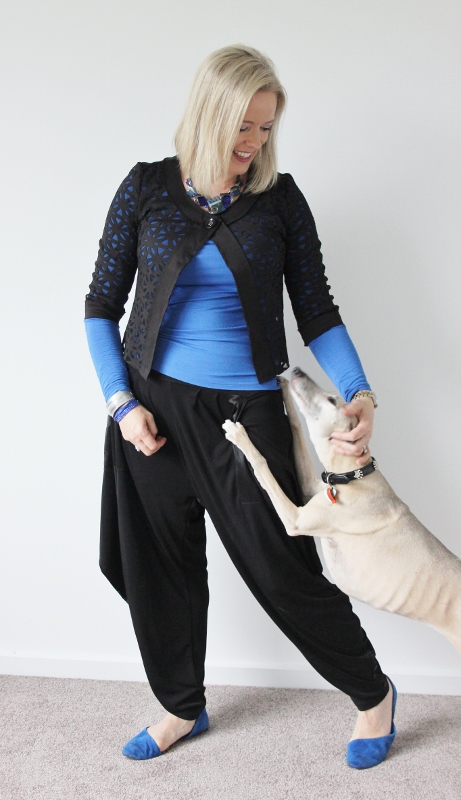 Outfit: Those trusty harem pants are back, along with my favourite cobalt blue (and of course my wonderful whippet Cleo who loves to come for a cuddle). I don't wear black on my top half much anymore, but this jacket still gets worn as it's seethrough cutout pattern which takes away the harshness of the black. Both pants and jacket are from a Melbourne Boutique – Mon Amore Paris (tell Helen or Fanya I sent you!).
December
Now I love an accessory (or two or four or more) but one of the ones that is often very underutilised is the brooch, but how to choose ones to work with your personality style?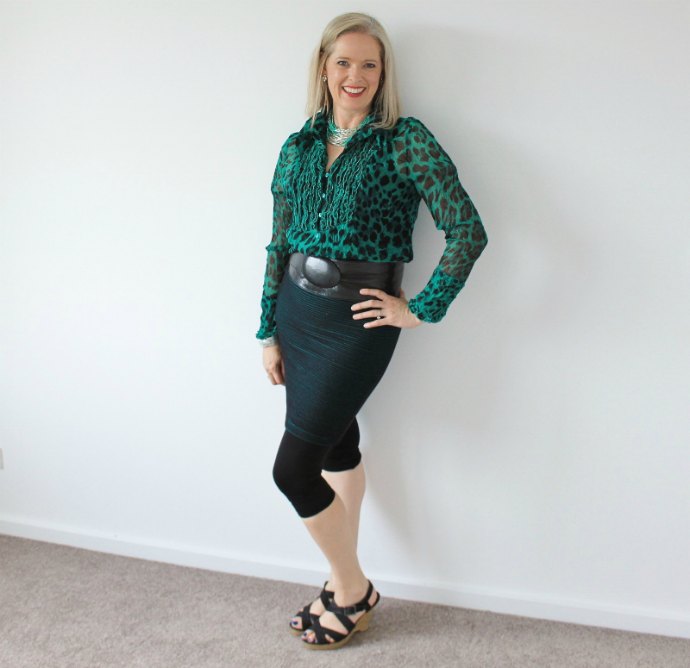 Outfit: This outfit was made from a bunch of garments I've owned for years but never worn together before. The green and black leopard blouse with a green and black striped stretch skirt.
It's interesting when I look back on these outfits that many are clothes I've had for some time or what's included is just a little of something new (like the belt) which then inspires me to create a whole new outfit. I try and play in my closet most days, rather than always reaching for the tried and tested outfit, to see if I can combine garments in new combinations, some don't work as well as others, but I do find some new favourites that I'll definitely wear again and again!
That's my list… but I'd love to know which were your favourite posts of 2016? Leave a comment with the post that inspired you the most!

Linking up to: High Lattitude Style, Not Dressed as Lamb