Hi Imogen,
Could you do a post about dressing with "rolls". I am an x shape but have two distinct tyres or rolls around my waist which my clothes seem to get sucked in between. If I try to hide them I look enormous and tent-like but if I let them show I feel uncomfortable. How do women with rolls skim their shape?
Thank you
Bronwyn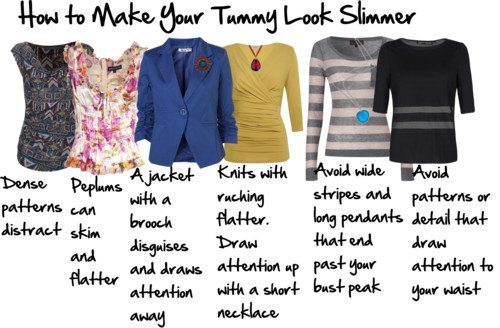 Ah the dreaded stomach rolls. I've got them, and I see them about all the time. They can be difficult to disguise but here are a few tips to help you on your way.
1. Don't wear over tight clothes – look for clothes that skim rather than cling.
2. Make sure waistbands of trousers and skirts don't dig in and create rolls.
3. Shapewear – whether it's a cami top or longer 'nanna pants' that go up to your bra, some highly elasticated foundation garments can really smooth out the stomach region.
4. Jackets – some structure over your knit will help to disguise what's going on – particularly if the top is in a dark colour and the jacket in a lighter colour.
5. Ruching up the sides of your tops can help hide any bulges. Check out my video on how to alter your knits.
6. Make sure your underwear fits and doesn't dig in and create bulges.
7. Dense patterns can distract and stop the eye from stopping and noticing your tummy.
8. Avoid wide horizontal stripes on your torso and any detail that draws attention to your stomach.
9. Wear larger scale jewellery near your face.
10. Avoid long pendants that end past your bust peak as they will draw attention to your tummy.