So you have a big bust – did you know that one of the easiest ways to make it appear smaller is to wear a large necklace? Why is this so?
Well it's all about scale – and if your bust is larger in scale, if you put something big next to it, attention will be drawn away and up to your face. For large busted gals, avoid the small pendants (which will actually make your bust look bigger, and be the focus), instead wear a gorgeous piece like this – from Wendy Brandes collection .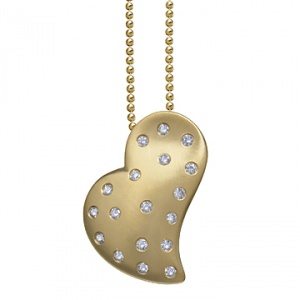 The choice is – wear 1 larger piece, or multiple smaller pieces, which take up extra space and appear larger.
The conclusion – if he's going to buy you diamonds, 1 tiny solitare is not enough, you girl need carats and lots of them!