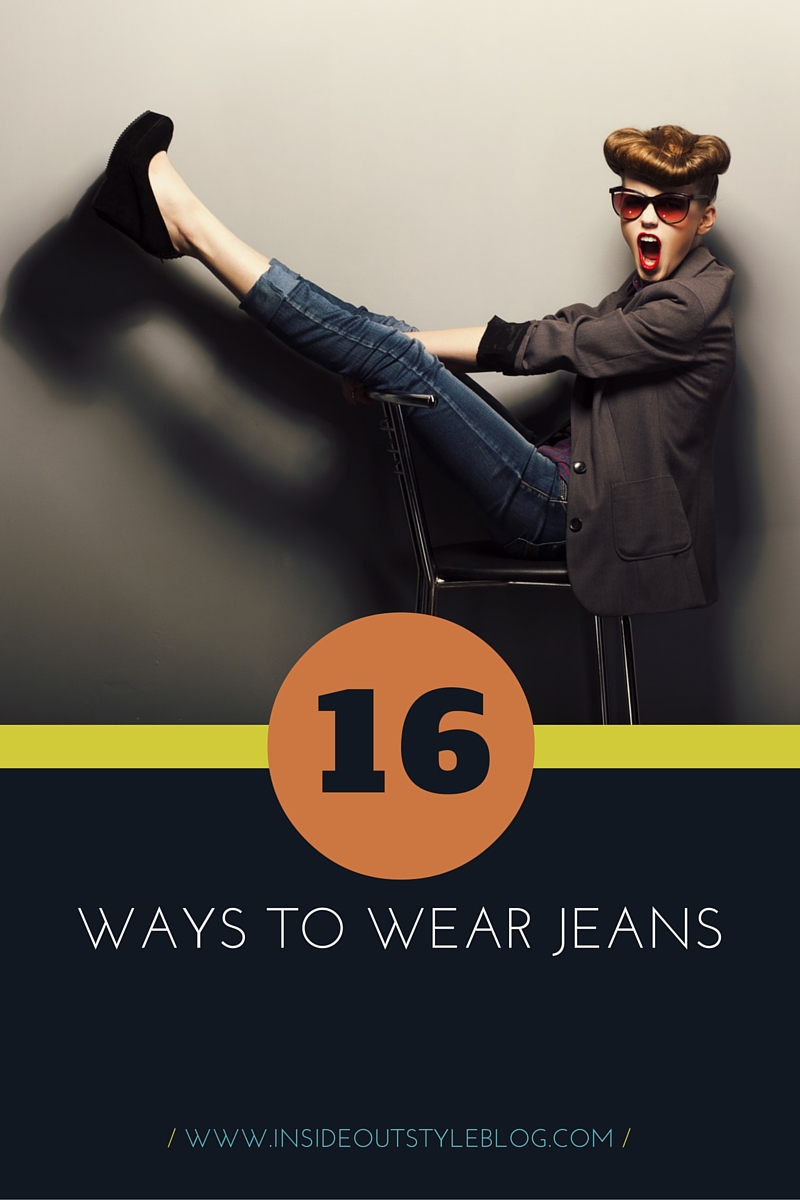 Jeans are a staple in so many wardrobes. In fact, I think some people almost exclusively wear jeans (I've seen them at weddings … not a good look unless it's a casual dress code!), but I also often get asked how to make jeans look more than really casual. So I thought I'd share a bunch of pics to give you some ideas on styling your jeans outfits in different ways to give you more options.
1. White Jeans and a Denim Jacket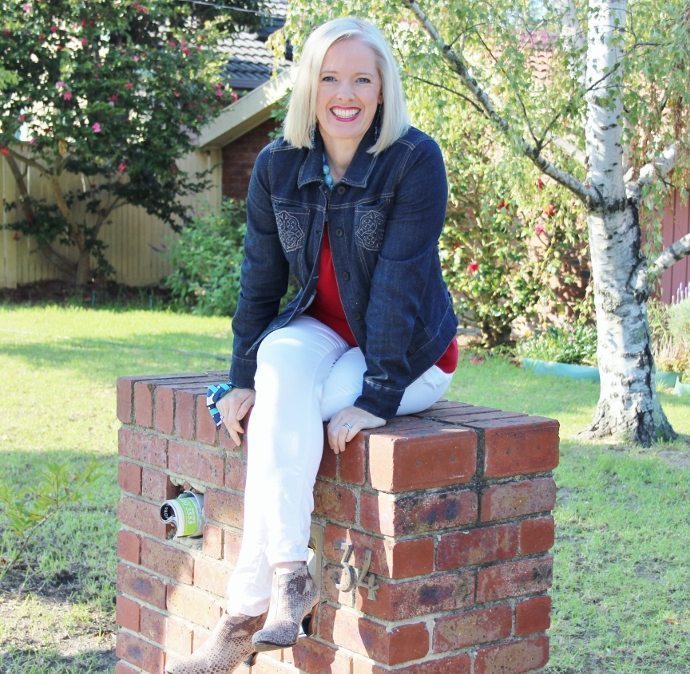 Denim jackets are great, but unless you're either 20 years old or one of the world's supermodels, it's hard to carry off the denim-on-denim look. So wearing your blue denim jacket is good with other clothes (than jeans) or with a white jean or coloured jean (that's not blue or black).
Add some ankle booties and accessories and you're away!
How to choose and style a denim jacket tips here.
2. Jeans with a Floaty Scarf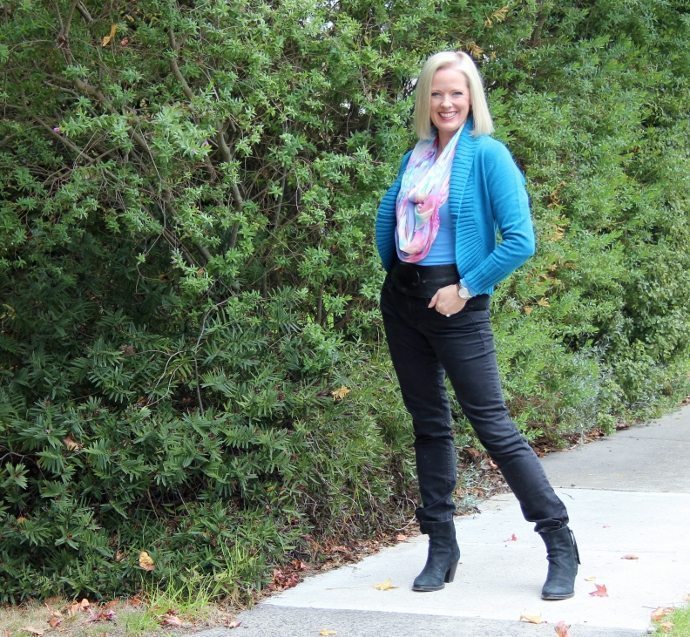 A floaty scarf in gorgeous colours will take a plain jeans and tee type outfit to a higher level.
Find a new stunning scarf here.
3. Jeans with a Sweater/Jumper and Scarf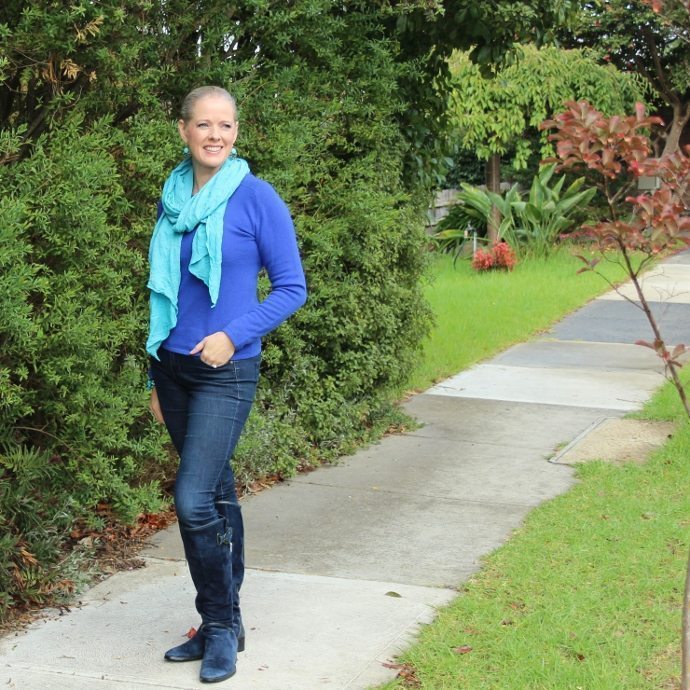 Jumpers (as we call them on this side of the world) are a big fashion trend at the moment for winter but they can easily look a little more casual (just like a plain tee in summer will), so adding a scarf to pop an alternate colour is a good way of dressing them up.
I love a knee high boot with my skinny jeans in winter to keep me nice and warm.
I got my sweater from hereand scarf from here. Similar boots to my blue suede knee high ones.
4. Jeans with Over the Knee Boots and Sparkly Earrings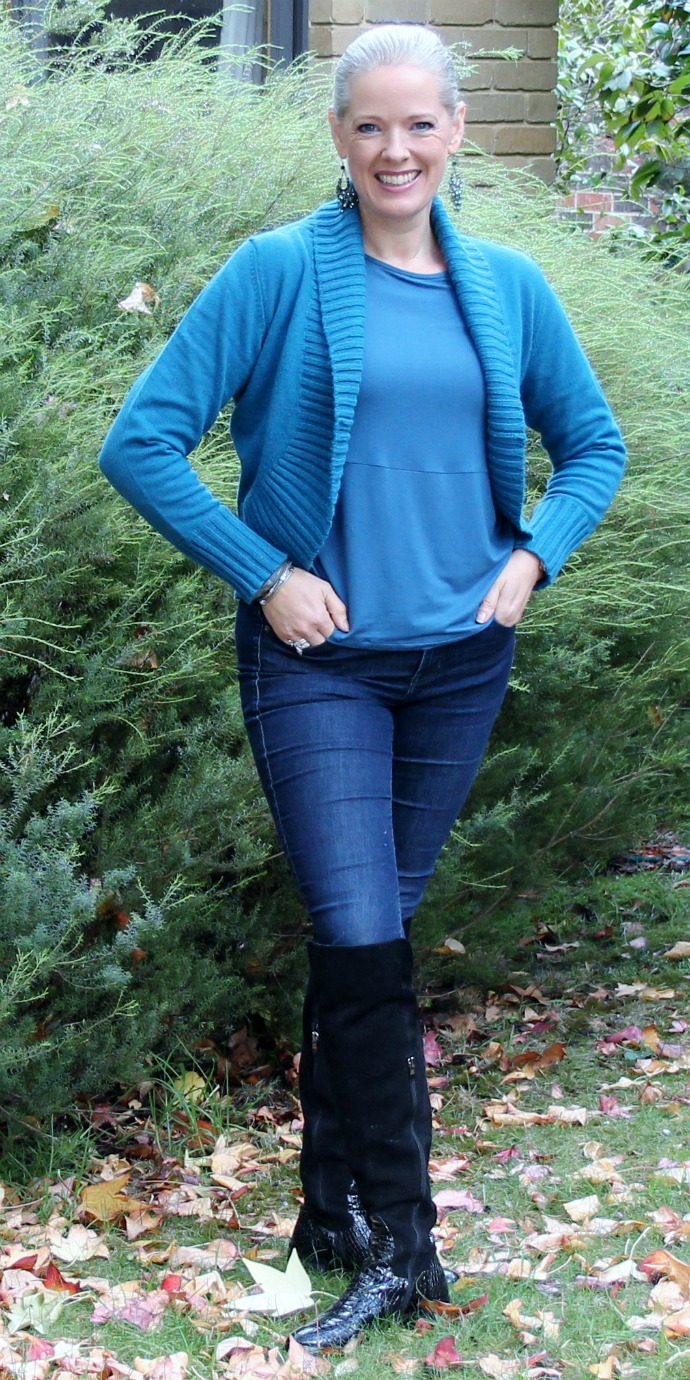 Why not try a funky pair of over-the-knee boots with jeans. I love these ones with patent croc look and suede and then I bring that shine back up to my face (replicating and creating harmony) with a pair of sparkly earrings.
Shop for Over the Knee boots
5. Jeans and a Blouse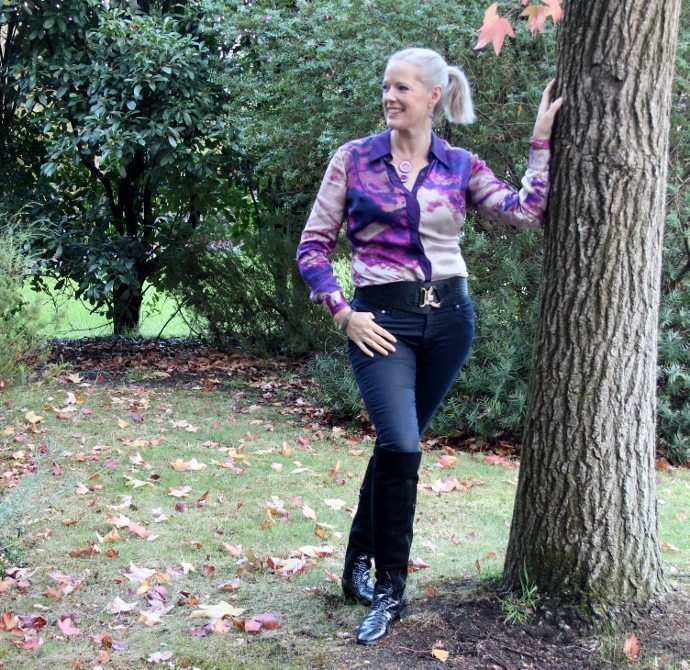 Melbourne, where I live, is one of those places that tends to either be quite hot or then cold, not much in between. But when the weather is right I love a blouse with jeans. Something in silk or chiffon so it's comfortable and dresses up the jeans.
This blouse came from Gilt.
6. Jeans and a Cardigan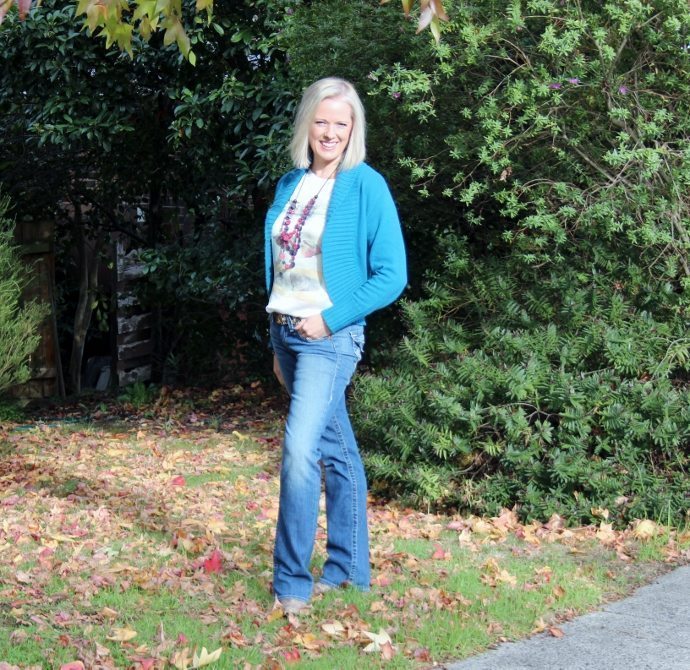 Want to be comfortable and casual, then add a tee with a print and if it's cool add a cardigan to keep you warm. A set of wooden beads keeps the outfit from looking anything more than casual so you don't feel overdressed.
7. Jeans and a Knit with a Belt and Statement Necklace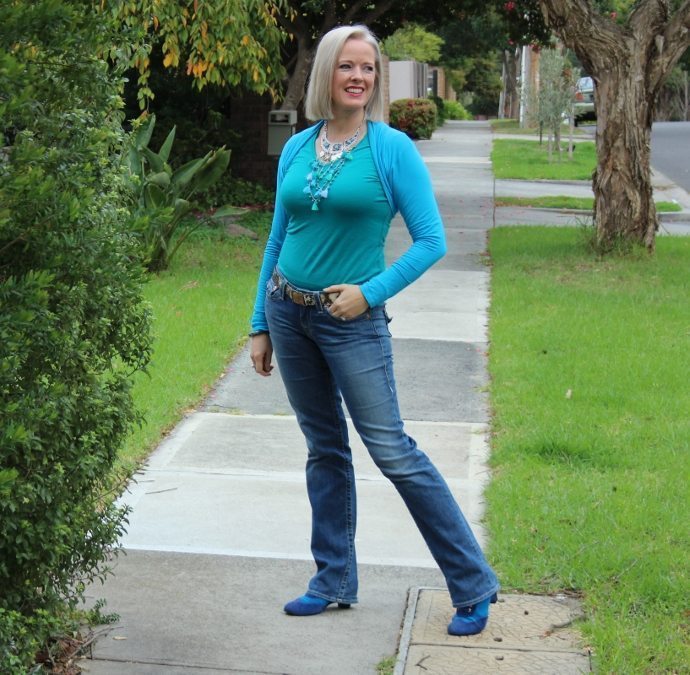 If you want the comfort of a knit top or tee, then think about how else you accessorise. Funky coloured shoes, a feature belt, a statement necklace – all these elements add a layer of smart to this casual outfit.
Get great accessorising tips here.
8. Coloured Jeans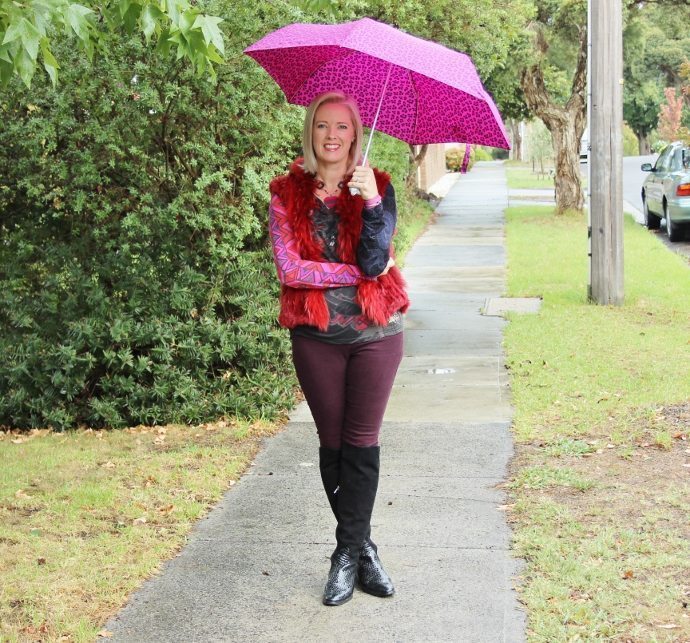 Coloured jeans are not the height of fashion they were a couple of seasons ago, but the darker shades like burgundy remain in style. Adding layers, a pattern and texture make for a more interesting outfit than plain blue or black denim. These are jegging/jeans from Uniqlo which are great for keeping your legs warm in winter.
9. Jeans and Pearls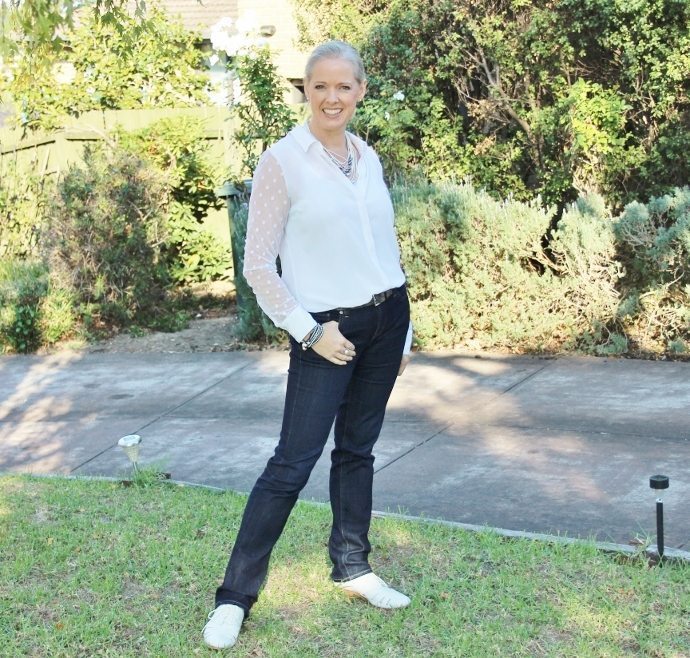 Dress up your jeans with pearls and then keep it casual with an oxford shoe (these ones from Clarks).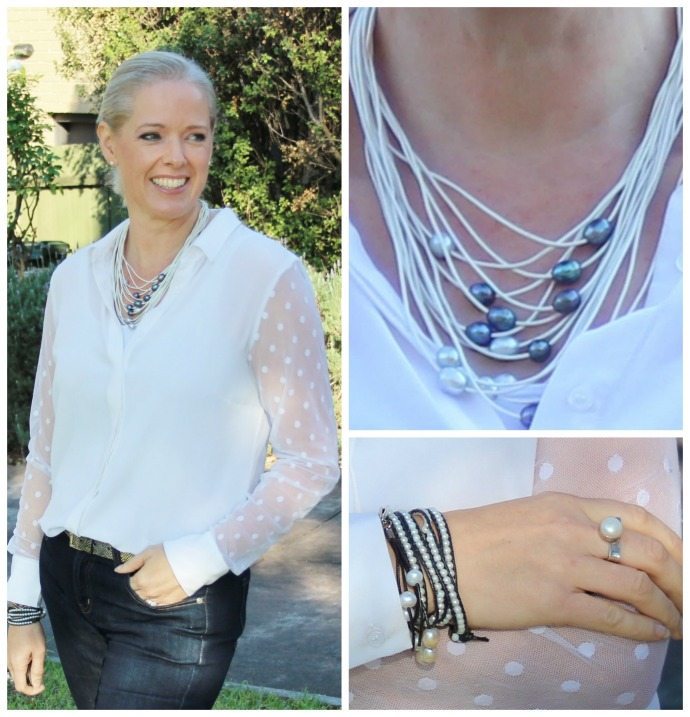 10. Jeans and a Jacket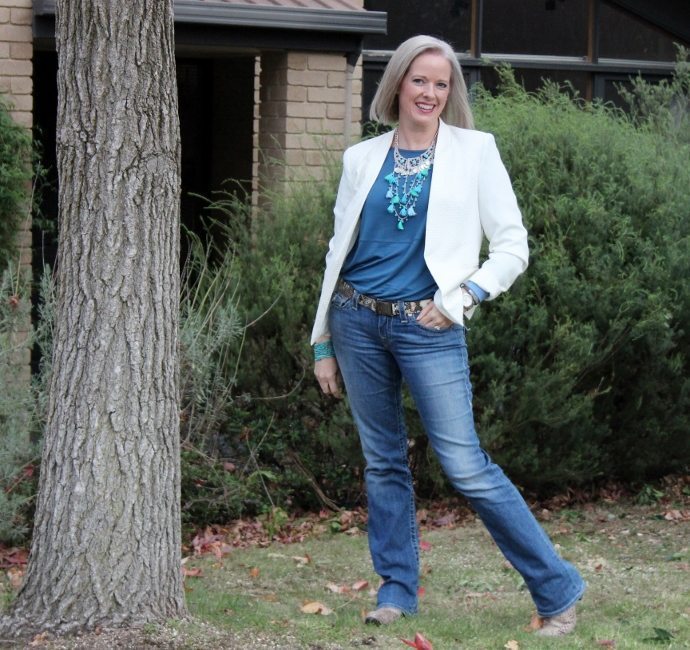 Dress up your casual tee and jeans with a jacket to give the outfit more structure. Don't forget to accessorise either – bracelet, belt, booties and necklace – you can wear them all at the same time!

11. Casual Friday Denim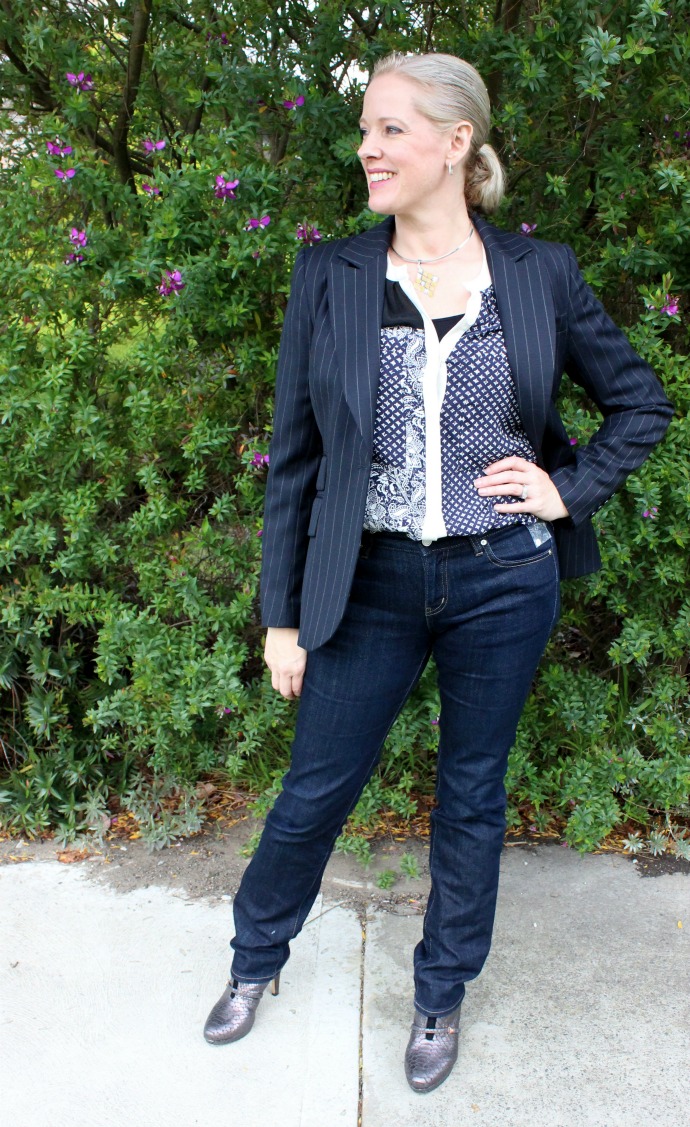 Casual Friday is often hard to dress for. So you want to wear jeans, but you have to remember you're going to a place of business, so if you have that meeting why not pop that suit blazer over a blouse and your jeans to keep your denim more dressy and work appropriate.
Discover 8 more ways to style your suit blazer here.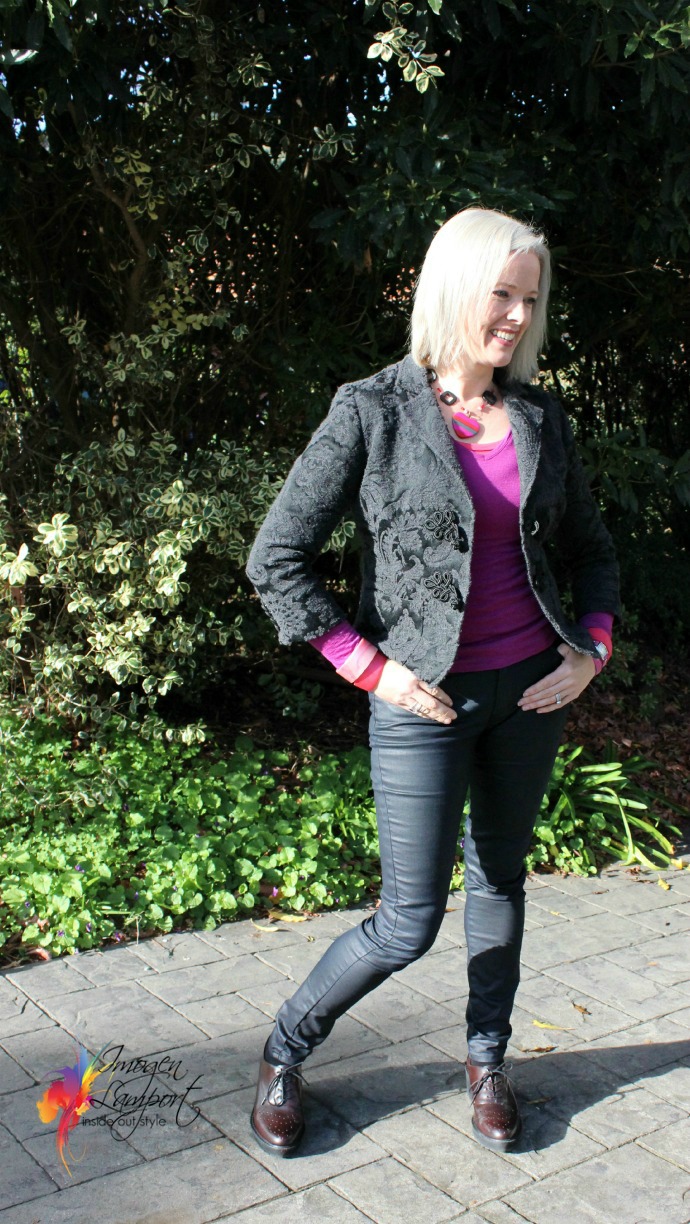 12. Jeans and Leather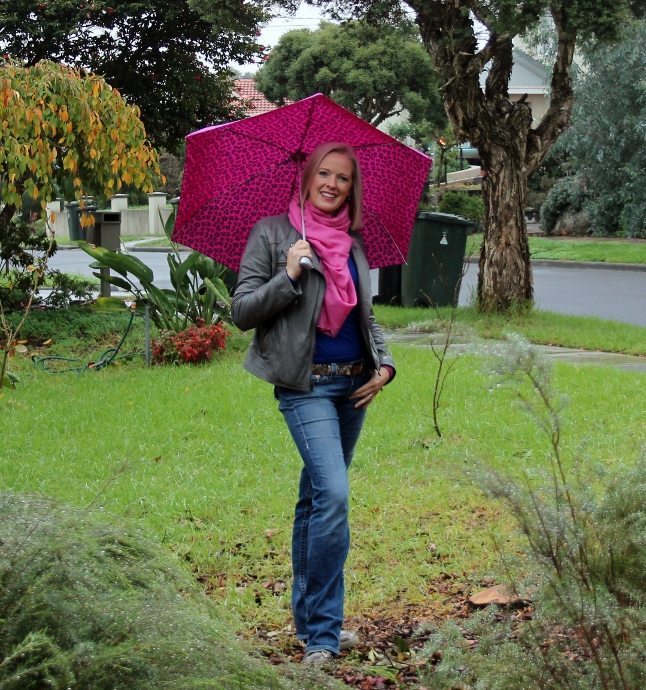 The pairing of a leather jacket and a pair of jeans is as old as James Dean (or even older). They go together so well and are a great option to wear out and about on your daily errands.
Get more pashmina scarf tying tips here.
13. Jeans and a Cropped Sweater with Sneakers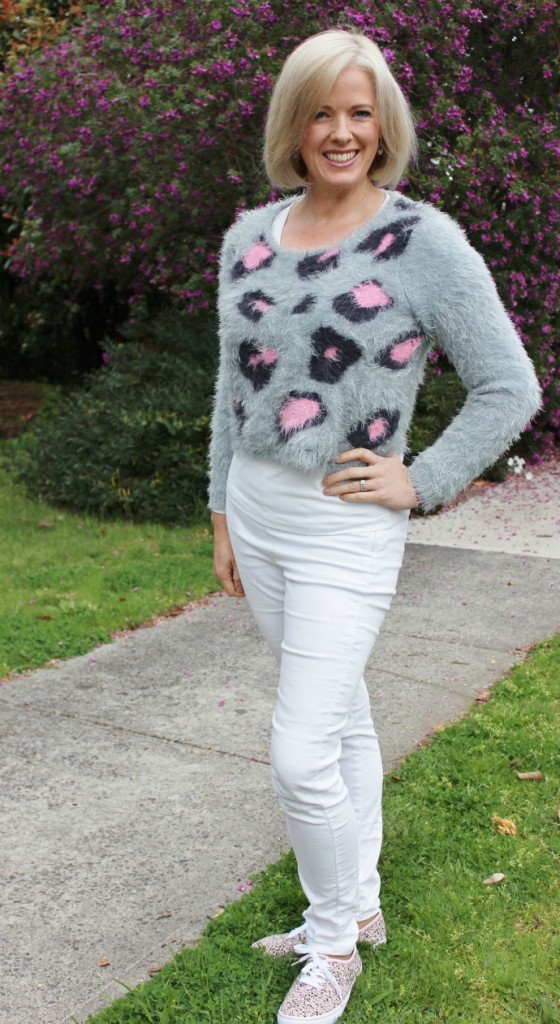 This is a casual look that's good for everyday chores. Get my tips on how to wear a cropped sweater with your jeans here.
14. Jeans as a Column of Colour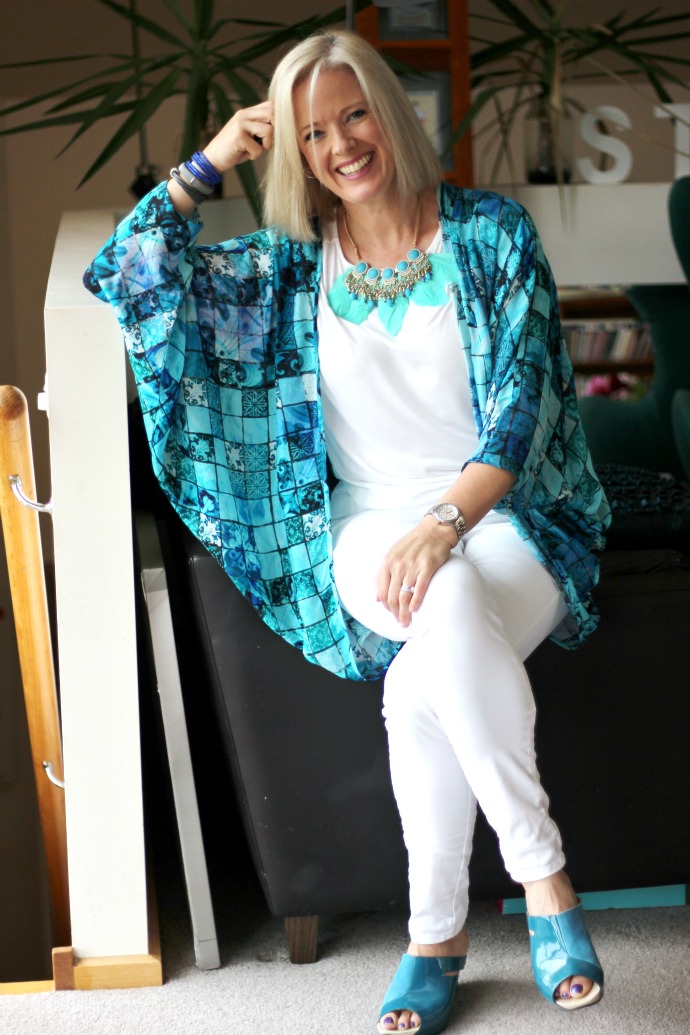 If you want to look taller or slimmer, why not use your jeans as half of your column of colour. A fun kimono like this adds a dash of pizzazz (a column doesn't have to be boring!)
15. Jeans and a Statement Belt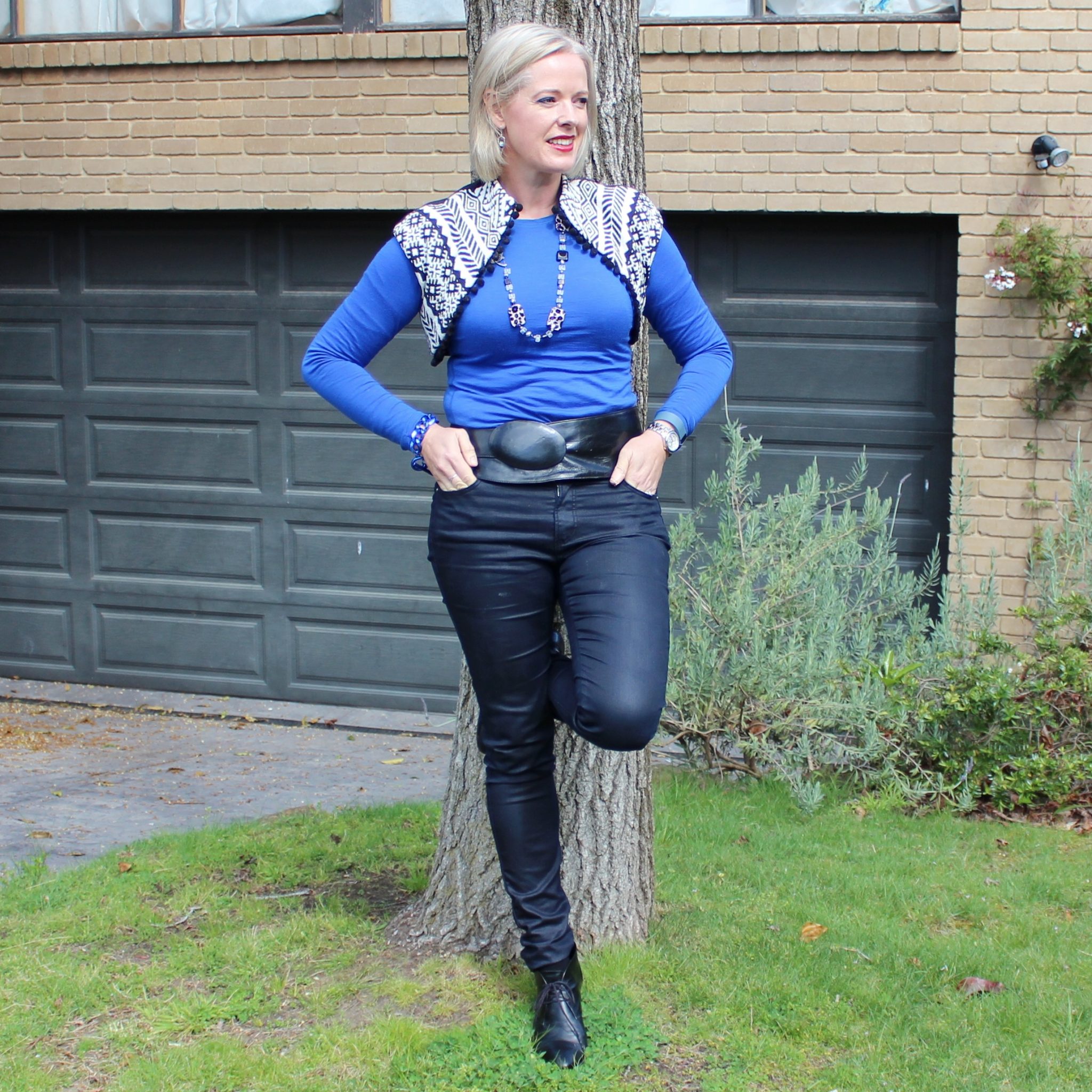 A big wide belt like this one is a great way of hiding your muffin top (if you have one!). It also adds a element of interest to your outfit. Coated denim also looks dressier than uncoated.
16. Day to Night Denim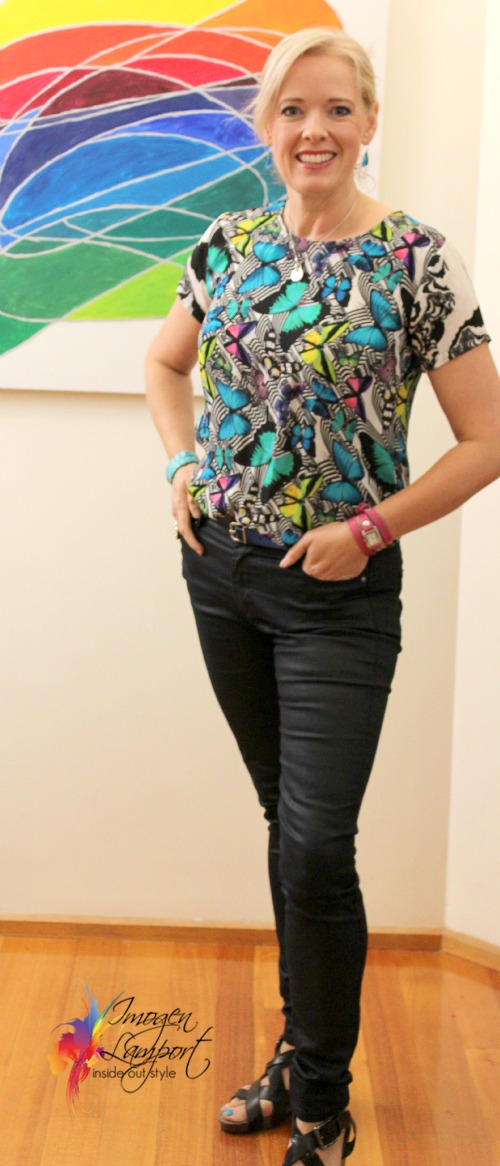 Take a simple top and jeans for daytime.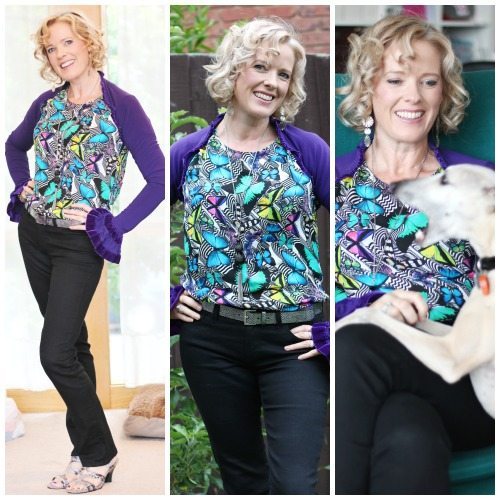 And glam it up for nightime with sparkling larger scale jewellery and strappy heels.
There are so many ways to wear jeans and look smart and not sloppy. Their versatility is why they have become so popular. What's your favourite jeans outfit?