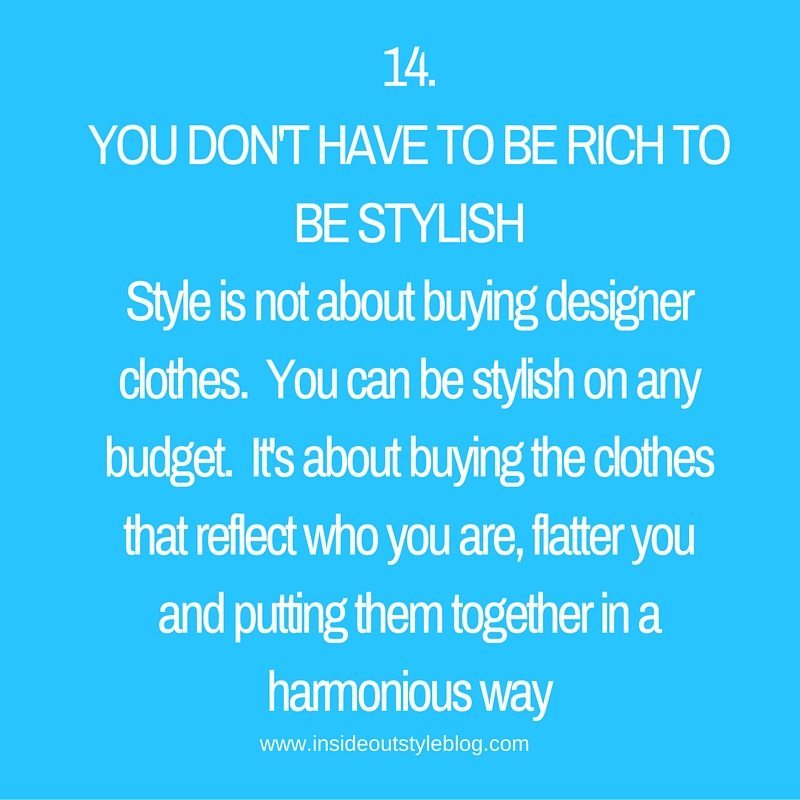 Let me start this post with a caveat
I'm assuming that you're not on the poverty line, but that you most likely have a clothes budget that isn't extravagant by any means.
I often hear from people that they don't have the kind of money you need (in their minds) to spend on clothes to be stylish. Yet they still manage to buy clothes that covers their body.
We live in societies that require us to wear clothes, and given that, we make choices about which clothes we buy and wear.
Given that, if you want to look stylish why wouldn't you choose those clothes that don't represent your style recipe?
Too poor to be stylish? I think that if you're reading this and making choices about the clothes you buy, you can make considered purchases whatever your budget and be super stylish!
Whenever I visit America I'm always stunned at how cheaply you can buy completely fabulous clothes there for next to nothing! It always makes me ponder on why you see so many poorly dressed when choices are so fabulous and vast (seriously they are, coming from a country with a relatively small population that is isolated means that in Australia goods are more expensive – it's the old "economy of scale").
Watch This and Take Action
1.Go through your wardrobe
Get rid it of clothes that don't make you feel great or stylish (except for a few to do the dirty chores in). If you've got clothes that are good quality but you just don't wear them, why not consider elling them and then reinvesting the money in something you do love?
2. Style Recipe
Make sure you have an up-to-date style recipe</a >to rely on when shopping. Even just asking yourself "Is this stylish" or "Is this luxurious" or whatever words that float your boat, before you buy, will have you assessing the item more closely!
3. Body Shape
Discover what suits you body shape – if you don' t know what that is – check out my body shape calculator quiz here.
4. Start by shopping your wardrobe
You may discover all sorts of great outfits you'd never considered if you take a look at your wardrobe with fresh eyes and your style recipe.
5. Do research before you shop.
Go online, go to thrift stores, buy from ebay, find items you love and then save them so you can buy on sale (everything goes on sales these days), go to outlets instead of the high street stores if budget is a big issue.
There are some amazing online consignment stores too – such as The Real Real if you are in a more remote location and want a designer wardrobe at a fraction of the price, and need to purchase online. You can favourite items then watch to see when they come on sale!
There are so many places you can find great clothes at great prices. Remember your cost-per-wear rule – the more you wear it the less it costs per wear. So invest more in a staple that you will wear frequently as it will pay for itself. Spend less on fancy occasion clothes or fads as they won't get the same wear.
Good quality shoes will last longer and look better than cheap shoes. Shoes you can improve (polish) are a better investment than a pair that you can't, and then when they get scuffed you have to throw them away (this ends up being much more costly).
6. Learn about your style.
The more knowledge you have the better your purchasing decisions and the less money you waste. An investment in a program such as 7 Steps to Style (or a consultation with an image consultant like me) will save you thousands and thousands over the course of your life. You may think it's expensive, but it's actually way less expensive than buying "cheap" clothes that you don't wear, that you don't love, that don't make you feel good. Those "cheap" clothes add up quickly to much more than the investment in the knowledge that you will keep for the rest of your life!
Further Reading:
6 Brilliant Strategies to Creating the Perfect Wardrobe Part 1
Tips for successful resale shopping (that's thrift store or consignment stores)
How to stop buying junk clothes
Tips on shopping your wardrobe from the master of shopping your wardrobe Jill Chivers