5 Office Appropriate Outfit Inspirations for the Week
These days few offices have a truly corporate dress code unless they are in the law or finance. There is so much more choice about what to wear to work, and often people have no idea of what to wear.
Over time workplaces have become more casual, and these days are often returning to a slightly more formal dress code. So what can you wear to work to look professional but still approachable?
You will notice I've made all the outfits without resorting to black pants (or jackets or tops) once! Wear some colour and be remembered!
Monday
A straight skirt has the yang elements of straight vertical lines which gives you a more professional appearance. A blouse with a collar can be worn with or without a jacket. I liked this cardigan as it has a jacket feel, with the comfort of a cardigan.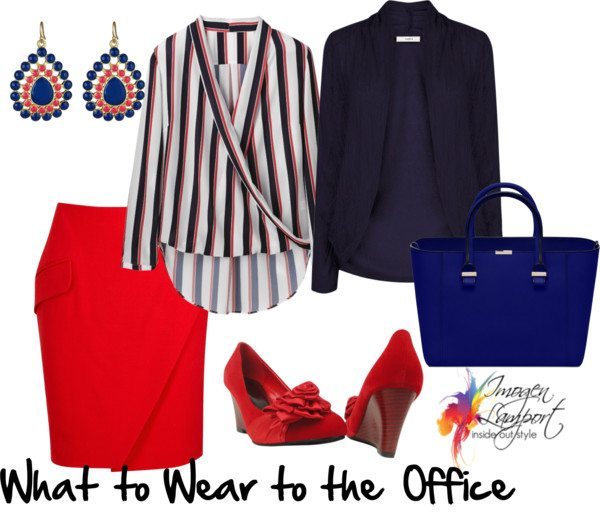 Work Wear Tip:
Wear a blouse or button up shirt with a collar rather than a knit top if you don't want to add a jacket, a collar makes you look more professional
Tuesday
The check top is very on trend and works well for the office as the pattern gives it some structure. The grey pants and white jacket say suit, without being a suit. The red accessories add interest to an otherwise neutral outfit. You could easily change this outfit up with other coloured scarves or accessories.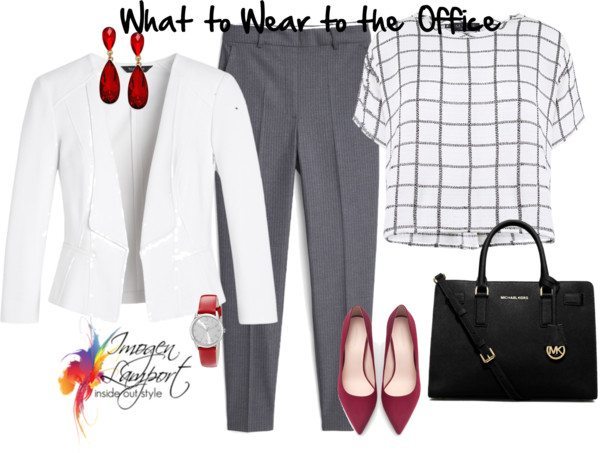 Work Wear Tip: Wearing neutrals to the office? Add a pop of colour with your accessories and become more memorable.
Wednesday
Rather than a knit top, this top has a more structured appearance which is great for work. The dress pant is elegant and neutral and can be worn with so many tops and colours. A stacked heel makes the loafer more feminine and walking friendly.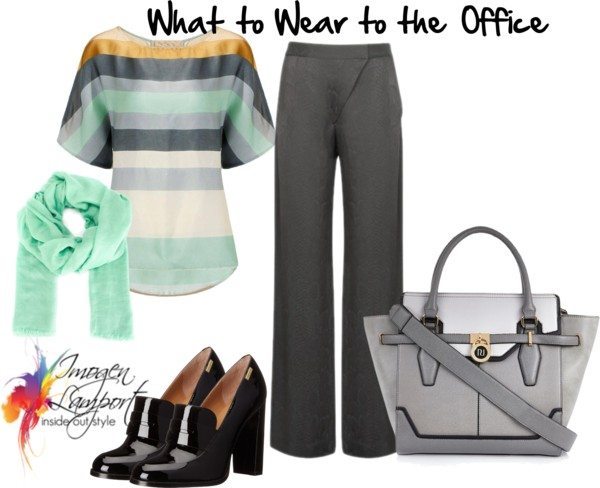 Work Wear Tip: Choose a woven rather than knit fabric to add structure to your workwear, it reads as more powerful and in control.
Thursday
Every element here is comfortable, they are all knits, but the shapes create a more structured and businesslike appearance.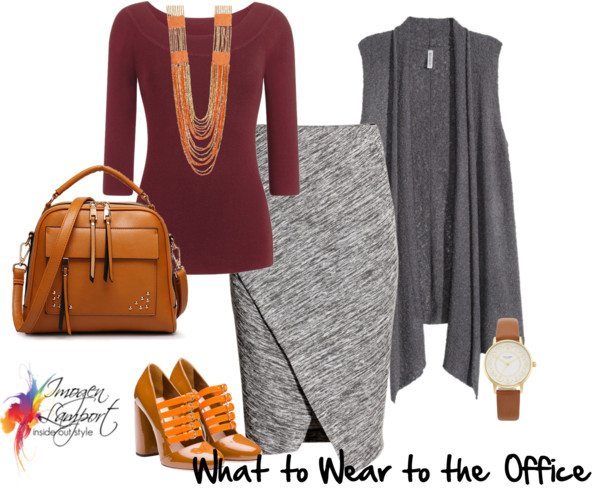 Work Wear Tip: Like comfort but want to look professional? Choose garments with straight vertical lines to give the impression of a more formal outfit.
Casual Friday
Casual Friday can always be tricky to navigate. If denim is acceptable keep it dark and distressing free for the most professional look (remember you're still at work) and add a button up shirt or blouse to dress them up so that you're ready for anything. A blazer is great if the air conditioning in your office is cool or the weather requires one. A coloured blazer even in a ponte stretch knit will allow movement and comfort while you work. Don't forget to accessorize with a belt, brooch and boots!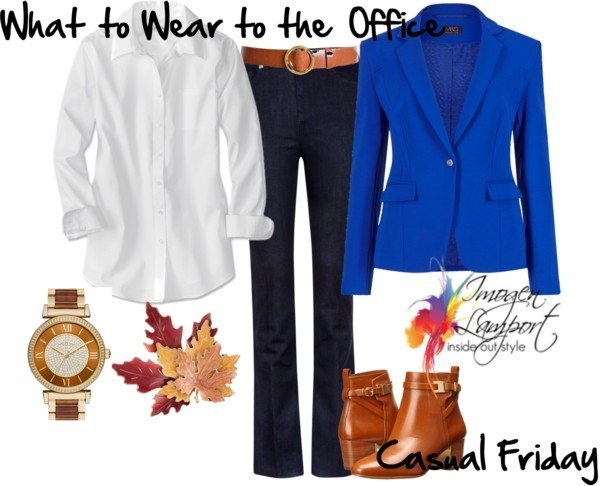 Work Wear Tip: "Business Casual doesn't mean sloppy, remember and an element of "business" must still be in your attire. Add a blazer with your jeans to give you a professional appearance".
Further reading:
What to Wear When You Work in a Corporate Environment But Prefer a Relaxed Dressing Style
What to Wear at Work in a Hot and Humid Conservative Environment