Following on from my post about the Style Rules I'd never break, with some great comments about your style rules, it led me into thinking about all those rules out there, should you or shouldn't you?
Style Rules You Should Break
1. Blue and green should never be seen – I break this one all the time, cool greens with cool blues, warm greens with warm blues look gorgeous and are a common colour scheme found in nature – why wouldn't you break this one?
2. Redheads should never wear red or pink – everyone can wear a shade of pink or red, most redheads look better in warmer reds and pinks, so go right ahead and wear these colours.
3. Never wear white or black to a wedding – this is one I would break, but first I'd check with the bride to find out what is acceptable at her wedding. I've been to weddings where the bride wore green and she was more than happy for others to wear white or black. If the bride is wearing white, then never wear white. Some brides are happy for guests to wear black, especially for an evening wedding.
4. On the subject of white – never wear white (shoes?) after labour day – this is a peculiarly American rule that the rest of the world thinks is crazy. I'd say, steer clear of white shoes (unless you are white blonde and have pixie feet) all year round, nude or camel shoes are so much more stylish. As far as white clothes go, winter white is so gorgeous – why limit what you want to wear with strange outdated rules? Now I understand if you live in a snowy part of the world, then white just gets dirty easily so you may want to avoid it as it's just not practical. But if you live in one of the many temperate zones without snow, then go ahead, wear all the white you want in winter.
5. Never wear hosiery with open-toed shoes – this one I'd stick to – looks tacky. You can get tights that stop at the ball of your foot to allow for open-toed shoes.I have one exception to this rule.
6. No bright colours at funerals – I'd stick to darker, more sombre colours, unless of course those bright colours were requested by the departed. But, if you are going to a Chinese funeral, wear white and whatever you do, don't wear red (red is the Chinese colour of happiness).
7. Always match shoes and handbags – break this one, please! They can be the same colour (say black or brown) but shouldn't look like they came as a 'set'. But why not team your red shoes with a black handbag or your brown shoes with your burgundy handbag? There are just so many options, why be limited?
8. If you're wearing earrings, don't wear a necklace. This rule is way too dictatorial for me. As long as one of these items is the feature, rather than going over the top with both (unless OTT is your personality style), then there is no reason why you can't wear both.
9. Don't mix gold and silver jewellery – why not I ask? When mixing metals, don't go 50/50, look at an 80/20 mix. There are many beautiful pieces that mix gold and silver in the one piece, use one of these to then mix other single colour metals into your outfit.
10. If a garment has belt loops, and you can see them, wear a belt – this one I do agree with. I often remove belt loops off clothing that I don't want to wear a belt with, and for garments like jeans, I wear my tops over the top so you don't see the loops. But if you can see them, wear a belt, it just looks better.
Some style rules you can forget and do what you like:
No long dangly earrings with glasses – who made this one up? That's a personal choice.
You can't mix prints – oh yes you can! Read this post for tips. You don't have to, but for some people, it's a fabulous look.
Plus size women should wear long tops and baggy clothing – actually, form-fitting clothes (not skin tight) is more flattering and slimming. Often those long baggy tops are actually highlighting rather than hiding.
Don't wear eye makeup if you wear glasses – another one that you can ignore.
And on my NEVER wear it list: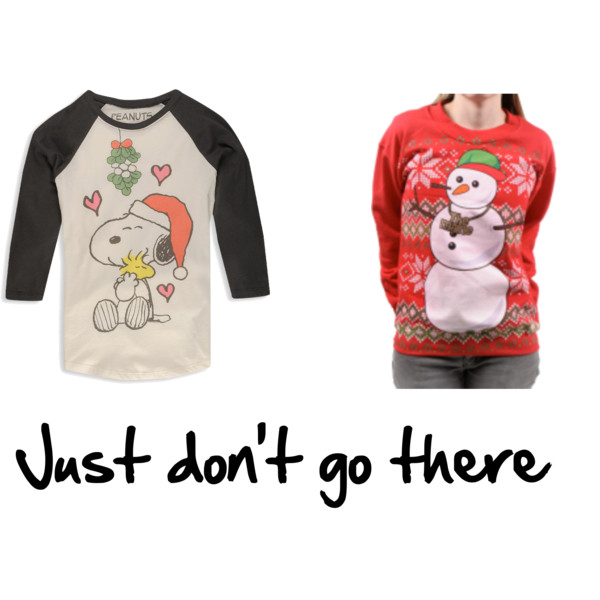 Holiday-themed sweaters/jumpers, same goes for earrings and other jewellery too. Along with this anything overly embroidered is usually not a good look either.
Just because you're over 40 doesn't mean you have to dress Old Lady – check out my friend Jan who is 60, you'd never find her in an Old Lady shop.
Stay away from cutesy kids characters on anything other than your PJs when you're over the age of 25
And a rule that isn't written into the books, but may be worth considering:
"Never wear an outfit with more than 25% animal print" particularly if it's skin tight.
More Tips on Style Rules
How 3-5 Style Guidelines Are All You Need to Be Super Stylish