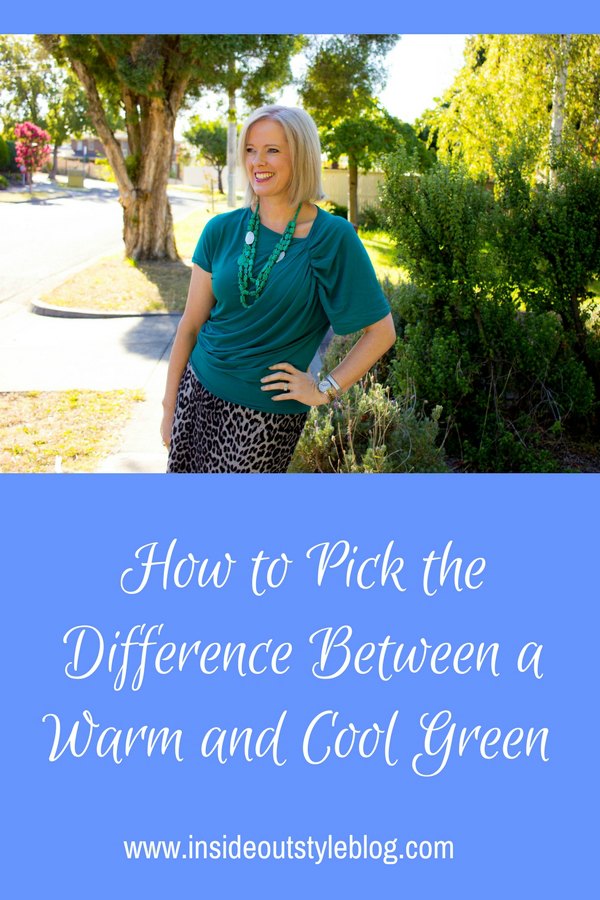 Dear Imogen,
I love reading your blog and have learnt so much from you. I have a question regarding colour and hope you could help me to add some more colour into my wardrobe. I'm a cool brunette with green eyes, but after arranging my clothes in a rainbow, I realised the only garments in green are two worn out tops. How can I start, by choosing a scarf, a top, printed or solid? And also what kind of green to look for?
Thank you and best regards, Jelena
Many people get confused about green and whether or not it's warm or cool. Undertone is one of the three main properties of colour.
Many people think of all greens being cool because the overtone of green is cool (as is the overtone of blue and blue/violet). But the reality is, you can make a green warmer or cooler colour when you play with its undertone.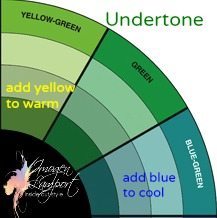 To make green warm, add yellow to make a yellow-based green.
Warm greens are commonly called names like olive, khaki, chartreuse, lime, pistachio etc.
To cool green down and make it cool, add blue to get a bluish-green.
Cool greens are often called names like forest, emerald, bottle green, seafoam etc.
Discovering the Undertone of Green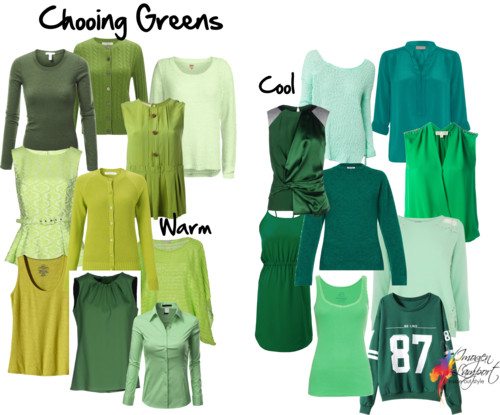 As a cool brunette you want to look for cool greens. You will probably find that the medium to darker cool green colours work best for you. This green top that I'm wearing is a great cool green that would most likely work for you as it has some depth. The lighter green necklace is also a cool green.
For what to choose that's up to you.
You could find a scarf with some greens in it and then find clothes to match. Scarves are a great way of adding in colour to your wardrobe and also brilliant for helping you put together interesting colour combinations (like I wrote about here).
Or just go straight for a top that really brings out your eye colour. Repeating your eye colour in a top or scarf (and jewellery too) draws attention to your face and intensifies the colour of your eyes (and as I always say "if you're looking in my eyes you're not looking at my thighs").
As someone with green eyes, you should look to finding a green that matches your eyes and makes them pop! That's your eye enhancing green that will be a fabulous colour on you!
More Green Tips
Linking Up to High Latitude Style, Currently Wearing, Not Dressed as Lamb, Style Nudge, Style with a Smile