I have provided post upon post of style 'rules' to follow, but one of the things I always teach my clients is how to break the style rules.
Why Follow Style Rules?
Why have rules at all? They help those who have no idea or no reference to figure out what works for their
body shape
and proportions, to create figure flattery (as Sal puts it) and are a good place to start. They help you find your basics and starting point, a place to launch your personal style. (And if you want to learn all your style rules, and then how to break them in a way that is authentic and right for you – my
7 Steps to Style program
will give you all the information you need).
But once you understand your 'rules' it's time to start breaking them. At least you then go into it understanding what you're doing and then making a choice to break the rule, rather than unwittingly wearing something that may be less than 'ideally' flattering, in a way that you don't want.
I have spent years studying why certain clothes are more 'slimming' (as that's what the majority of my clients want) on different body shapes and proportions. But that is not the be all and end all of dressing. What these rules lack is PERSONALITY – where does your unique personality come into the equation if you just slavishly follow the rules?
I always tell my clients to BREAK ALL THE RULES when they are expressing part of their personality. When the piece of clothing or accessory is an outward reflection of the inner 'me' then no matter what any rulebook says, it's a piece that needs to be worn, and one that you will LOVE.
Personality Trumps Rules
For example, a great friend of mine always goes out 'blinged' up to the 9s – she wears more bling going to the supermarket than I do on a big night out, as she says "there's never a bad time for bling", which is her personal philosophy. Some would say she's over-accessorised, but for her, it's an extension of her personality.
Iris Apfel
is another great example of this – how personality trumps all style rules. In fact, I've written a post on 10 ways personality is more important than body shape when choosing flattering clothing,
which you can read here.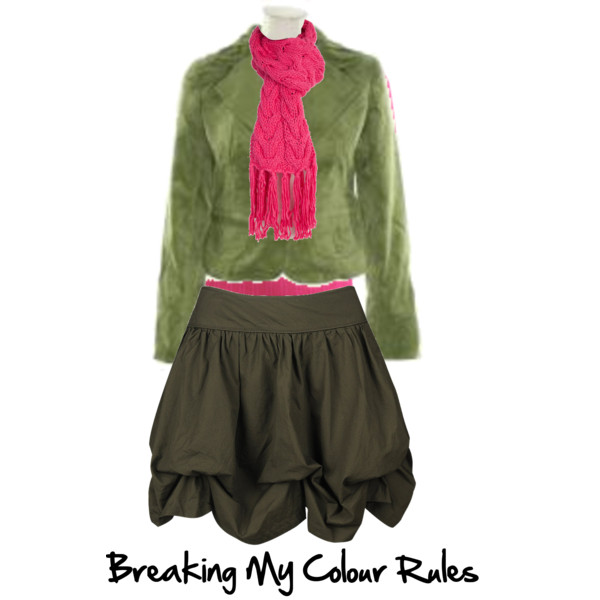 For example: I have a jacket that I love, that's in a khaki/olive colour – which is not flattering at all on my skin, in fact, it makes me look like I have a serious case of jaundice, but I love the collar and other details of the jacket, the style is so ME. So I wear it with
a hot pink top
that flatters my complexion and moves the unflattering colour further from my face.
Another example is a skirt with lots of pocket detail on the hips, which makes my hips look wider (and believe me, they are wide enough already), but because of the deconstructed nature of the skirt and other detail that I LOVE, I just DON'T CARE about looking 'slimmer' and wear it happily.
When you understand your personal style, it's so easy to break the rules and make it work for you, because it is an extension of your wonderful inner you.
What style rules do you break?
How 3-5 Style Guidelines Are All You Need to Be Super Stylish