n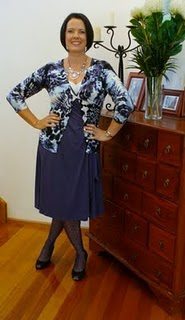 Peep Toe with patterned fishnet style hosiery
I received this request from one of my lovely readers:
Imogen, I'd appreciate your professional opinion and advice on the matter of whether it is okay to wear hosiery with shoes that have either an open toe (such as a strappy sandal or peep-toe pump) or an open back (such as a mule or a slingback pump). I have bunions on my feet, so I carefully select shoes that hide the bunions so they can't be seen. However, because of the bunions, I have to wear a wider width shoe, which makes closed pumps impossible to wear due to the fact that they are too wide in the heel. For this reason, I wear slingback pumps. I'm pushing 50 and feel very strongly that hosiery should be worn with dressy and/or office attire. However, Clinton Kelly (of TLC's "What Not to Wear") says that if a shoe has no back, then hosiery should not be worn. I'd like for this issue to be settled once and for all, as other websites have stated that hosiery is perfectly fine for slingbacks. IMO, the problem is when someone wears hosiery that has reinforced toe seams (not sandal foot hosiery) with shoes that are open in the front, so the seams show. I totally get this? I just don't understand why a slingback pump that is either completely closed in front or that has a peep toe) cannot be worn with sandalfoot hosiery… assuming the proper color is worn, of course. Can you give me a definitive answer? Thanks!
I so wish I could answer that with a definitive, works for all occasions answer, but alas, there is some leeway in this matter.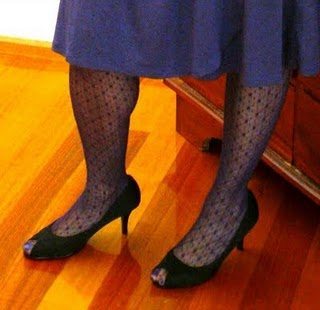 So I'll answer firstly with my preferences:
You can get away with hosiery with peep toes, sling backs and sandals where there is no reinforced toe or heel, it's not always the best look, but I don't think it's a complete fashion crime. In fact, if you're wearing a fishnet or fancy stocking, these can be a feature of your outfit. In the photo above, this is the outfit I wore to our last AICI meeting, and I was not the only image consultant there with fishnet style tights and peep toe shoes on.
You can also now buy toeless tights which are great if you want to look more like you're not wearing tights (and show off your pedicure) but still cover your leg and heels (which are less of a focus). These are much better for a more open toe such as a sandal or very open peep toe (rather than the little ones like I'm wearing).
I tend to think it looks better with a sheer tight rather than an opaque, as the point of peep toes and shoes that show off the foot, is for us to see your toes, rather than the ends of obvious stockings.
If you want to wear opaque tights with open toe shoes, then keep the contrast low so that the tights at your heels or toes aren't the feature of your outfit.
Secondly, fashion comes into the equation. There are fashion designers out there who put socks with sandals, opaque tights with open shoes, and even knee-high stockings (pop socks as they're called in the UK) with short skirts (which I happen to think is one of the worst fashion crimes). Now, if you're a keen follower of fashion and have the confidence to sport these looks, well go ahead and do it, but if it makes you uncomfortable, don't.
Fashion is about personal self expression, a reflection of who you are and who you want to be. I don't believe there are the same really hard and fast rules of 50 years ago, so whether you want to wear hosiery to the office or don't, it's pretty much up to you and the environment you work in and who you are as a person. Yes, you often have to conform to the rules of the environment, but if those rules really aren't you, then sometimes it's time to find a new environment.
What do you think? Is it a crime to wear hosiery with open toes and heels?