The length of your waist is one of your body proportion measurements (you can find out how to measure all your proportions here), and one of the ones many people want to know is if they have a short or long waist, or are one of the lucky balanced waisted ones!
Why do we care about body proportions anyway? Well, proportions tell us where to end tops, skirts, jackets, sleeves, necklaces – the length of your clothes!
If you just want to check quickly I've devised this super easy and super quick method of measuring, no tape measure required.
How to Tell if You Have a Balanced, Short or Long Waist
This method really is super easy because all you need is your hands!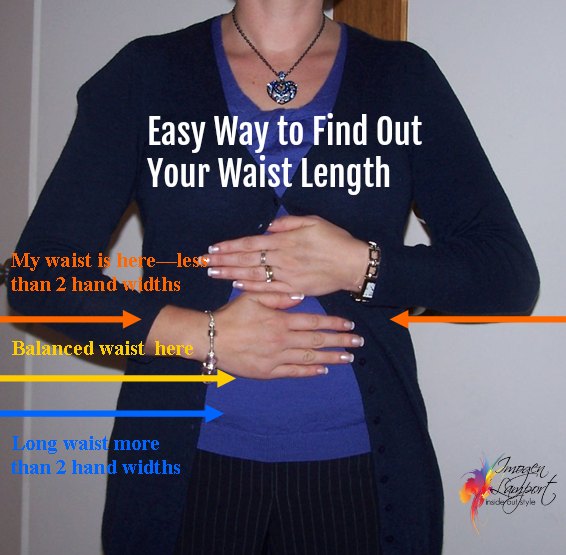 Placing your hand at the base of your bust (fitting snugly but not pushing upwards), how many hands distances are between the top of your hand and your waist?
Less than 2 hands width – Short Waist
2 hands width – Balanced Waist
More than 2 hands width – Long Waist
These measurements are not perfect, but they are a good guide to let you know this body proportion.
One fact to remember is that the larger your bust, or the lower it sits the shorter your waist will be. It's good to adjust those bra straps so you keep the girls up high as it gives you the illusion of a longer and slimmer waist.
Another tip is to remember that the narrowest point of your torso may not be your waist! Get my tips on
finding your waist here.
So what are you waiting for? Try this at home!
And if you'd like my professional opinion on your body proportions, body shape and colouring, you can get this as part of my
7 Steps to Style program
which covers what to wear to flatter each proportion plus so much more!
More Tips on Finding and Dressing Your Body Proportions