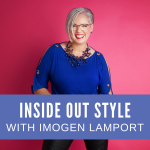 There are two main things to consider when deciding on whether you are a fan of simple outfits and patterns or complex ones.
The first and most important one is your personality and values
The second and only marginally less important is your physicality.
So let's look at both these aspects.
Personality and Values
Who you are and your personal aesthetics relate to your personality – which is why personality influences most of your style choices (apart from the figure flattery and colour palette guidelines).
If you value simplicity and minimalism than you are more likely to prefer a more simple outfit.
If you value aesthetics you exploration you may prefer a more complex outfit.
If your base personality dressing style is either Relaxed or Classic you will likely prefer a more simple outfit.
If your base personality dressing style is Dramatic, Creative or Feminine you will likely prefer a more complex outfit.
If you are pragmatic in your approach to style, you will more likely prefer simple outfits.
If style is a creative expression you will more likely prefer more complex or original outfits.
Your Style Values – Simplicity and or Minimalism
Values impact on everything we do, every choice we make. You may not realise it, but you do have style values, and these come into play when you're out shopping for clothes, and will play into your choices of the stores you visit and the types of clothes you choose (and if you're interested in finding out about your style values along with a deep dive into your Personality Dressing Style this is one of the steps of my 7 Steps to Style program).
If you value Simplicity or living a minimalistic lifestyle, you won't be going for complex outfits. Instead, you will be looking for very versatile pieces that can be worn in multiple ways, without extraneous details or embellishment.
Your Style Values – Aesthetics and Exploration
If your values are more about creative exploration or aesthetics, you may look for more complex outfit design, or put together more items to make your outfit more complex. You may enjoy wearing more layers, mixing patterns, colour or textures, or adding embellishment in the form of accessories – jewellery, belts, cuffs, rings … the list goes on.
You may like to wear your clothes in many different combinations and even upside down or sideways – adding complexity to your outfit.
You may view certain colours as more aesthetically pleasing, like patterns a level of complexity and interest in your outfits.
Your Base Personality Dressing Style
This is the cornerstone of your style. It's often the grounding for everything you layer on top. You can find out your base personality dressing style with my quiz here and discover more about where your style starts from.
If yours is Classic – this is all about clean and simple lines, nothing extraneous or frilly for you. Your colour choices will often be more neutral and understated. Your patterns will be a simple pinstripe.
If yours is Relaxed – this is about a more pragmatic approach to style – fashion is function, you need to be able to get up and go with no fuss. You want to get through your whole day wearing the same clothes so you need to be able to move and do things without the clothing getting in the way. So less is more as far as clothing choices. Your patterns will be a fine to medium horizontal stripe, or maybe a check. Still simple in their design.
This is why you find that neither of these styles uses a lot of pattern or embellishment. Plain and simple, nothing extra.
If you are Dramatic or Creative, you will be much more interested in more complex outfits as the plain will be felt as boring and you need to show your complex personality off in a way that expresses who you are. How you do it is up to you. It may be about scale (Dramatic) or unusual combinations (Creative) but it will be about expressing yourself. Dramatic patterns are usually big and bold or complex animal prints. The Creative personality will look for something more artistic or unusual in their prints and patterns, or will mix patterns together to create complexity.
If you are Feminine you like the extra detail, the frill, the lace, the bling, the embellishment that takes a plain item and adds an exciting touch. The floral print is feminine and is made from complex shapes and details.
Fabric – How your Personality affects your choice of prints and patterns
Your Pragmatic Personality
If you have a very pragmatic personality, where your clothes are a functional tool to keep you warm (or cool) dry and appropriate. There is usually a desire too for more minimalism in clothing design. Those bell sleeves are not practical and will get into your soup or get wet in the sink when you wash your hands. That embellished shoulder detail means it ruins the lines of any lighter weight garment you try and wear over the top. That bit bold pattern means that the garment is too obvious and identifiable and so can only be worn every now and again. All these things make these kinds of more complex clothing impractical for you.
Your Artistic Personality
A desire to create something beautiful may mean that you look for and engage more with more complex outfits that include accessories, or unique ways of wearing garments.
You are less worried about the sleeves being in the soup – it's the overall look that matters. You may like being different and unique – and individual with her own sense of style. Or you may like to dress in a way that is bold and draws attention, in a way that is unlike others – and this requires some complexity – otherwise, it's too easy to copy.
Your Physicality
Your physical appearance can also play into what works for you and whether or not you go for more simple or complex outfits.
If you have smooth hair and skin, you may find that you prefer less detail and complexity in patterns or design elements of your outfit.
If you have textured hair/skin and/or patterned skin you may find that you enjoy more detail and complexity in your outfits.
If you have more smooth body shape – you may prefer clothing that is more smooth and simple, without excess details.
If your body shape is a little lumpy or bumpy – you may prefer more detail in your clothes – such as patterns and layers to distract and flatter.
Combination of Both Simple and Complex
You may be somewhere in between the simple and the complex. You may find it depends on your mood – some days you prefer more simple, and others more complex outfits.
You may like to add a little bit of extra interest or detail to your outfits.
Or you may just be in-between the two, which is where I class my own style. Never completely plain, but not at the really complex end of the scale either.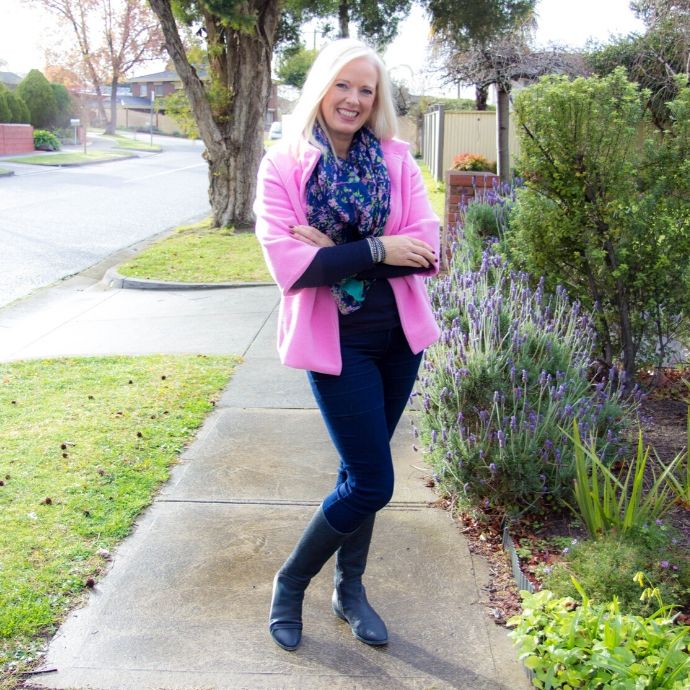 Here the jeans – simple, the boots have a textural element (hard to see in the photo) but it adds a layer of interest and complexity to the outfit. Then simple long sleeve knit in the same colour as my jeans creating a column of colour (making the outfit more simple and streamlined) but then a 3/4 sleeve pink jacket layered over the top, and a multicoloured floral scarf (complex in its pattern) plus a wrap bracelet are added into this outfit equation, taking the outfit from basic and simple (the tee and the jeans) to a more medium complex outfit.
If you're looking for some inspiration – here are a couple of Instagrammers (and image consultant friends of mine) who are at each end of the simple to complex continuum!
Simple Outfit Inspiration
Here is the fabulous Sue Donnelly, who even though she has a very creative and dramatic personality, employs very simple outfits (though there is creativity and unusual design in the construction).
View this post on Instagram
Complex Outfit Inspiration
And here is the gorgeous Suzanne Dekeyvere, another wonderful image consultant, who always puts together very complex outfits, her speciality is layering in multiple patterns and textures.
More Tips
How You Can Use Your Hair Texture to Determine the Fabrics You Choose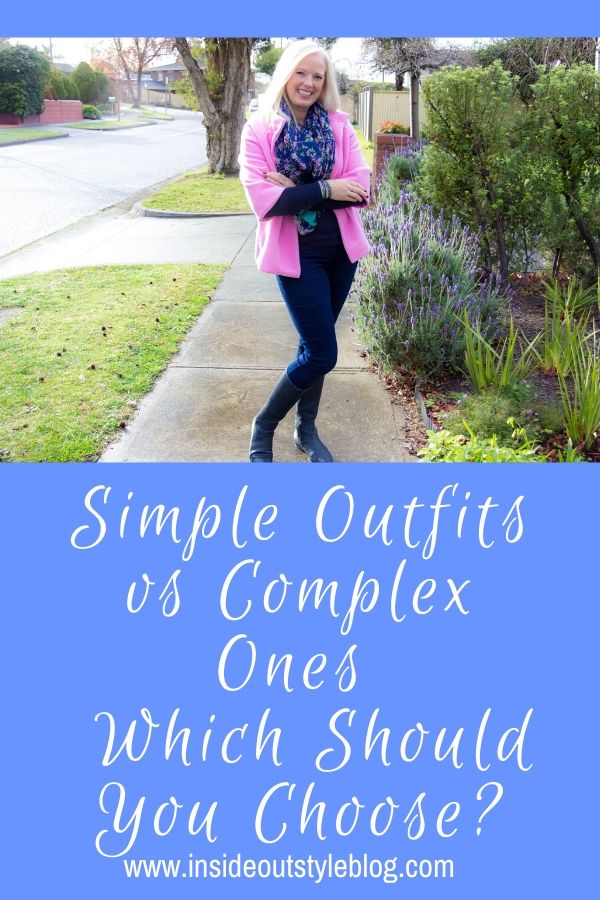 Subscribe to my Podcast
You can now get these videos as podcasts subscribe and never miss an episode
Send Me Your Colour and Style Questions
Please do email me your colour and style questions to answer on upcoming videos!