Following on from yesterday's post on finding your colour personality preferences, today we're going to look at the first category – the neutrals.
What are the Classic Personality Style Colours?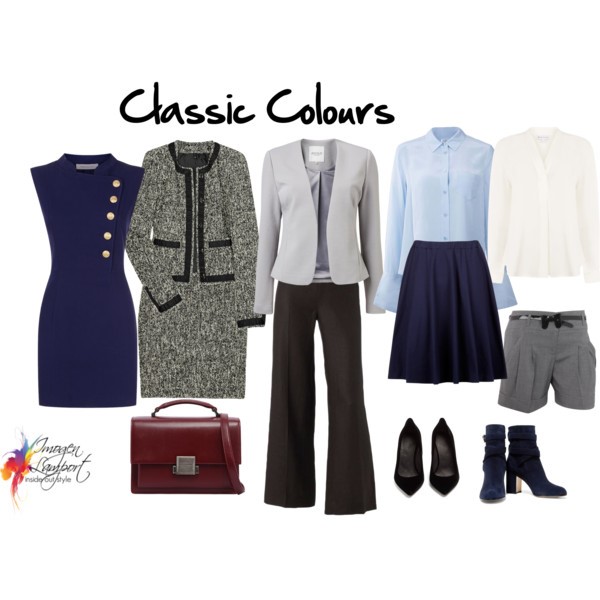 Those of you who tend to choose traditional neutral colours such as black and white, grey and navy, shying away from most colours of the rainbow can be described as liking the colours of the classic style.
The Classic neutrals fit most easily into coolundertone colour directions, but a variation of them can be found in all colour palettes.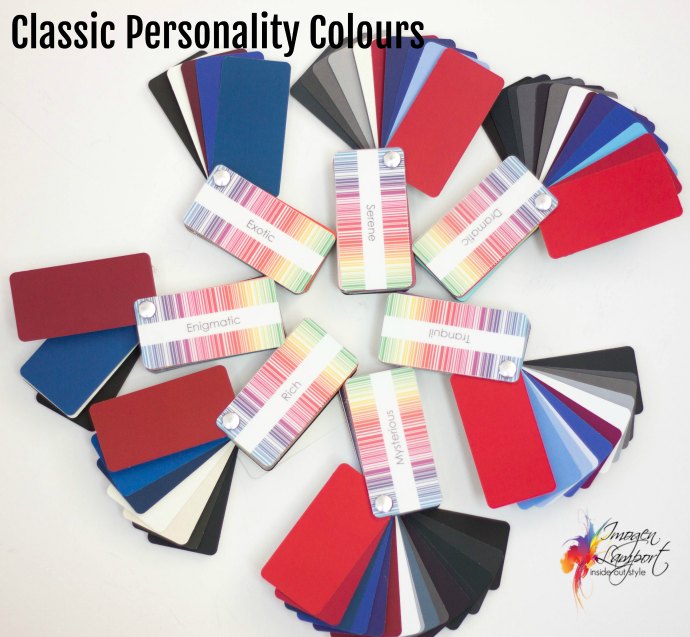 Classic Personality Style
Classic clothing is traditionally neutral in colour.
Wearers tend to prefer to be more understated and not draw too much attention to themselves. Bright colours make them feel uncomfortable.
They like the simpleness and class of neutrals. No spending lots of time worrying about if colours go together or not.
Classic clothing tends toward the structured, crisp and smooth, low-textured, but this aspect of the clothing style may not appeal if your Classic personality style is also blended with the Feminine, Relaxed, Dramatic or Creative personality dressing styles.
This style of clothing comes from professional men's business wear, this is why it doesn't vary as much year to year (but it still does date).
Classic jewellery is traditional in its materials and construction, this also may not appeal.
It's the most formal of dressing styles and is appropriate for the office as it says that you are professional, organised, responsible and mature.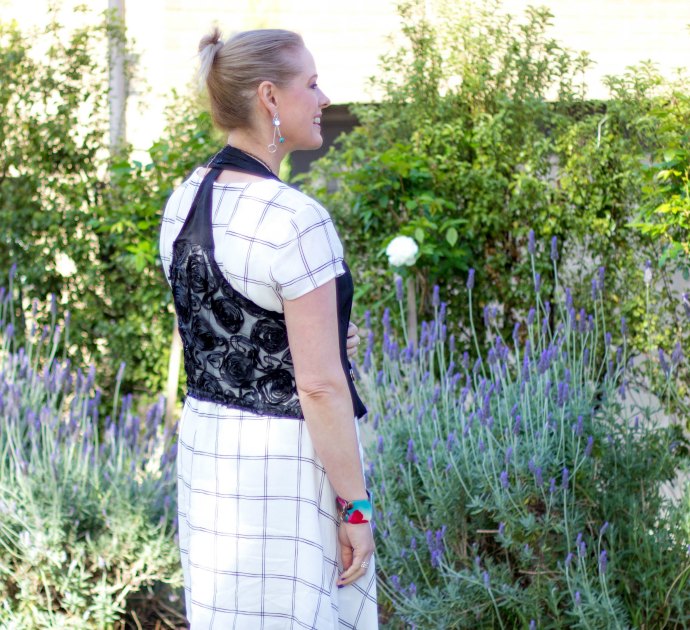 Wearing Classic black and white – the dress is also a Classic style garment and pattern, the vest is not!
You may just incorporate the low-keyed nature of neutrals with another clothing personality style. You may also like to wear a high-value contrast which is typical of the professional element of the Classic personality dressing style. Some prefer to wear the same shade of neutral head to toe, whilst others like to mix up their neutrals with a pop of a traditional colour such as soft light blue, red or burgundy. Just remember, if you have a warm complexion to look for warmer neutrals, from browns and warm greys to deep olive and marine navy. If you have a cool complexion try greys, navy, rose beige, white, charcoal, deep rose brown and black.
There are many neutral options and you can still wear a variety of shades, whilst sticking to a mostly neutral palette.
If You're Classic You May Describe Yourself as …
Organised
Professional
Mature
Responsible
Sensible
Conservative
Reliable
Trustworthy
But even if you don't identify with all these words, you may find one rings true for you. If you were all of them then you'd be attracted to the Classic style as a whole, but if you only find a word or two related to you, then this may be why only the colour palette attracts you and you find other style elements from different personality styles.
Dive Deep into the Influence of Personality on Style
Personality influences every choice we make in choosing clothes, from fabrics and prints to shape and style. If you'd like to gain an in-depth understanding of how your personality influences your style (and why you gravitate towards some clothes and accessories and shun others) you can get this in my 7 Steps to Style program, as Step 1 Personality delves deeply into this topic and will give you a comprehensive understanding of your own choices.
More Tips on Classic Dressing
How to Be Contemporary and Casual in Classic Clothing Styles
How to Interpret and Choose Prints and Patterns For Your Personality