Meghan Markle, the Duchess of Sussex, often includes Classic dressing style elements as part of her outfit. Her take on Classic is modern and often with a Dramatic twist. It's a fashion-forward version of Classic dressing, a style that can too easily become stuffy, old-fashioned or just plain boring. So what does she do differently? What can you learn from Meghan Markle's style?
Classic style comes from traditional men's businesswear. It's all about the Yang – the straight vertical line, opaque fabrics in solid darker neutrals, smooth fabrics, low on detail – nothing tizzy, frilly or overdone here. Totally understated.
Classic Dressing exudes confidence and authority, it says you're professional and should be taken seriously. It communicates trustworthiness, maturity and an ordered, organised mind.
So even though Meghan Markle's style is not purely Classic – let's discover what you can learn from her take on Classic as she has a modern and striking style.
1. Classic Fit and Grooming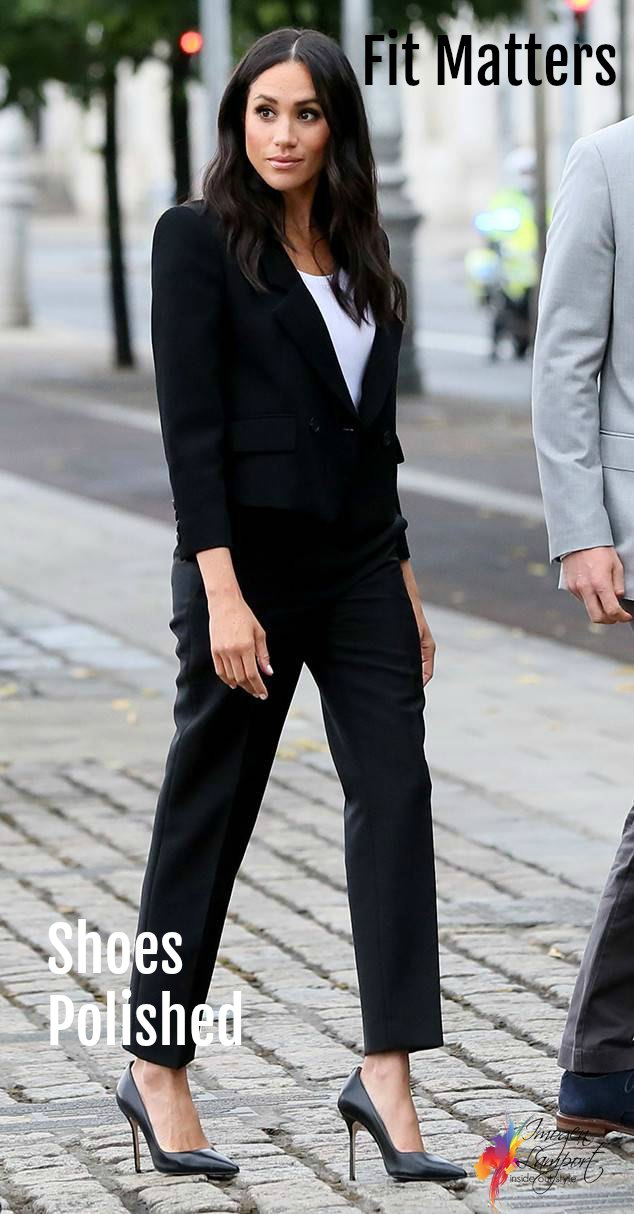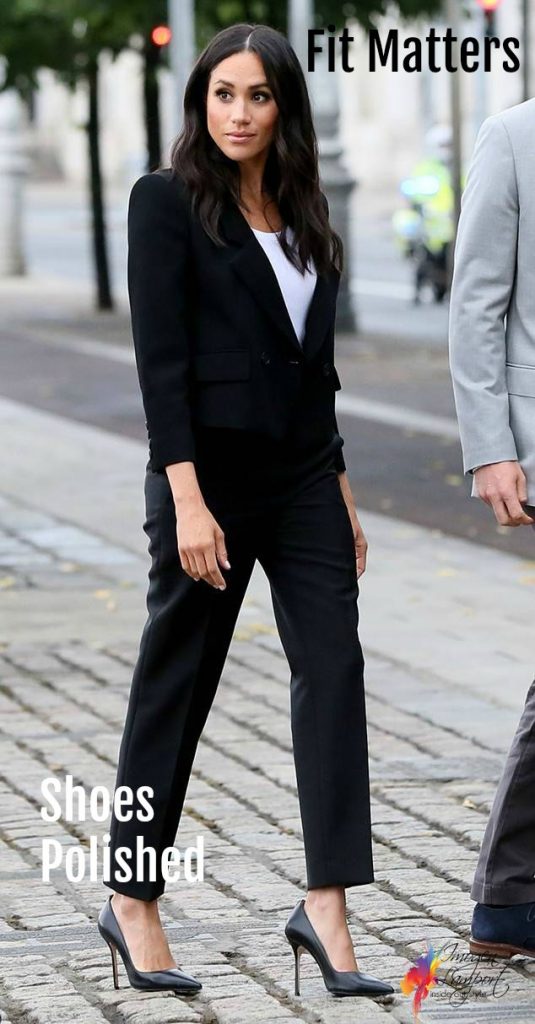 The fit of Classic clothing is fitted, without being body-hugging, nor loose or sloppy. Clothes fit well at shoulders, bust and waist. Nothing either pulling or looking saggy or baggy.
Grooming is impeccable. It's neat, it's tidy, it's controlled. Shoes are polished and in great condition. Nails are manicured in neutral tones.
2. Classic Darker Colours and Accessories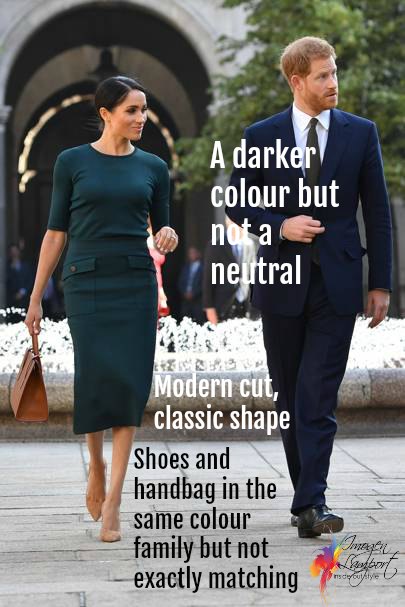 Classic colours (find out about them here in more detail) are more commonly in the darker neutral territory. Yet this dark green works well to give a modern cut of a classic shape dress a current feel and look.
Notice how Meghan is wearing a nude pump and carrying a camel handbag. These two classic accessories work together, yet are not matchy-matchy – so give a much more current and up-to-date feel.
3. Classic Tailored Garments with a Dramatic Twist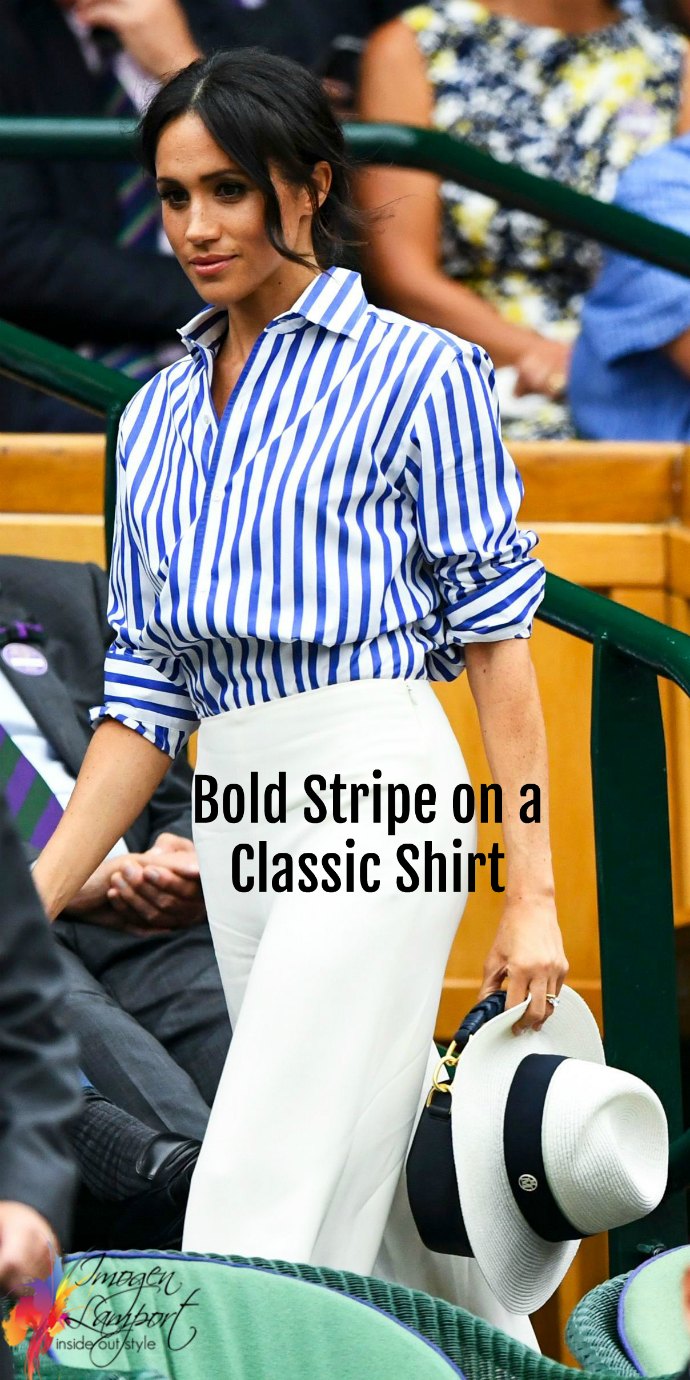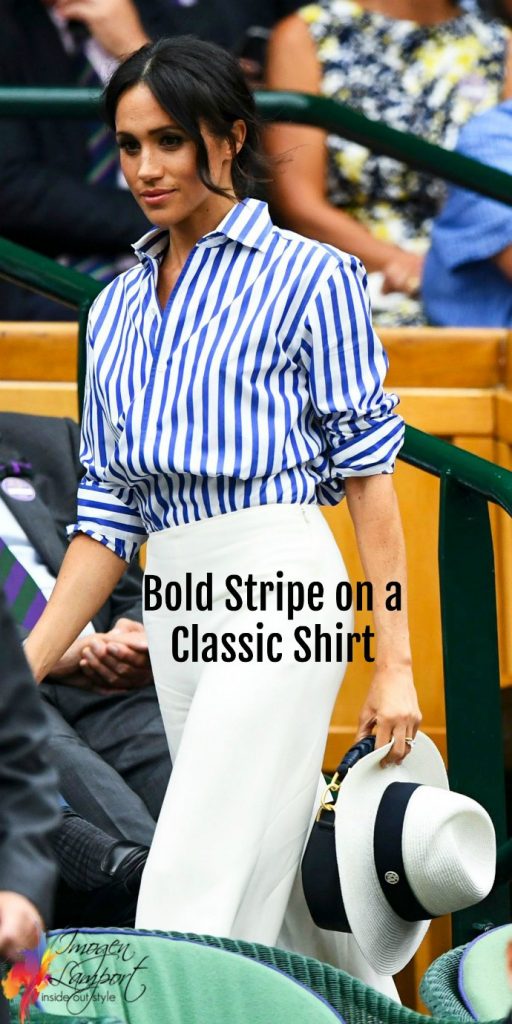 The vertical pinstripe is the Classic pattern, when a Classic wants to wear a pattern. This bold version moves that pinstriped into Dramatic dressing style territory. Updating a collared men's business dress shirt into a fashion garment.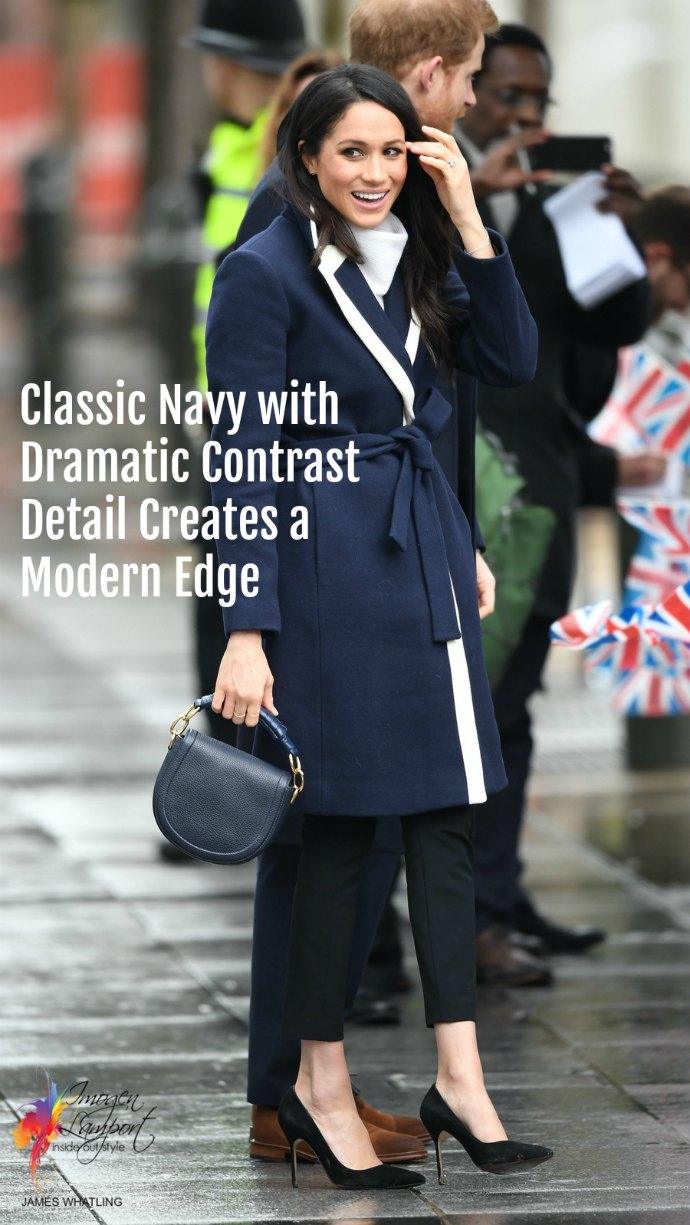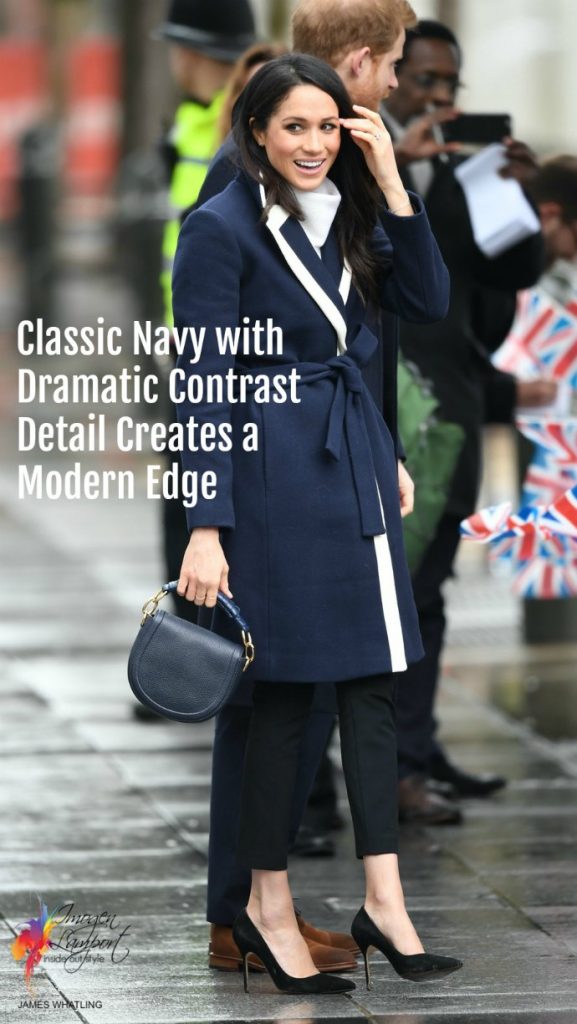 This trench style coat in classic navy, as part of a neutral outfit (high contrast Classic colour combination), has a bold white trim which again takes it away from being purely Classic and adds a modern and bold, dramatic twist to the outfit. Certainly not bland or boring!
4. Classic Shape but with a Modern Twist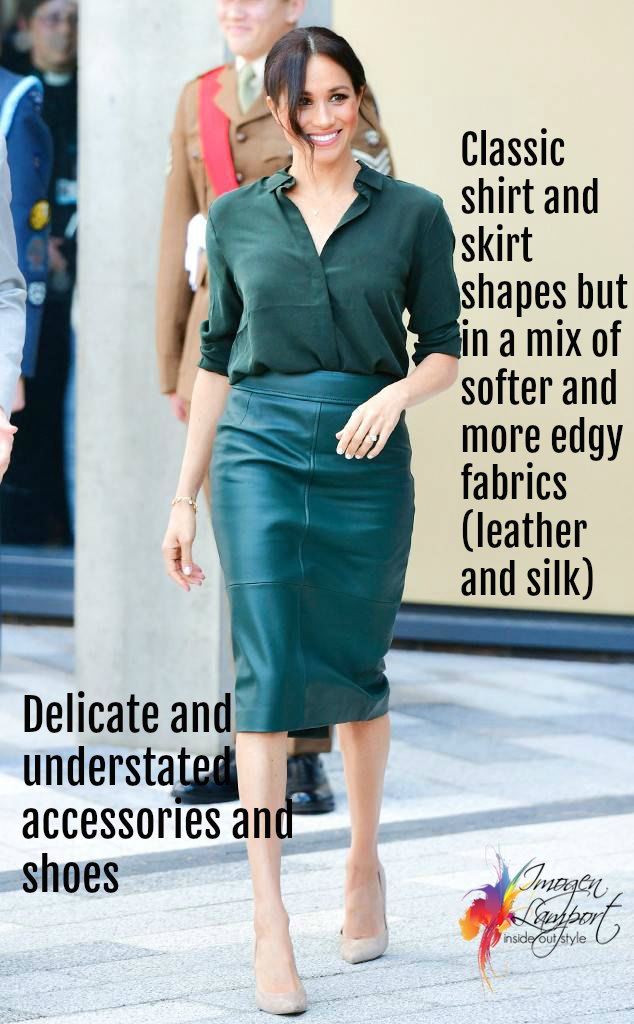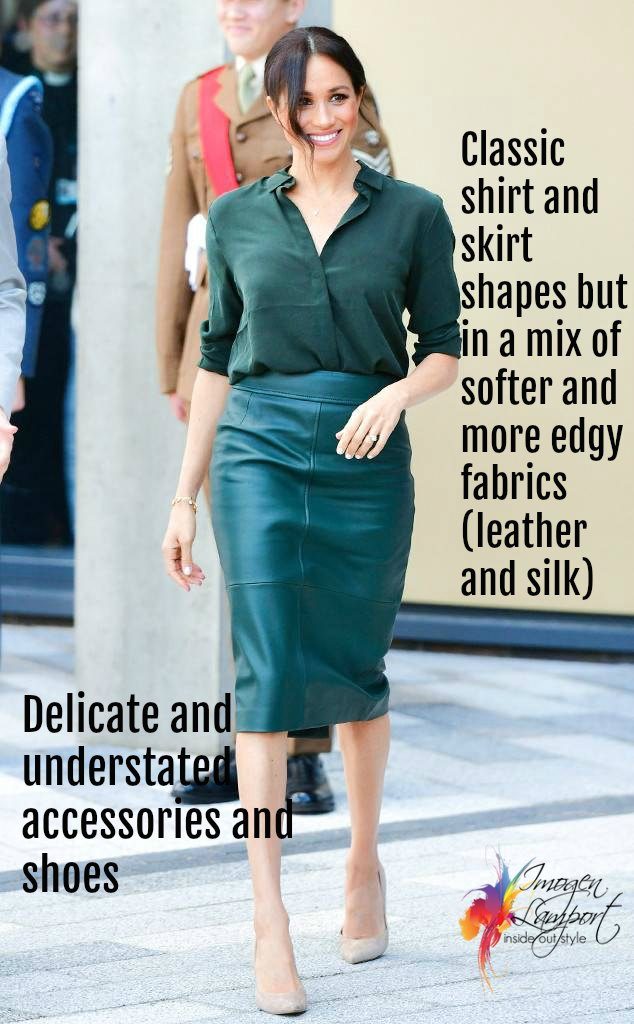 The pencil skirt – total classic.
The button-upshirt – total classic.
How to put a modern spin on this kind of classic outfit?
Mix non-classic textures together. Leather and silk in a not traditionally classic colour of deep green.
But to keep it from being too Rebellious or Creative, keep accessories small and understated.
5. Classic Style Non-Classic Detail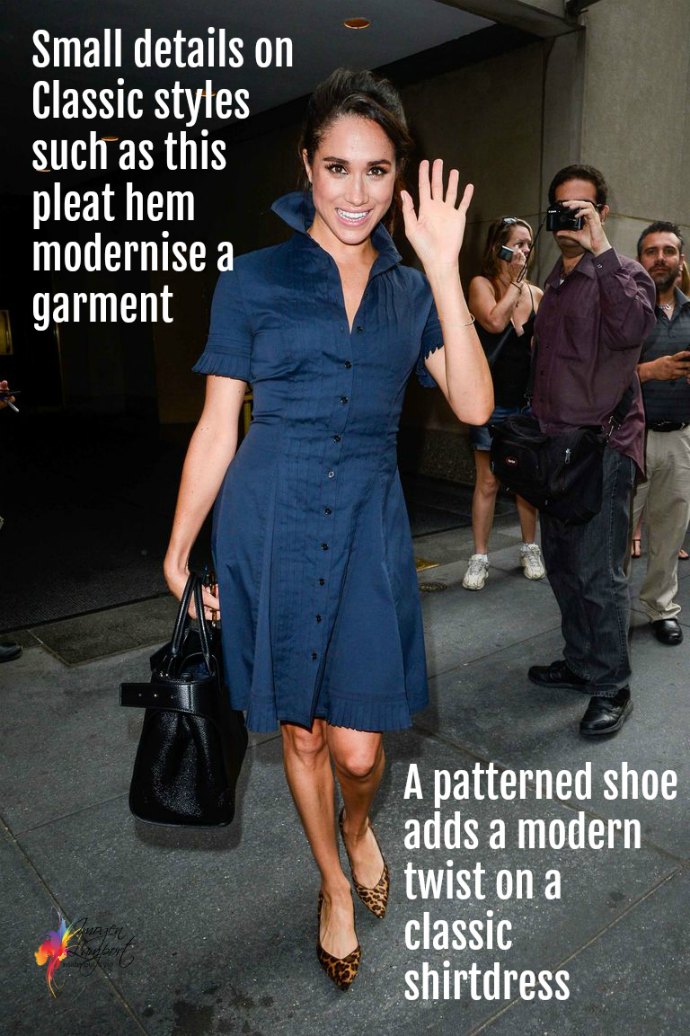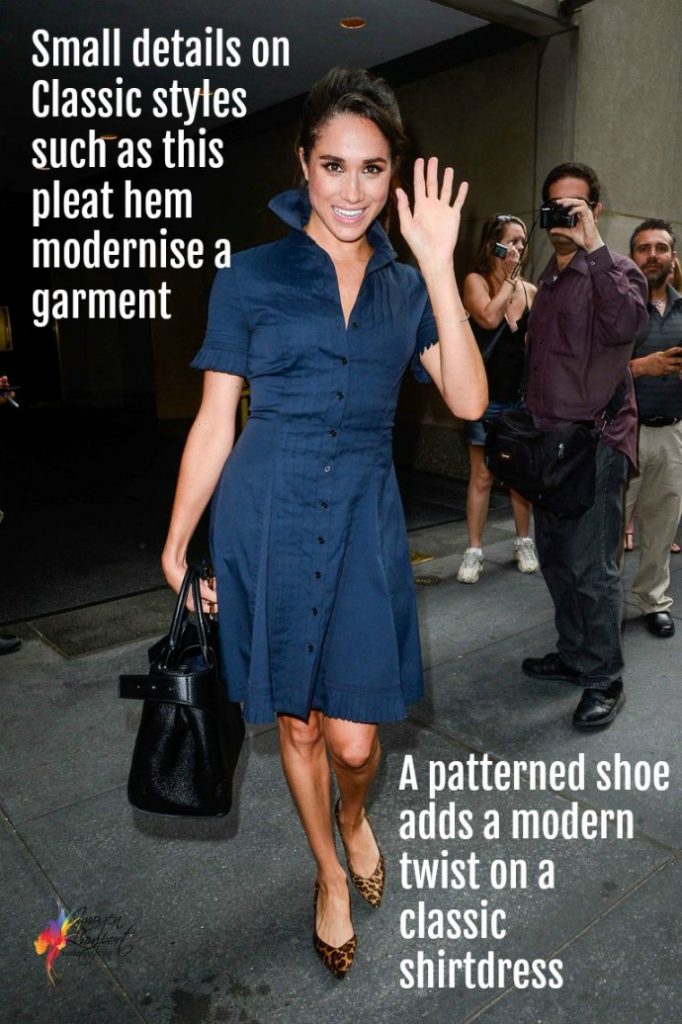 A classic shirt-dress in navy – how totally Classic.
Yet look a little closer. Look at the hems of the sleeves and skirt. What do you see? A finely pleated edging. Notice too the pin-tucking on the bodice of the dress. These details in construction modernise and add an extra dimension to this Classic garment making it young and fresh.
Sure the handbag is pure Classic. It's structured, leather and black in a Classic style. But how about those shoes, the leopard ballet flats are an unexpected addition to this ensemble that make it more exciting and stylish.
These are some great examples of how you can update and modernise your Classics whilst still remaining true to your personal style and communicating the confidence, competence and credibility that the Classic dressing style exudes.
If you want to understand more about the personality dressing styles in detail – and to find out how they relate to your personality and style – this is Step 1 of my 7 Steps to Style program – and in many ways one of the most valuable things you can learn about your style. It's the difference of feeling truly at home in your clothing, to feeling like what you're wearing is just not really right.
More Classic Dressing Tips
How to Be Contemporary and Casual in Classic Clothing Styles
The Expected Fashion Lifespan of Your Wardrobe Staples and How to Identify Fads, Trends and Classics