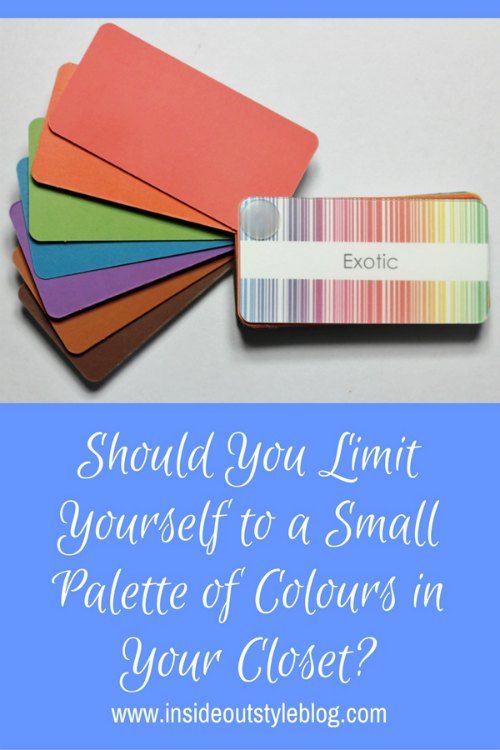 Do think limiting yourself to a small palette of colours in your wardrobe is restrictive? Or do these boundaries actually create a more freeing opportunity to create a cohesive and functioning wardrobe with less colours? This is the topic of discussion for Jill Chivers of Shop Your Wardrobe and me in this video.
Should You Limit Your Palette of Colours?
This is an interesting topic. I do believe in limiting ourselves to a rainbow of colours in a palette that suits us as I notice just how much when I see people wearing the colours that harmonise and flatter them how much more vibrant, efficient, alive and effective they look vs, when I see people wearing colours that are unflattering to their complexion, I feel nauseated (truly I do, I feel it in my stomach). This has come from years of really noticing colour, seeing colour and its affect on skin.
But when I'm talking limited, I mean around 50 000 of the 16 000 000 identified colours (that's what you get in one of my personal colour analysis', though your swatch only contains 50 of that 50 000 colours, but it's your guide to find those 50 000 colours that will make you glow from within). Not 3 or 4 colours (and variations of them). Now this question Jill and I discuss relates back to whether or not you prefer a smaller or larger wardrobe.
Do you prefer more "uniform" dressing or a more "free style" of dressing (think about this and read up this post on Options and Procedures here which may help you decide). We mention this video (in this video) about the idea of "uniform dressing".
This video covers the concept of limiting choices being freeing for some, but not for all, which is also why I wrote this post on "before you throw it all out for a capsule wardrobe" as I've heard of people in tears, really regretting their decision afterwards as they discover that they are not suited to a minimalist lifestyle or wardrobe.
So tell us, do you prefer to limit your colour choices? If so, have you had your colours done or is it something you do yourself? If so, what kind of number of colours do you limit yourself to? Why do you choose those colours?
Further Reading:
How to build your style from ground zero
10 Rules to transform your personal style
How to use your colour swatch to find the 50000 colours you can wear
Jill's thoughts on colour combining – part 1 and part 2