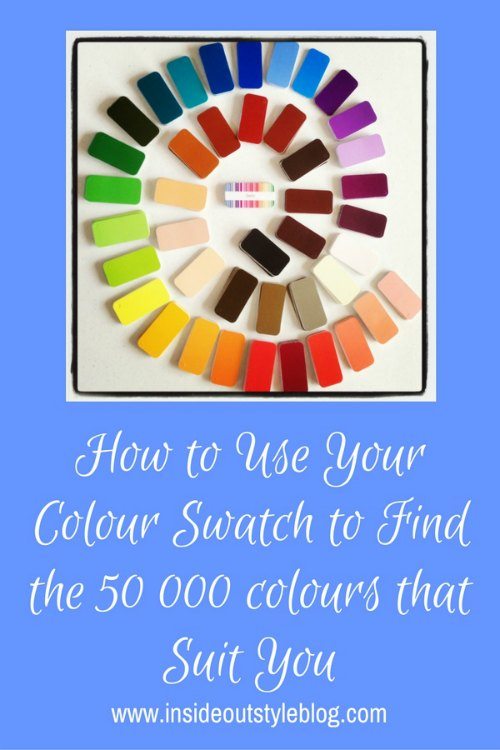 Many people are unsure of how to use their colour swatch after they've had a personal colour analysis. Here in this short video I show you how easy it is to use.
How to Use Your Personal Colour Analysis Colour Swatch
Remember, it's a tool of around 50 colours to help you find the 50 000 that suit you! Don't get obsessed with matching each colour exactly.
Please don't limit yourself to just the colours in the swatch you have. You will be cutting off so many possible colours.
All you're looking for is the feeling that the colour blends, that the colour could be in the swatch, but it's been left out.
Any colour that will work for you needs to have a similar intensity, undertone and value. It should feel like family to the other colours in the swatch.
So if you're looking at a green – does the green look like it fits within your green spectrum? Or is it a very different sort of green? So if you had a cool palette, if you were looking at an emerald green and it has the same intensity, it would most likely fit. But if you were looking at an olive green, even if it had the same intensity it would not fit as the yellow undertone of an olive green would make it too warm.
Always remember to fan out the swatch as a whole, look at all the colours with the colour you are comparing to, not just individual colours, this way you'll get the best result and a truly mix and match wardrobe as the colours will work beautifully together.
Remember, your colouring changes as you age, so getting an updated colour analysis every 5-10 years is a worthwhile investment as it will keep you looking fabulous.
Further Reading:
From intimidating to friendly – the power of a colour analysis
Why colour anlysis has evolved beyond the seasons
Understanding colour systems and personal colour analysis
Personal colour analysis training