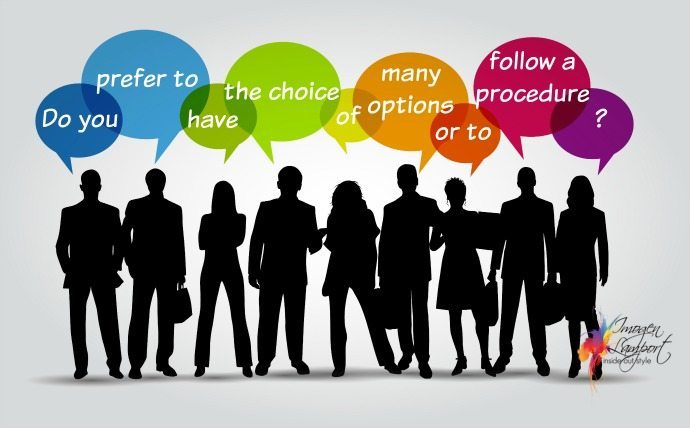 Options and Procedures is one of the NLP meta programs – which in a way can be described as habits of thought – the way we think and act habitually.
This operational style plays a big influence on the size of wardrobe you're happy with. It will mean that you may love only owning a couple of small wardrobe capsules and wearing them, or it will make the thought of a wardrobe capsule as something that is stifling and constraining to you.
It influences how you behave. You may prefer to follow a set of rules or procedure, or you may prefer to make things up as you go along. Do you look for all the different ways of doing something, or do you just want the one right way?
Whether you're more options based or prefer procedures will influence how you impart information too!
Options Preference
Like many options (they don't want a small capsule wardrobe, except for travel where it gives them the ability to mix and match, even then they want to take extra options just in case they change their mood and mind)
May jump around from point to point in a conversation. Not always linear (this drives procedures preference people crazy)
Are great at seeing all the possibilities, they don't usually believe there is just one 'right' way of doing something
May not always finish what they start as they move onto something new before they finish
Will create procedures for others (but may not follow them themselves)
Hate to be boxed in and will feel really uncomfortable physically and emotionally if you try to "box them in" to any one category of anything!
May give you a list of bullet points as an answer when asked a question about a "thing"
Make a vague plan but go with the flow or change their mind if they don't feel like following the plan
Procedures Preference
Like process and procedures – prefer to follow a predefined set of steps (and isn't this what all our habits are already?)
Will tell you information in a linear fashion, but always from the beginning, if you interrupt they will have to go back to the beginning again (drives Options people crazy)
Like to know the rules and follow them to the letter
Tend to finish what they start – they see things right through to the end
Great at following directions or giving street directions
Can get stressed or confused if they are interrupted
Want to be boxed in and may like a "uniform" and want a minimal wardrobe, the want to know their rules and will apply them dilligently
Will tell you a back story about a"thing" when you ask them a question
Make a plan and stick to it
Now you can see that you may fall at one end of the spectrum or the other, or maybe you are more balanced in between doing some of both.
I know I'm highly Options and I love creating procedures for others, but like to break the rules for myself! I know I have physical reactions when I'm told I have to narrow down choices – I want more choice not less. I want options, options, options. I do know for others though who are procedures driven, options are completely overwhelming. My mother mentioned to me that she never shops in the department stores as there are just too many options and she can't make any decisions.
One of the reasons I like to live in a large city is all the options on my doorstep. For me even if I don't partake of them, I like having the option to do so when the mood strikes me. Living in a small a small country town (which I did for a short while) drove me nuts! I felt so constrained and bored by the lack of options.
Knowing this meta-program is really handy as it helps you understand where other people are coming from. I know my Dad is pure procedures (in fact he's so procedures he doesn't believe options people exist). You ask him the time and he'll tell you how to build a watch. If you interrupt him, it's always back to the begging of the story (so I've learned, never interrupt him).
Are you options or procedures? Does understanding these preferences start to explain your own behaviour as well as those around you?