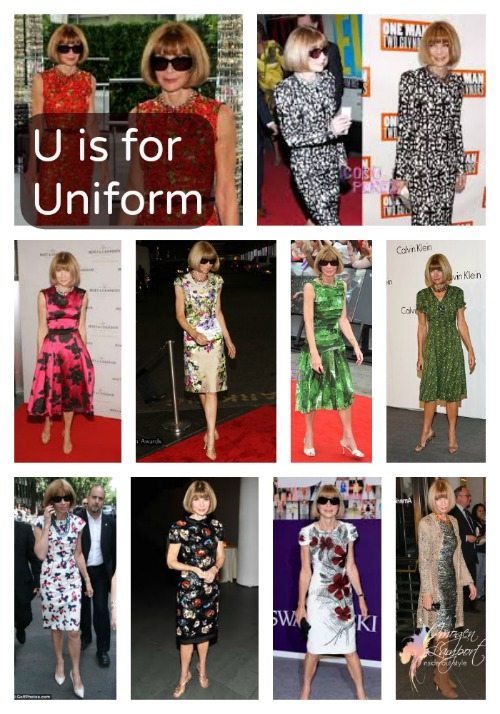 A uniform doesn't have to be something prescribed by a workplace or school (or any other institution). It can be one that you create yourself. The concept of a uniform works for some, in fact, they love it, it helps them feel in control, they know what they're going to wear and they don't have to think about it. For others, it gives them heart palpitations and makes them feel uncomfortable and boxed in to think about wearing such a limited range of clothes or styles of clothes.
What I've noticed is that those that love the idea of uniform dressing and find it freeing prefer to:
If this is you, let's consider how you can create your uniform formula. But if it's not, if you find the capsule too limiting as an idea, you get too bored wearing the same clothes over and over, or you really like to wear quite different looks, depending on your mood (and you are a mood dresser), then going down the uniform path won't work as well for you (though there are some ideas you can use from this in your larger, more expansive and eclectic wardrobe).
There are some that have been considered to have great style who had a uniform – Audrey Hepburn and Jackie Onassis are two who fall into that category from the past, and Anna Wintour these days has a daily uniform of a print shift dress. Steve Jobs claimed that dressing the same every day, and eating the same breakfast every day let him be more creative in his work life, as it took away some daily decisions.
What's Your Uniform?
Your uniform may consist of a selection of specific:
Colours
Shapes of garments
Lengths of garments
Patterns
Fabric fibres
Jewellery styles or pieces
Shoe shapes
Other accessories
If you love the uniform concept, think about creating your own formula for putting your outfit together. You may want to look through your current wardrobe, select 5-10 favourite outfits and get them out, put them on, take a photo of yourself in them and then start analysing them.
Wardrobe Capsules, Outfit Formulas and Uniforms – Which is Right for You?
Defining Your Uniform
Look for what about each of the above list is similar in them:
are there patterns
are they solid colours
bright or muted colours
shapes of outfits – straight, flared, curvy, angular
fabrics – natural fibres or all non-iron synthetics, crinkle fabrics, smooth fabrics
sheen or texture
how do you accessorise them? Belts, scarves, necklaces, bangles, shoes etc.
What are the elements that you see in common with each other?
Anna Wintour's Uniform
When we take Anna Wintour as an example (see pic at the top of the page) you will notice many similarities in her outfits:
Dresses
Straight, or fit and flare
Pattern
High necklines
Necklaces that sits just over the neckline
Bob hairstyle
Fine fabrics, frequently some sheen
Heels
Sunglasses
Even though she's wearing different dresses, there is a uniform quality to her outfits.
My Kind-of Uniform
In some ways we all have a kind of uniform. Even though I like to have a broader variety of clothing to play with depending on my mood, I also enjoy wearing these elements:
large scale necklaces
asymmetry
unusual construction
brighter colours
dresses or skirts rather than trousers
comfortable stretch fabrics
fluid fabrics
Flat or lower heel shoes
Boots in winter
sheen in fabrics
bob hairstyle
fitted clothing (rather than boxy or loose)
What is your uniform? What are the elements of clothing that you've noticed that tend to repeat themselves over and over?
Are you stuck in a style rut? Maybe you hate your current uniform and need to branch out to find newer more exciting elements to add into your wardrobe and style.
More Tips on Uniform Dressing
Sick of Thinking About What to Wear? 4 Ways to Deal with Image Burn Out