Olive or military green seems to be big for the coming season. I've picked up both a casual jacket and a pair of cotton pants (NOT cargo style). How would you recommend wearing them, and with what colors, so as not to look too grunge? I'm over 50 with blonde hair and green eyes, and warm, muted coloring. Thanks Imogen.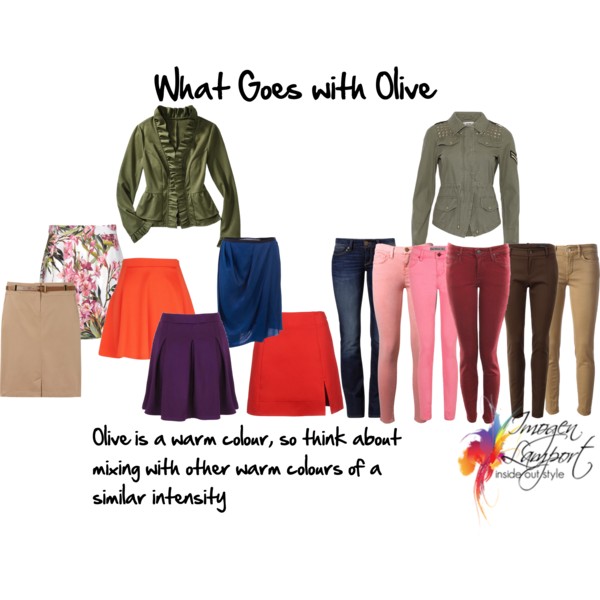 What to Wear with Olive
Olive is a great neutral colour to wear if you're warm. There are brighter and more muted versions, lighter and darker.
As olive is warm in its undertone, it's an ideal neutral that teams well with so many other colours, warm blues, orange, coral pink, red-violet and camel to name a few.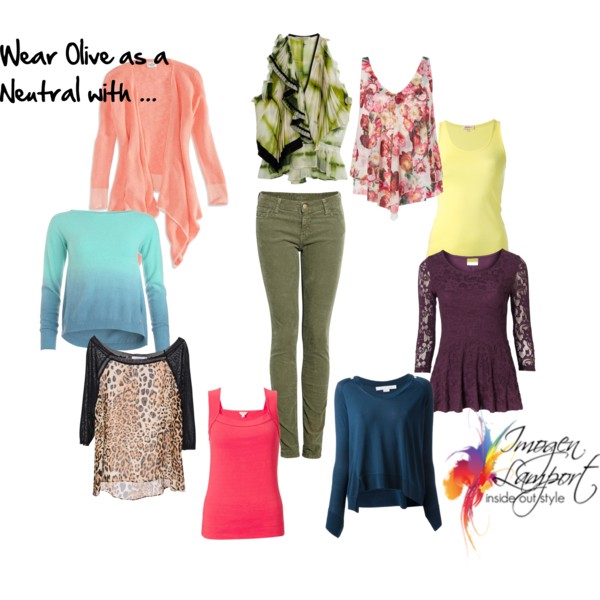 If you're blonde and muted, team it with soft, smoky warm colours in lighter tones. If you're brunette, mix your olives with the darker shades with a little more intensity.
Olive is a great warm neutral (and a version of it is in every warm colour palette in the Absolute Colour System) as there are lighter and darker versions, as well as ones that are brighter and more smokey.
Think about the colour wheel and your own colour contrast when combining olive with other colours. Not sure of your colour contrast? Discover yours here.
Olive is a great neutral to wear if you have some colour contrast as it's a coloured neutral and so adds one of the colour elements you need to your outfit – and then you can add your other colours in another garment and an accessory (remember when adding colour contrast, not every colour added needs to be in a garment).
What is your favourite colour combination with olive?
Need to Discover Your Best Neutrals?
There are a few ways to discover your best neutrals. The easiest way is to work with your hair colour (if it's a neutral) or eye colour (if it's a neutral) – read this post on choosing the best neutrals basics for your wardrobe here.
If you're not sure of your undertone and would like my professional opinion on your colouring, a personal colour analysis is just one part of my 7 Steps to Style program – which not only will tell you if you should be investing in olive or leaving it well alone, but what your colour and value contrast are so you can create harmonious outfits for you.
More Tips on Choosing Olives and Greens