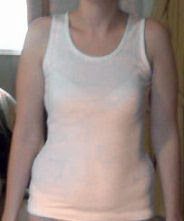 One of my lovely readers asked me recently what her body shape, she was having trouble figuring it out. I asked her to send me a photo which she did (in her underwear) and it was very obvious to me that she has an 8 shape body. In her email she's talked about hitting the gym because of her hips – but when I saw them I could see that she just has a high hip (often described as a 'shelf'), which is the classic 8 shape marker.
I asked her if she'd mind if I posted a photo of her, and if she could take another in some clothing, which she has done for me, so here is a pic for you to see. It's not quite as obvious in the t-shirt as it's a little baggy around her waist (which is so tiny).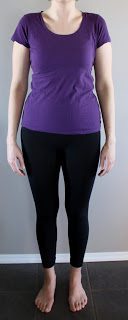 As you can see, her shoulders and hips are in balance (though some 8 shapes have narrower sloped shoulders, and wider hips, so should dress their upper body like an A shape, and lower body like an 8 shape).
Notice her high hip – I've marked it on this photo. They often feel they carry their weight in the behind.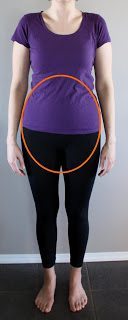 She carries her curve high, not lower down on the hips, like X shapes tend to. Her legs are slim, and she doesn't have saddlebags.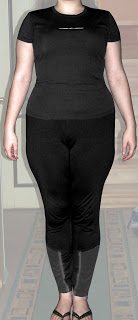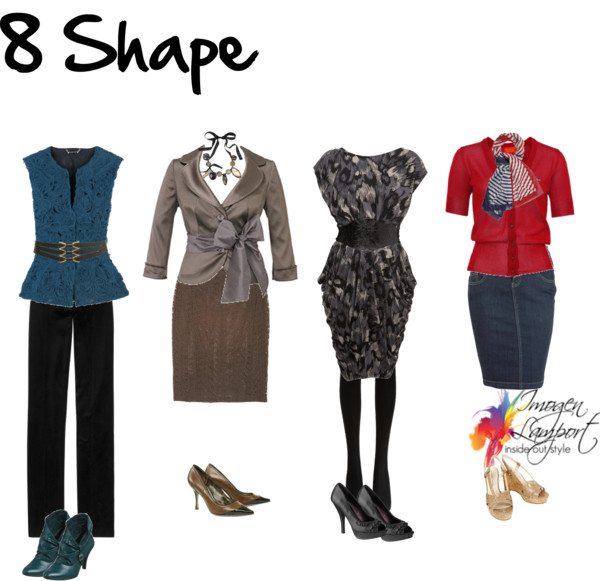 Dressing the 8 Shape Body
Clothes that suit best have waist definition and are straight through the lower half (not flared or A-line). Most 8s find that anything boxy or square, without waist shaping, tends to be too tight across their high hip area.
8s can have either equal width shoulders to hips or narrower shoulders to hips. If you have a narrower shoulder line, read up on the A shape for dressing your upper body (don't take the tips for lower body from the A).
You will find that straight or bootcut jeans work well. Avoid wide leg trousers and jeans.
Slim, flat-front trousers work well. Avoid pleats at the waist as they will be pulled open and create unnecessary bulk.
Skirts are best when they are straight, they can flare from the knee, but not from the hip to be flattering.
Avoid skirts that are gathered or pleated from the waist, unless they are that 1950s flounce style.
Cropped jackets work for you, as do belted styles such as trench coats. If you want to wear trends like the boyfriend jacket, leave open, then belt over it.
Peplums were made for 8 shapes.
Double-breasted jackets and coats are not good for 8 shapes, there isn't usually enough shaping and the extra fabric creates bulk.
Try belting over a long line cardigan in a fine knit.
Make sure that you don't have obvious pocket detail over your high hip area, look for coats and jackets with pockets set into the garment, rather than stitched onto the outside.
Wide waistbands work well on trousers and skirts.
Feel free to try a variety of belts at your natural waist, if you have a shorter waist try a thinner belt, if you have a longer waist you may be able to do a wider belt.
You may or may not have a rounded bottom, though rounded bottoms are more common amongst 8 shapes. If you do, avoid flap pockets on jeans.
Open necklines look great on 8 shapes, they draw attention up toward your face. Look for detail around the neckline to help do this.
If you have narrower shoulders, look for puffed sleeves, shoulder detail and ruched sleeves to balance your bottom.
For more about dressing your 8 shape body read here.
Celebrities with an 8 shape body include Catherine Zeta Jones and Beyonce.
More Tips on Dressing Your Shape
Not sure of your shape? Then do my free body shape calculator quiz here – or if you'd like my professional opinion – you get this as part of my 7 Steps to Style program (plus a colour analysis and so much more).