I was recently asked by a reader how to minimize her broad square shoulders. Now this is a problem I'd love to have, but this is not about me. This post is for the women who feel their shoulders are too broad and make them feel masculine.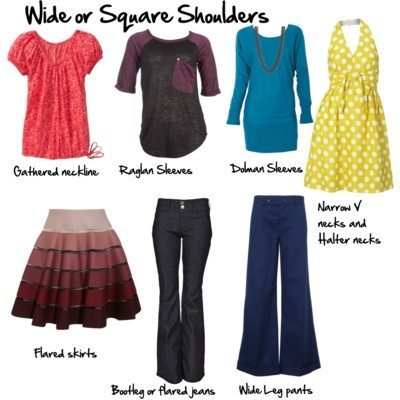 Look for narrower necklines, so narrow V necks, narrow scoops, avoid boat necks and other square necklines.
Gathered necklines can draw the eye inwards away from your shoulders, as will raglan sleeves, halter necks and dolman sleeves which don't define the shoulder line.
Balance your shoulders by adding width to your lower half, look for skirts that flare, from A-lines to circle, bootleg, flared or wide-leg pants.
Avoid capped sleeves cut on the horizontal, look for ones (as pictured with the gathered neckline) cut on the diagonal.
Avoid spaghetti straps, look for wider straps on tops and dresses.
And of course, there are no need for shoulder pads in jackets and tops! Avoid shoulder detail, puffed sleeves and ruched upper arms.
For evening wear, try an asymmetrical one shoulder dress, the diagonal line will distract from your shoulders.
Look for long necklaces, these will draw a vertical detail on your upper body. Wear long rectangle scarves with the ends hanging down the front of you body for the same effect.
Avoid wide collars on jackets and shirts, look for narrower collars.