I get so many requests about how to dress 8 shape bodies, probably because they are so ignored by most image and style books. So I asked Aileen Lane of Nutri-Style in Singapore, who is an 8 shape if she'd share her experiences with you on how she dresses her shape. Here is her post:
I am an image consultant and I have struggled with identifying my own figure for a long time. I just didn't quite fit into any of the main stream figure types of hourglass, pear, rectangle, inverted triangle or round. After much research and deliberation, the penny finally dropped about 3 years ago when I attended a talk by Carlas Mathis, one of the top image consultants in the world and a Certified Image Master. Her book ' The Triumph of Individual Style' is the bible for many image consultants around the world. She talked about a variation of the stereotypical hourglass called the Figure of Eight. The characteristic of the 8 figure are:
Shoulders are curved and are relatively as wide as your hips/thighs
Waist is distinctly narrower then shoulders and hips/thighs (8 -10 inches smaller)
Weight tends to accumulate on the high hip and tummy just below the waist (Not so much on thighs/ low hip as happens with an hourglass)
Small waist and sudden jut out to high hip give a shelf like appearance to the waist
Waist tends to be short due to high hip – Gets shorter with weight gain as shelf gets higher
Legscan be long and slim (Not always the case)
I have seen this figure type called a Vasein some books. I used to think my figure type was rare but once I made the distinction, I realised it was much more common. The high hip and shelf can be found on other figures types as well as the 8.
Dressing a figure of eight:
Follow the rules for an hourglass except for the lower part of the body where the8 does better with tapered designs in skirts and dresses.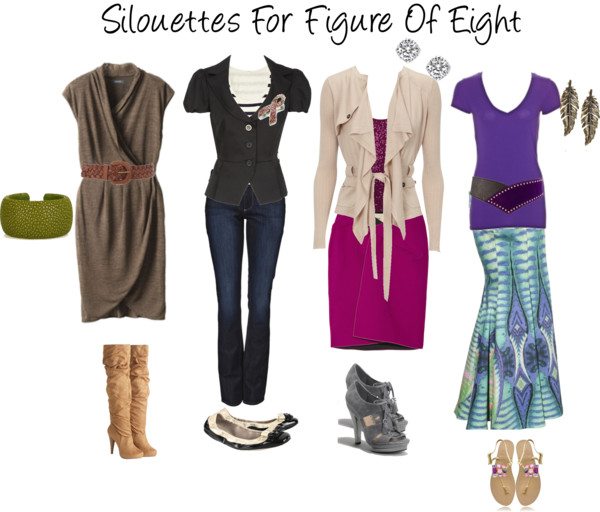 Soft drapable fabrics such as knit and jersey are key to working with your curves. Wrap dresses are great especially those with a straight or tapered skirt.
Sharp tailoring such as the little jacket in the 2nd outfit are great for giving definition to curve. Peplum on jacket is especially great for a figure of 8 as it accommodates the high hip.
Jeans/ Pants with straight to mild bootcut are best.
V necks and scoop necks look best on big busted 8's.
Make the most of your small waist with belts (Medium scale belts that tone with your outfit will minimise shortening your waist further).
You can also try belting at the low hip forming a V at the front with the belt to lengthen and slim your body. This will only work with fitted tops though. Baggy does not work on an 8.
You can wear a longer skirt but make sure that it does not flare until the knee or lower (See outfit 4).
Wear shapewear such as control vests and corsets to control tummy and midriff area's as these tend to be the area's of concern.
For accessories, try bangles and earrings and avoid too much detail at the neck especially if you have a shorter neck or bigger bust.
Avoid tucking in tops as this will shorten your waist further; instead opt for untucked and finish the look with a belt.
Try light fitted layers as these will cover a multitude of sins at the midriff and create a more interesting look – See outfits 2 & 3.
Opt for a look that's clean and uncluttered as fuss and frill will add bulk/ weight to this curvy frame.