Defining the X (Hourglass) Shape
The X shape body has shoulders and hips relatively the same size, and a defined waist. The widest part of the body is the thighs, not the bottom, when viewed from the front. This is a defining point in distinguishing between the two hourglass body shapes (8 and X) you can read more about this here and see photos to compare yourself to.
Bust of an X Shape
Bust size may be large, medium or small. Bust is not a factor in body shape (it's a body variation). It's bone structure of shoulders, waist and hips, not bust, waist and hips!
Waist of an X Shape
The waist is more than 9″ smaller than the hips or shoulders and must also look considerably smaller when viewed from the front. If you have a prominent bottom, you may have the measurement of a defined waist, but not the visual appearance of a defined waist, so this number this is just a rough guide, as it really depends how your body holds weight. But your waist should look significantly smaller than hips and shoulders.
Hips of an X Shape
The hips are widest at the upper thigh and there is a gentle slope outwards from waist to hips. If you're not sure – check out this post which has pictures to show the difference between an X and an 8 Shape hip.
When you feel the back of the hip from the waist, the hand should glide smoothly down, there is not a 'shelf' at the high hip.
What to Wear X Shape
Look for A-line skirts, or skirts with some flare.
Wrap dresses are great for your body as they highlight your waist and should fall smoothly over your curves.
Bootleg jeans are the most flattering as they balance the hips, ensure that they don't narrow too much at your knee, but fall straighter from your thighs to knees, then have a slight flare at the hem.
Trousers should be either straight or bootcut, wide-legs are fine too if you have longer legs. A centre crease will slim and elongate your legs. Super skinny legs are not your best friend, try wearing a longer shaped cardigan that falls past your hips to your mid-thighs with these style jeans.
Add detail to the upper body, and keep it simple and detail-free on your lower body, especially around the hips, so no patch pockets on jeans or trousers, no big pockets at the hips on jackets or coats, and no cuffs on trousers.
If you want to wear a pattern on your lower half, such as a print skirt, look for one with a more dense or busy print, then take the lighter or brighter colour from the pattern and wear it in your top.
To dress your X shaped body, look for A-line skirts, garments that define the waist – show off that you have a small waist, and broaden the shoulders and draw attention up to the face by wearing wider necklines such as wide Vs, square, scoop and sweethearts.
Tops and jackets should end around the waist, hip bone (or high hip), if you wear longer tops they'll draw attention to the size of your thighs and make them look larger.
Coats should end above the knee if you don't have long legs. Look for ones with discreet pockets in the seams of the jacket and is fitted at the waist.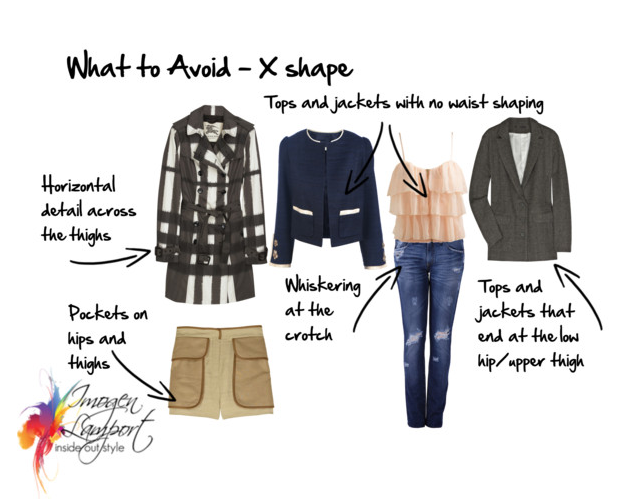 Find out your body shape and download your free Body Shape Bible – take the quiz now here.
If you'd like my professional opinion on your body shape – you can get this as part of my 7 Steps to Style program (along with a colour analysis as it's a total image program).

Are you an hourglass but a different kind? Find out about the 8 Shape hourglass here.
More Body Shape Tips