Now to the classic womanly shape of the A, which has the healthiest distribution of fat and the least likely to have heart disease (you lucky things!).
The A shape woman has shoulders that are narrower than her hips/thighs, so you can check this by measuring both at their widest points and seeing if there is more than an inch or so difference.
Your aim is to draw attention up to the face and show off your slimmer upper body. So if you think interesting from head to waist, and boring below the waist, that's a great way to work out where to put detail such as pockets, frills, flounces, pattern, sheen etc.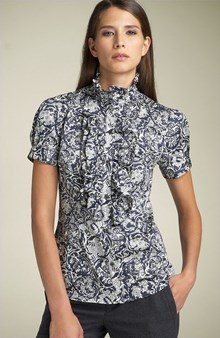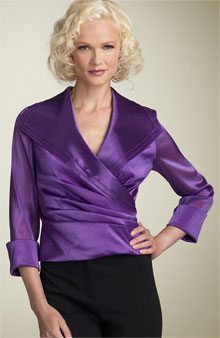 3/4 sleeves
will draw the eye up to the body and away from your hip/thigh area, and also make you look taller. The wide collar on this shirt also helps to balance the hips.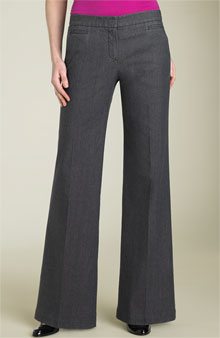 Trousers need to be bootleg,
wide
or a flare to balance your hips and thighs. Keep them as long as possible so that your legs look longer and more proportionate. Look for a centre front crease to slim and elongate your legs. Avoid any pocket detail about the hips and thighs, keep them clean and simple – they are not the hero.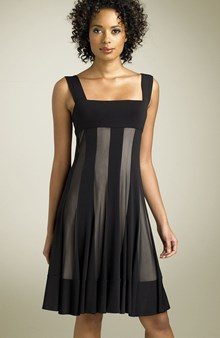 Dresses should emphasise your small waist, and flow smoothly over your curves. Look for vertical detailing and softly draping fabrics.
Square necklines on dresses
and tops can balance your hips.
This dress,
would NOT be a good choice for an A shape.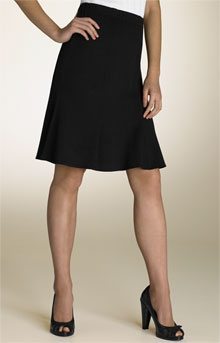 Skirts
should usually end at the knee and be A-line or have a flounce or flare at them hem to balance your hips.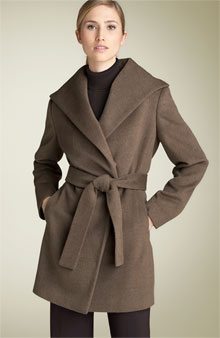 Coats can be single or double breasted, as long as they're shaped. Avoid large patch pockets on the hips, look for
wider collars
and detail high up on the coat. Trench coats can be a good option.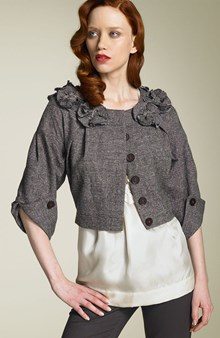 Jackets can be embellished
with everything from a puffed sleeve, to epaulettes. A portrait collar can balance your hips. They should end around your hip bone, never under the bottom or knuckle length as this will make you look boxy and wider.