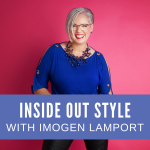 In this Episode
0.11 Are peep-toe shoes ok to wear with blazers?
1.20 How to accessorize tee and jeans to make them more interesting
6.02 I have no idea what looks good on me? Tee and Jeans are comfortable but how do I make them look good?
Peep Toe Shoes
Accessorizing Your Casual Outfits
Stylish Jeans Outfits
Time to define your personal style? Get the answers to your style and colour questions? Discover all this and so much more in my 7 Steps to Style program!
Subscribe to my Podcast
You can now get these videos as podcasts subscribe and never miss an episode
Send Me Your Colour and Style Questions
Please do email me your colour and style questions to answer on upcoming videos!