Hi again Imogen,
Could you write an article and put up illustrations on the best jeans styles for different body shapes?
Also, could you add a variety of outfits to wear with those different styles of jeans?
Thanks!
Regards,
Eve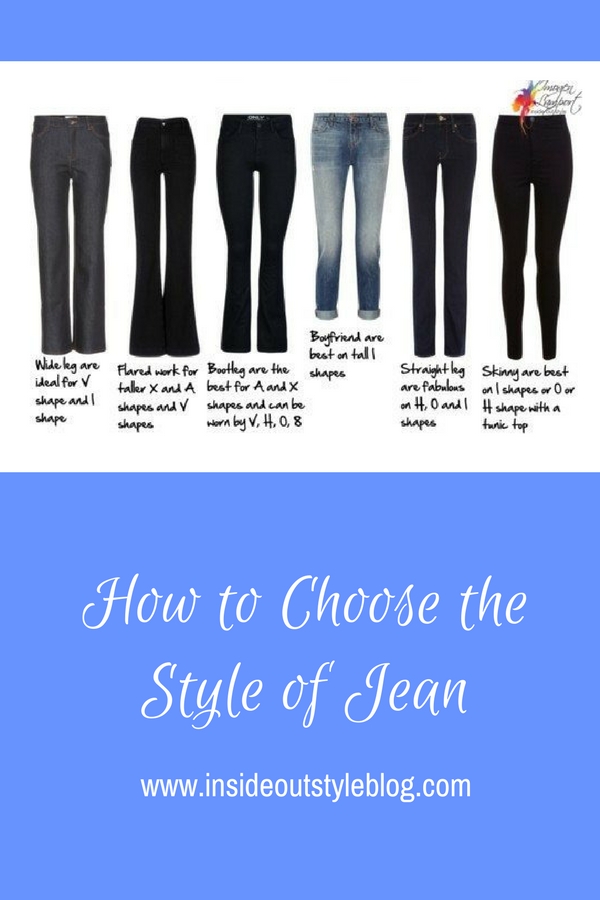 How to Choose the Style of Jean to Suit Your Body Shape
You may be interested in revisiting this post on Jeans Trends for 2014 which includes advice of the kind of shoe to wear with each jeans style.
Now here is a simple guide to the popular denim shapes and which suit each body shape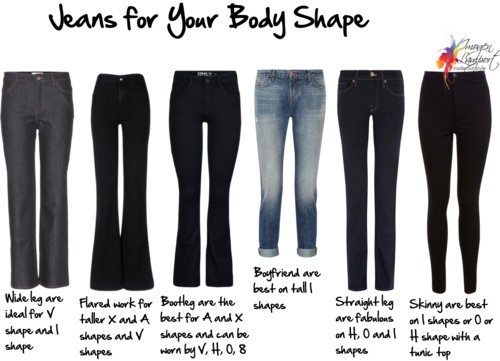 Not sure about your body shape? Take the body shape bible quiz here!
Denim Guide – Distressing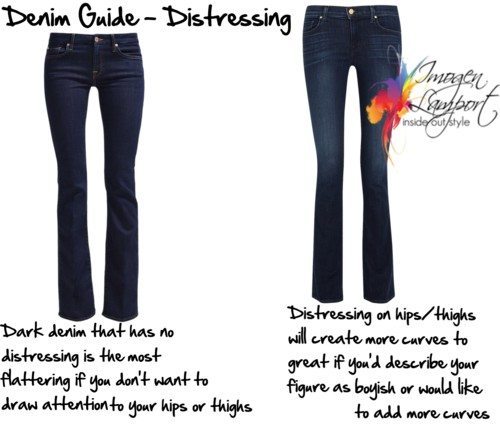 What about colour?
Denim Guide – Undertone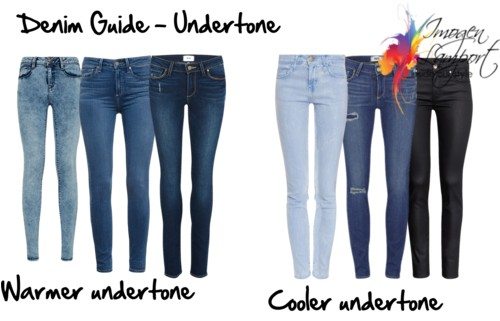 There are warmer and cooler undertones of denim. It's not super important, but you will find the denim that goes best with your colours is one that has a matching undertone of either warmth or coolness.
Denim Guide – Colour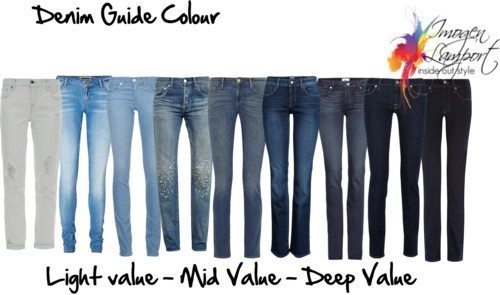 Given that denim comes in a variety of blues (and other colours, but let's just look here at the blue jean), you can choose a denim colour to suit. Ignoring the distressing and details on these jeans, you can see there are light, medium and dark value jeans. Which you choose will come down to:
Your body shape – if you are an X or A or 8 you may not want to draw attention to your lower half with an overly light colour – opt for medium to deep value denim.
Your colouring – If your palette is overall lighter – go for light to medium value denim as your every day. If you have darker colouring go for medium to dark value denim.
The occasion – dark denim is dressier, unless it's white – which is also pretty dressy. Otherwise the mid-value denims are more casual.
Your personality – do you like to stick to the rules or break them? Doesn't matter what the rules are if your personality wants to bend them, go right ahead and choose the denim that expresses who you are.
Denim Guide – Styling Options
Apart from skinny jeans – which unless you are an I shape, need tunic tops. All other denim styles can take a top that's not too voluminous, there aren't too many rules here! Remember the principle of volume when deciding what to pair with your jeans.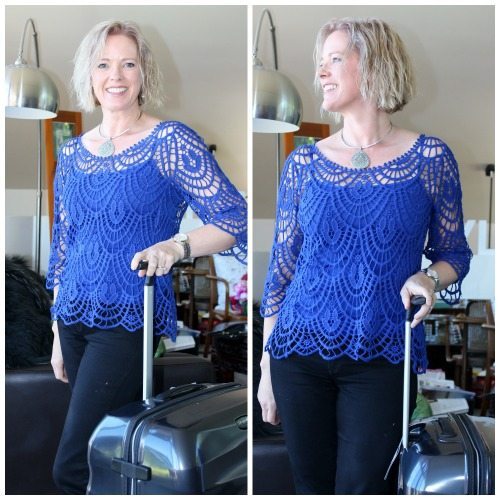 There are many ways to style denim for smart casual occasions (or just every day). Think about moving past the 'plain t-shirt' to a top that has a bit more detail or interest, unless you're going to add the interest in scarves or accessories.
This top would work with: Bootcut, Straight leg, Boyfriend
Here is a long sleeve top with a cowl neck, but by the addition of a funky snakeskin belt it creates a more up-styled look.
This top/outfit style would work for: wide leg, bootcut, flares, straight leg (not for skinny)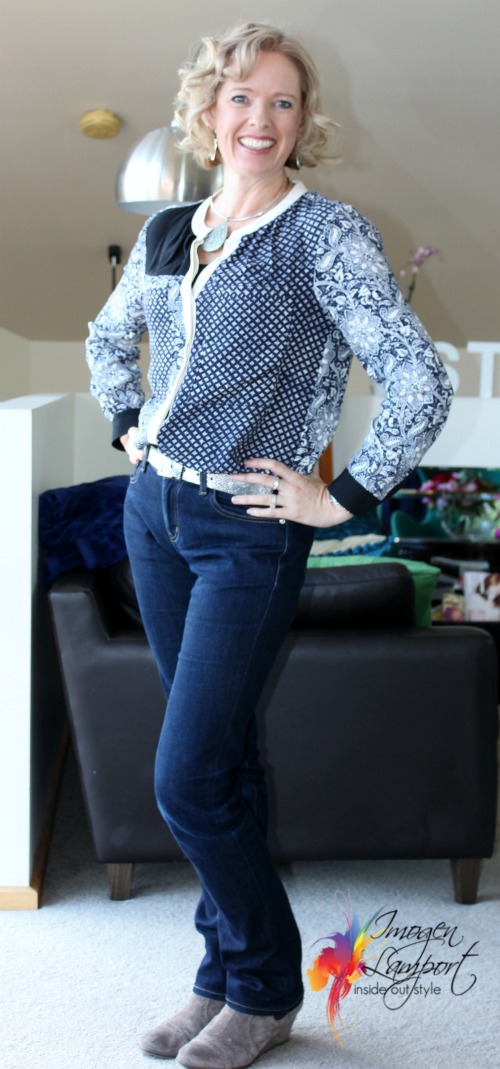 A blouse is a great way to style a pair of jeans, not so stiff as a cotton shirt. The alternate coloured boots work if you are taller, but avoid if you are petite, instead match or go darker with your shoes.
The tucked in blouse would work with all jeans shapes (except skinny if you want more hip balance)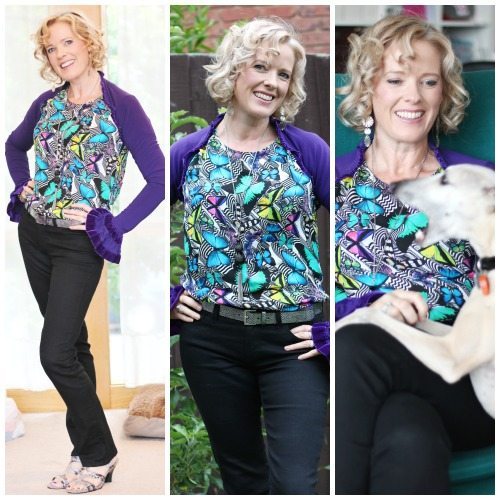 This is a dressier option, with a silk top and heeled sandals. Great for a dinner out with friends.
This kind of styling works with all bar skinny jeans.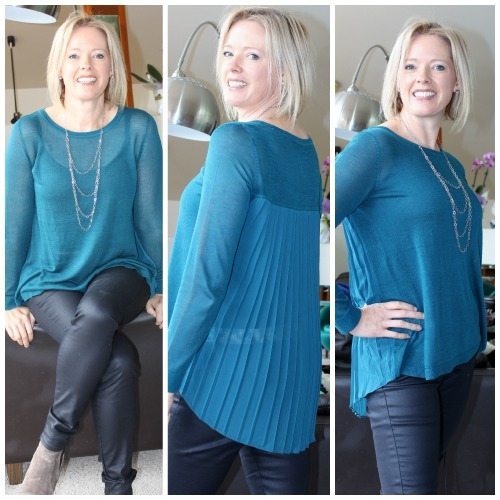 This top is loose and comfortable and makes these coated denim (which is a dressier look) more casual. The suede bootie also relaxes the outfit.
This more voluminous top is better for straight or skinny jeans, avoid it with flared, wide or bootcut.
For more tips on wearing denim check out this post.