I had an interesting experience today. I was hired by a Real Estate firm to come and talk to their sales team (about 30 people) about image. It went well (thanks for asking). Afterwards I was speaking to one of the company directors and I asked him why he'd chosen me over the other image consultant who had been quoting on the job. His PA piped up (and she obviously had some input) "You were wearing close toed shoes at the meeting" (which I'd had to find out the brief on which to base my proposal). "The other consultant wasn't."
Now given that in this countrym for this industry, and especially the neighbourhood of these real estate agents (where the majority of the homes would be $700 000+ to $millions), the need is to dress conservatively. And even though it was a hot day that we had that meeting, I carried an extra pair of shoes in my car, and changed into them before I went to meet, as I appreciate that the standard is, if men are expected to wear a suit and tie, women are expected to wear closed-toe shoes.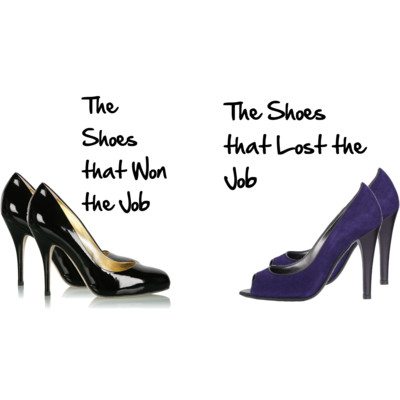 Winning and Losing Shoes by imogenl
So here are a representation of the two pairs of shoes – no one is denying that the purple suede peep toes aren't gorgeous – they're just don't say 'business' which is what the consultant needed to communicate.
OK, so it wasn't just down to my shoes, they also liked the video of me on my website that also helped showcase my speaking skills too. Plus they liked my proposal. Still, isn't it interesting that a pair of shoes helped to seal the deal?
Have you had any shoe experiences like this?