We make an average of 35,000 decisions a day. Our brain's daily decision-making power is finite, meaning the more decisions we make, the harder it becomes to make another one. Wearing the same thing repeatedly saves your decision-making power. I've found my mind is sharper throughout the day when it's not bogged down in the morning trying to decide what to wear. This is where having go-to outfits will save you time and brain power at the same time you'll be feerling confident and stylish as you know your outfit works!
Watch the Video About the Value of Go-To Outfits
Play in your wardrobe
I like to challenge myself to regularly to create new outfits from all my existing clothing, rather than just wear tried and true combinations. I suggest you spend some time trying on different garments and creating outfits around them. I like to start with a hero piece – it could be a jacket or a patterned garment, then see just how many different ways I can style it with other existing pieces for different moods and occasions. Take a photo of each outfit combination that feels right for you. Think about using my "make it an 8" idea for these go-to outfits – it can be used not just for shopping, but also for rating how well your outfits are working!
Knowing the accessories, the shoes, and how the whole look works together means that you'll spend less time day-to-day, standing in front of your wardrobe wondering what to put together, yet not reaching for the exact same outfit you wore a few days earlier
Here is an example of one of my own mix and match sessions using a navy pinstripe blazer which is part of a suit, but can be worn both to the office and more casually as you can see here. Here is another example of playing dress ups – this time I chose the ubiquitous white shirt as the basis of all my outfits.
When you are playing in your wardrobe, there are absolutely no limits! You can try every type of shoe with every style of bottom with every type of top. That doesn't mean every single top, just the cut, and style. This way, you can discover some great combinations that you might not have considered wearing together before. You may like to download my weekly outfit planner too, to help you with this task!
Over in my VIP 7 Steps to Style Facebook group, there was some chat about using themes to create outfits and I've been blown away by the creativity and fun inspired by the first theme of Birds. You can see a collection of these gorgeous outfits here..
Take a Photo
When you wear an outfit that you love, take a photo of it with all the accessories and save it in an album on your phone for easy reference.
This album of go-to outifts you create is a perfect resource for you for when you are pushed for time and you don't have that time to create something new, you can quickly flip through the photos you've taken to find an outfit that makes you feel good and will be appropriate for that day's weather and activities.
Taking daily outfit photos has really helped my Evolve Your Style and 7 Steps to Style participants. It really does help you to become more analytical and objective about your style, what's good, not so good and what's lacking. Don't believe me? Then why not read this post from those who have done it and found it an incredibly useful exercise in improving their style.
Create Your Own Outfit Formula
Once you have a bank of outfit photos, you might begin to notice some patterns. You might realize that you are more likely to wear jeans with a blazer or a striped tee with coloured shoes. These would then become your outfit formulas.
Most outfits can be broken down into a formula of their core elements
Basic + Interest + 3rd Piece/statement + Accessories
Here are three examples of one of my outfit formulas in action
Pants + Knit Top + Jacket + Accessory + Ankle Boots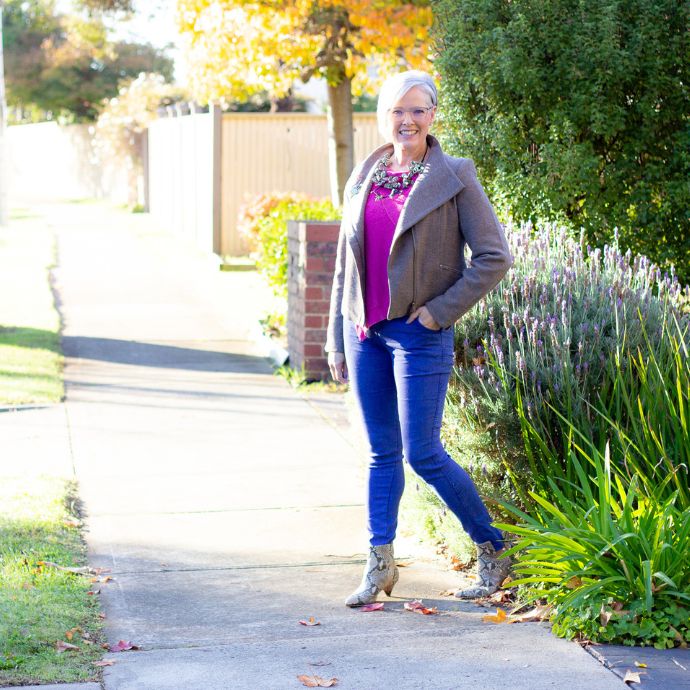 Jeans/Pants and a knit top with a jacket – these are the core elements, then I've added in statement jewellery or embellishment along with some ankle boots. I've chosen to use colour in this outfit to create interest, with the cobalt blue jeans and hot pink knit top, then paired with the neutral moto jacket, that links in colour to the snakeskin boots and the statement necklace. The snakeskin boots add some pattern to the outfit for an additional focal point.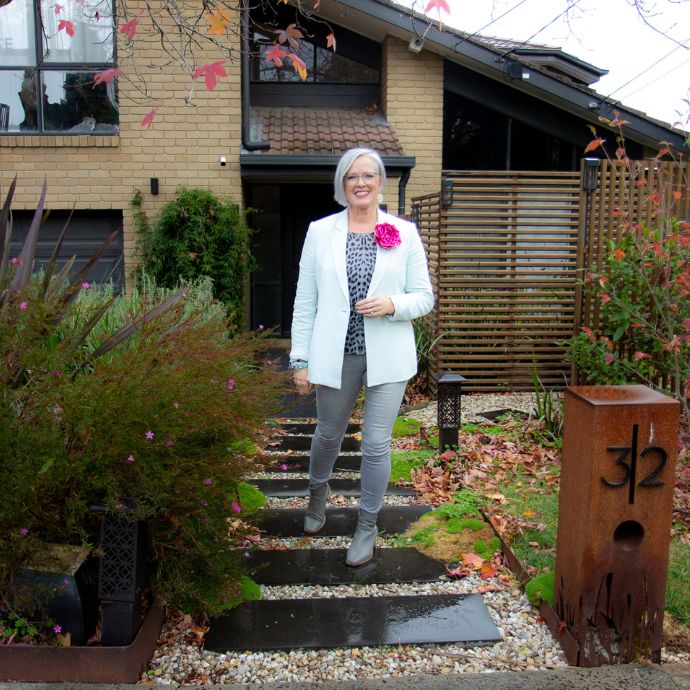 You can see this one uses a blazer rather than moto style jacket and I've included a top with a pattern as there isn't as much colour in the outfit, so the pattern creates a more interesting look than if I'd been wearing a plain grey knit. Plus my boots are blended to my pants to create a column of colour for even longer legs and a leaner look. The pale blue blazer adds a touch of colour and the statement flower brooch adds a great focal point with its punchy colour.
In this version of my outfit formula, rather than denim jeans, I've chosen a denim jacket that has small stars printed on it plus large sequin stars that I've added as additional embellishment. I've decided to go all-in on the pattern mixing in this outfit – with a striped knit top, check trousers and butterfly embroidered ankle boots. Because there is so much pattern already going on, plus some use of colour with the blue of the denim and pink of my top, I've chosen a more blended necklace in the same pink as my top as I don't need an additional hero in this outfit.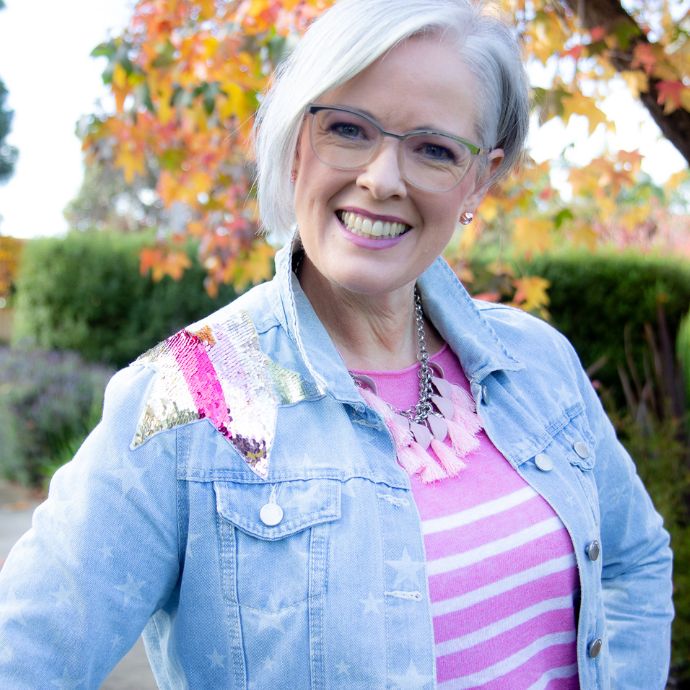 Mixing three subtle patterns together – stripes, checks and stars is quite simple as they are all angular patterns.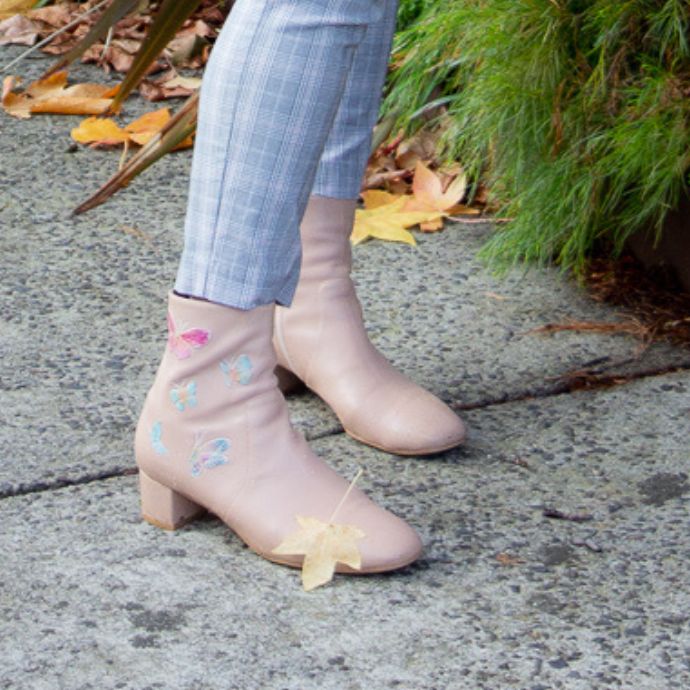 These butterfly ankle boots repeat the colours in the outfit already rather than adding in something new. A plain boot could have worked equally as well here. This is one of the great benefits of knowing your best colours and having a more select palette of colours in your wardrobe (that all make you look great) as it becomes so much easier to mix and match your garments to create new outfits as the colours naturally work well together in gorgeous harmony.
Here are some examples of outfit formulas you could use
Jean + Patterned Blouse + Jacket + Ankle Boots
Tee + Skirt + Statement Necklace + Ballet Flats
Shorts + Button-Up Shirt + Hat + Sandals
Striped Tee + White Jeans + Coloured Shoes
Floral Dress + Denim Jacket + Ankle Boots + Oversized Sunglasses
The formula is just the starting point. Play around with variations of the formulas. Switch out ankle boots for tall boots or a button-up shirt for a patterned blouse. For more information, read This is How to Put Together a Fabulous Outfit In Minutes
And if you want a new and different way to think about putting outfits together, then watch my Outfit Masterclass which will have you looking at your style and wardrobe in a whole new way as you put together your outfits each day.
Further Reading
Why Taking An Outfit Photo Can Really Help You Become More Stylish