If you learn how to mix prints and patterns in an outfit like a pro, you'll expand your selection of possible ways of putting your existing clothes together and get way more bang for your fashion buck. Are there any fashion rules regarding mixing prints and patterns in your outfits?
Mixing prints in fashion is something that is not for everyone, definitely, there are some personality types who enjoy it and love it, and others who just aren't likely to go there at all (you can find out who they are in my 7 Steps to Style program along with so many more aspects of how your personality influences your style choices)! But even for the more understated dresser, there are ways of mixing prints that don't feel too in-your-face or over-the-top and maybe something you think about trying out sometimes.
If you like the idea of mixing prints and patterns but are a little hesitant, I'll walk you through some ideas of how to do it simply and easily and you can start at the level that feels scary. You can mix prints in a subtle way or in a more dramatic way, depending on your mood and personality.
1. Use an Accessory to Add the Second Print
A simple and not too over the top way of mixing two prints is to use a printed accessory, it could be a handbag or a pair of shoes or even a belt, to add a small second element of print or pattern into your outfit.
2. Mixing Prints and Textural Patterns
Textural fabrics such as broderie Anglaise, where a pattern is contained in the fabric are another way to think about mixing patterns with prints.
This is one of the easiest ways as you are not needing to worry about scale or density (more on that in a moment) of the prints when choosing two garments to mix together.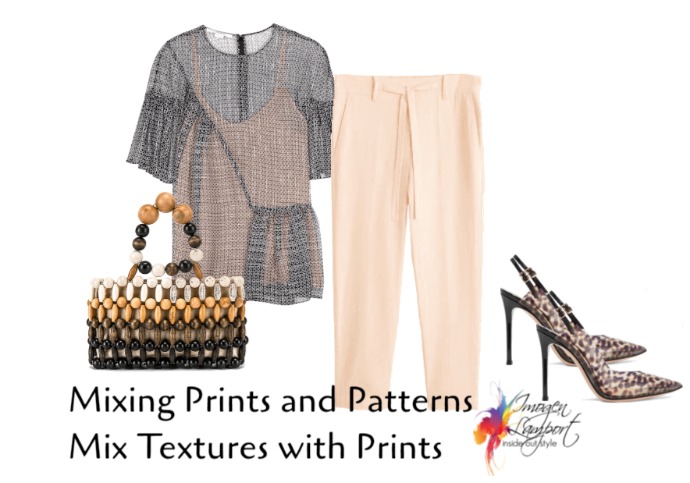 3. Find a Garment that Has Pre-Mixed Prints
Not sure you can do it on your own? Then why not find a garment that has the prints already mixed in it! This takes all the guesswork out of the equation for you. Put this pre-mixed print back with solids to create your outfit, easy peasy!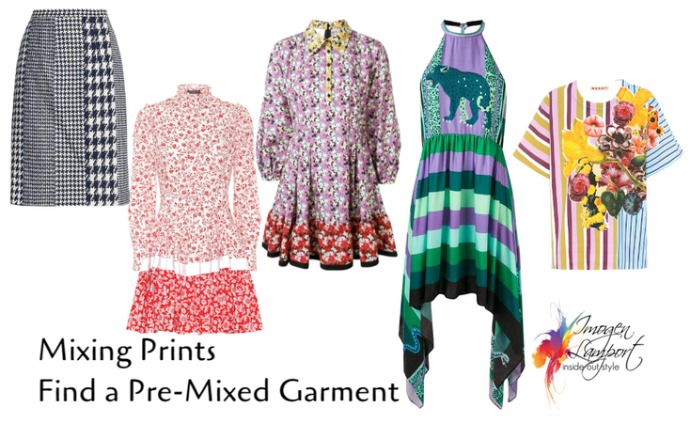 4. Mix Black and White
This is truly the simplest way and it's almost impossible to fail. As long as the whites match (one isn't cream whilst the other bright cool white) then this is super easy to do. You can basically mix any two black and white prints together. It could be subtle like a small houndstooth check with a fine pinstripe, or it could be bold and dramatic with a zebra and black and white floral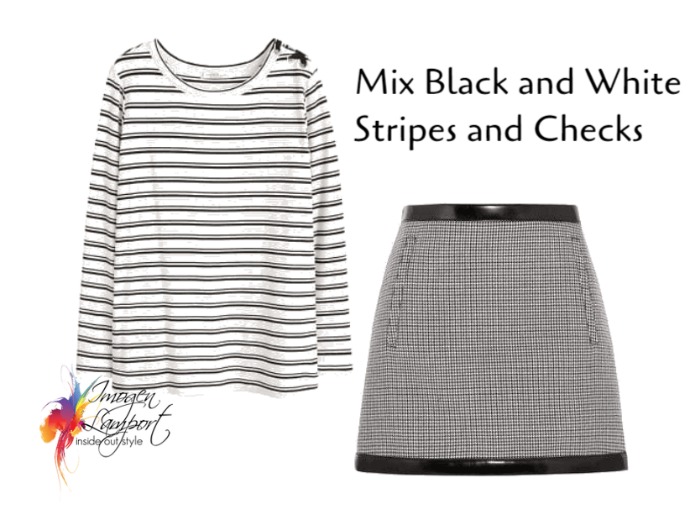 Here is a more subtle example with a stripe and a check.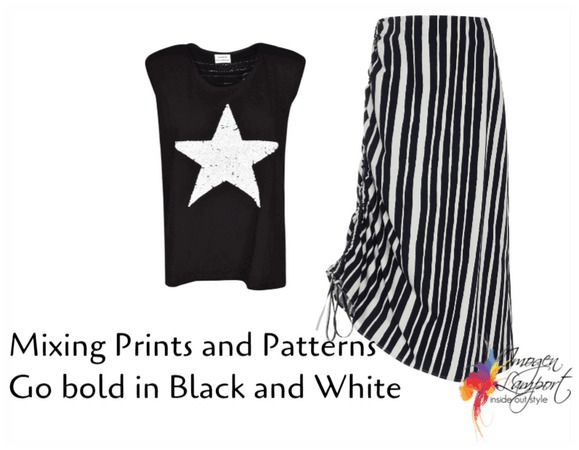 And then a bolder more dramatic look with an overscale star motif in sequins with a boldly striped skirt.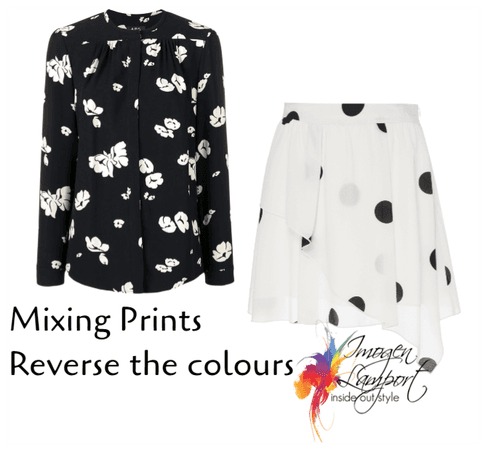 Why not reverse out the backgrounds with your black and white too (and this can also be done with other two colour prints as well).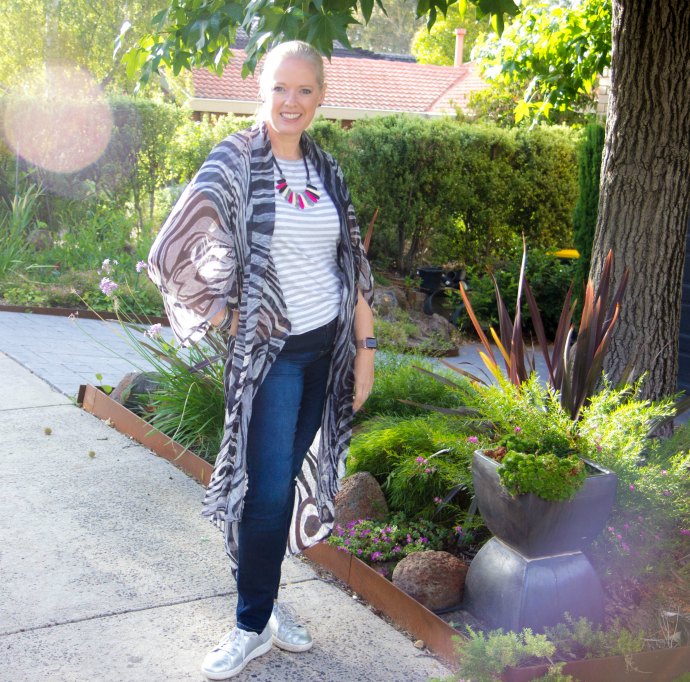 Here I've mixed stripes with zebra print in black, grey and white.
5. Mix Stripes with Any Print
Stripes basically work as solids in many ways so why not mix a stripe with a spot or a floral or an animal print (or whatever kind of print you fancy). As long as the colours work together in harmony you can mix stripes with any other print.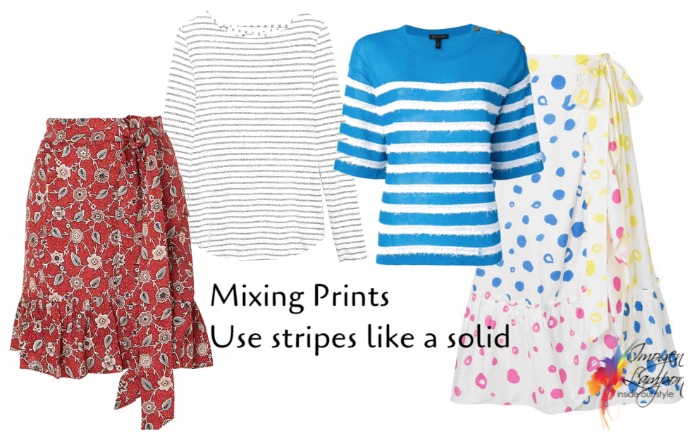 6. Break the Patterns with a Solid Colour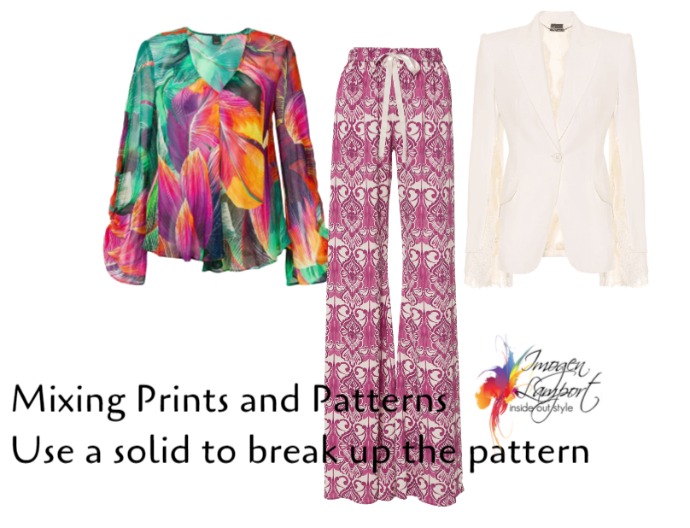 Why not think about using one solid garment in your outfit that breaks up the amount of pattern and print you see. A solid coloured jacket (like the image above) will tone down the overall feel of this large scale floral top and pant combination.
7. Mix Prints with Co-Ordinating Colours
Matching the colours in one print to another is another easy way to create harmony between the different prints.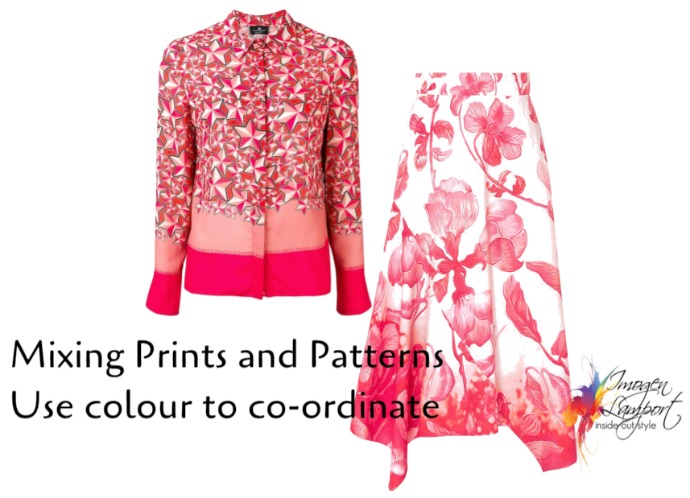 It's particularly easy when not too many colours are in the outfit, like in the image above.
But it can be done with multicoloured items and works well when one garment uses only a couple of the colours contained in the other more colourful garment. You'll see an example of this a little further down this article.
8. Juxtapose Curved Prints with Angular Prints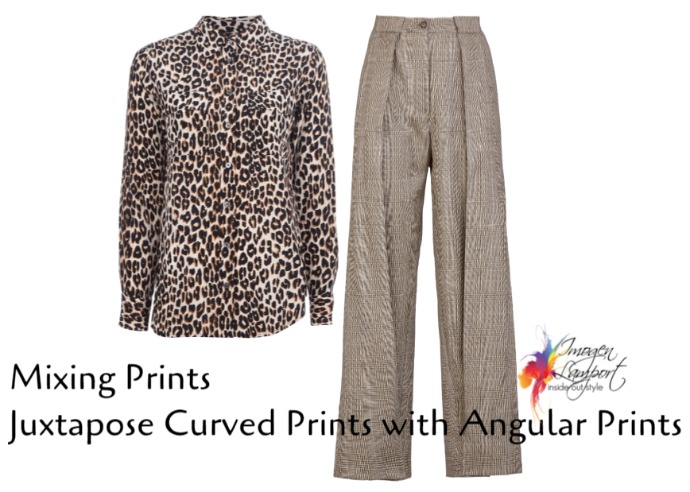 One of the more interesting ways of creating outfits is to juxtapose curved prints with angular prints when the colourways are related and in harmony, a traditional check can be mixed with many other styles and shapes of prints and patterns.
9. Mix Different Scale Prints
Think about the scale of the prints. When you choose a larger scale print it works well with a smaller scale print. This is because your brain is happier to look at different scale prints together.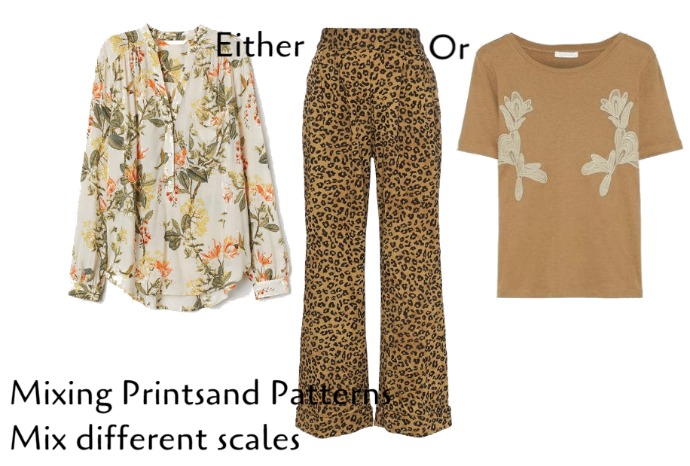 10. Mix Different Density of Prints
Another element of print and pattern mixing is to look at the density of each of the prints. When one is sparse and the other is denser, this makes this easier to put them together into one outfit.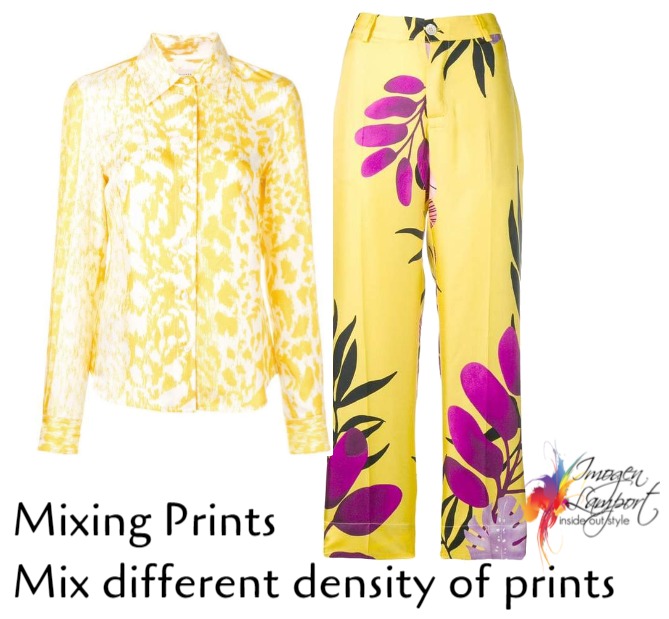 11. Mixing Three Prints at Once
This is getting into advanced pattern mixing territory! It's trickier as you have to consider all the elements that go into the different prints, the colours need to work in harmony and the prints need to be different enough yet relate enough that they work together. Different scales and density are important features when mixing multiple prints together in your outfit.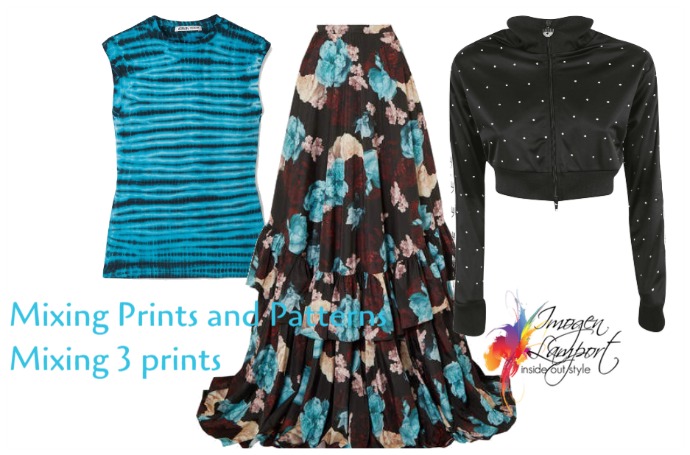 In this example above, you'll notice I've chosen prints with a more limited colour palette (makes it easier) and then chosen some very different styles of prints, but they all have one thing in common, and that is they all have soft or curved lines. They are also different scales too, which means they are not competing with each other.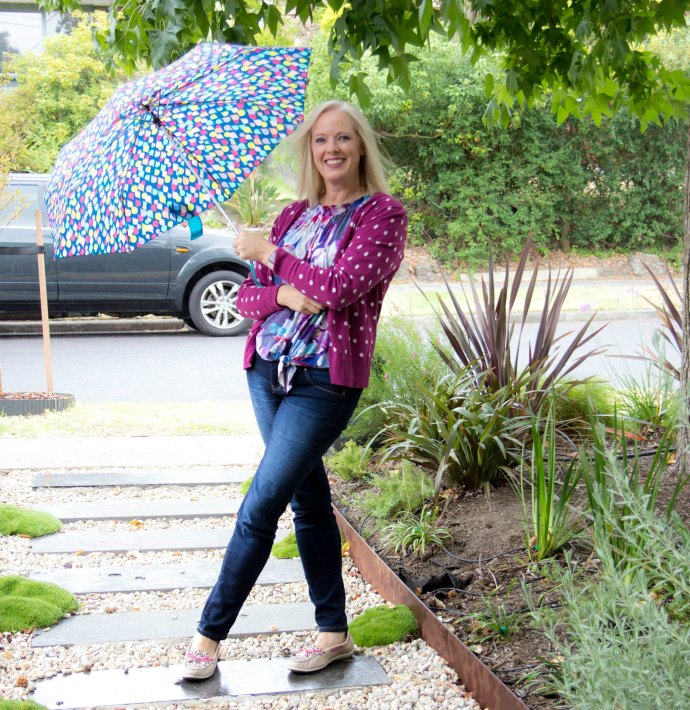 Even though I'll put the umbrella away when I'm not outside, I thought this was a fun example of mixing three prints (actually four, as my shoes are leopard print). What I've done is take a dense bold large scale multi-coloured floral, repeated two of the colours from the floral top in my cardigan, which has a repeating polka dot pattern in a smaller scale than the floral, and then added a solid garment (the jeans) and a leopard print shoe in a nude neutral, but with a hint of the same burgundy that is in both the tops. Add I've added that multicoloured umbrella, a dense print, but again repeating the colours in the other prints and garments for a totally fun outfit.
Imagine just how many more outfits you can create from your current wardrobe when you start mixing your prints and patterns together!
What are your favourite prints and patterns to mix together?
More Print and Pattern Mixing Tips
3 Easy Rules on How to Mix Animal Prints and Floral Patterns